It's impossible to get through summer without making decorated rocks. Sometimes we use actual paint on the rocks, and sometimes it's more fun to use paint pens. Not to mention a lot less messy! Read on to see what the best paint pens and rocks are for making beautiful decorated rocks to keep, give away, or hide around the neighborhood.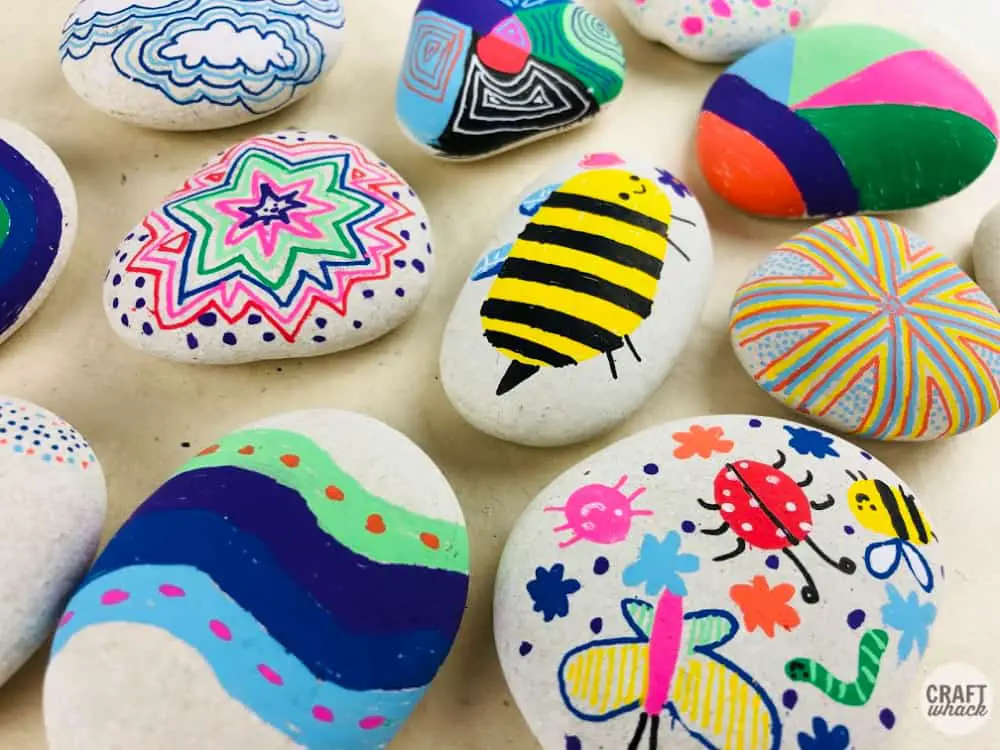 The Best Markers For Rocks
We have found the best paint pens for rocks are these Posca pens. Posca makes amazing paint markers, and they work so well on rocks. Seriously, don't waste your time or money on cheap paint markers, or you'll end up getting super frustrated.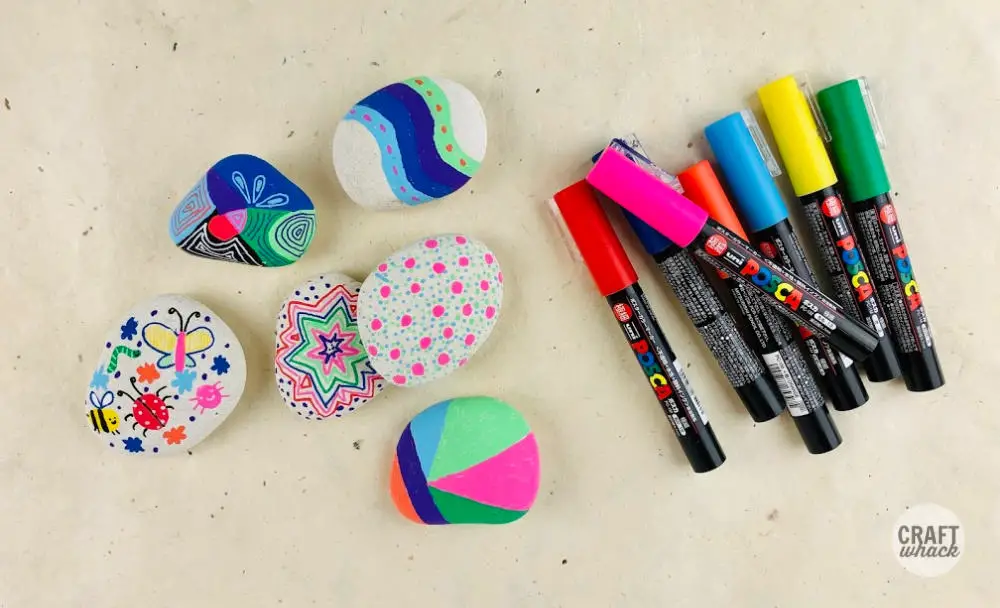 These paint markers last so long, the colors are vibrant, the consistency of paint is perfect. The tip size is just right for decorating rocks, and they don't get clogged or leak like some paint pens do.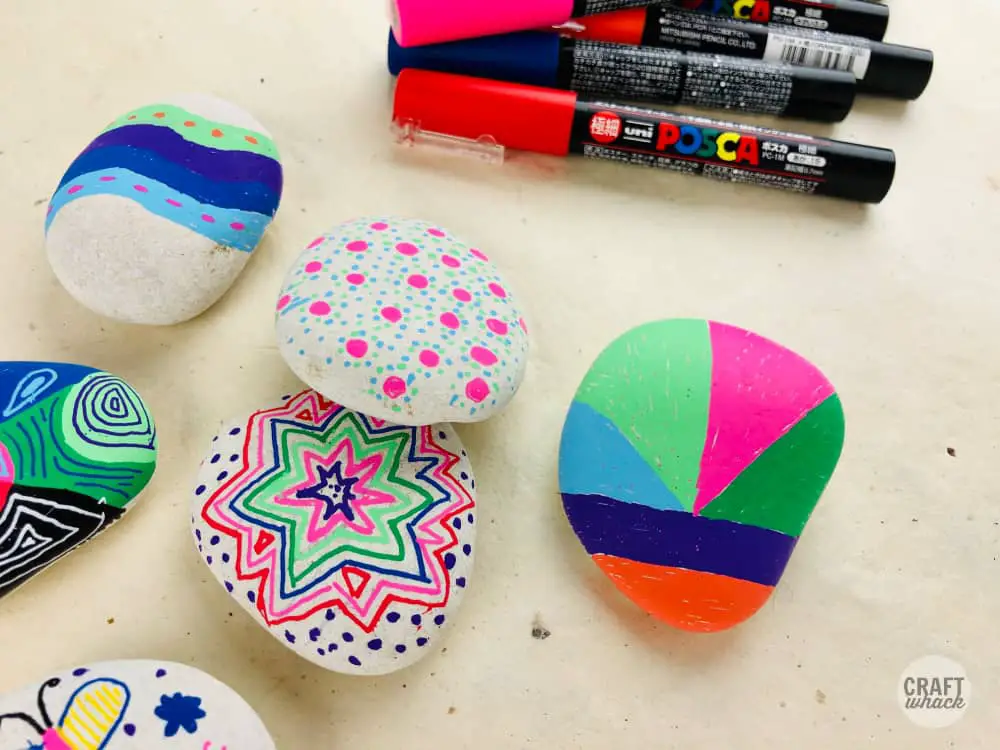 When you first use these Posca pens on your rocks, just shake them a few times, and then press the nibs down on paper a few times until you start to see the color. (You won't need to press the nibs for very long like some cheaper markers.)
Bonus: The markers work great on paper, too, so keep them handy for drawing. I recommend thicker paper with Posca paint pens.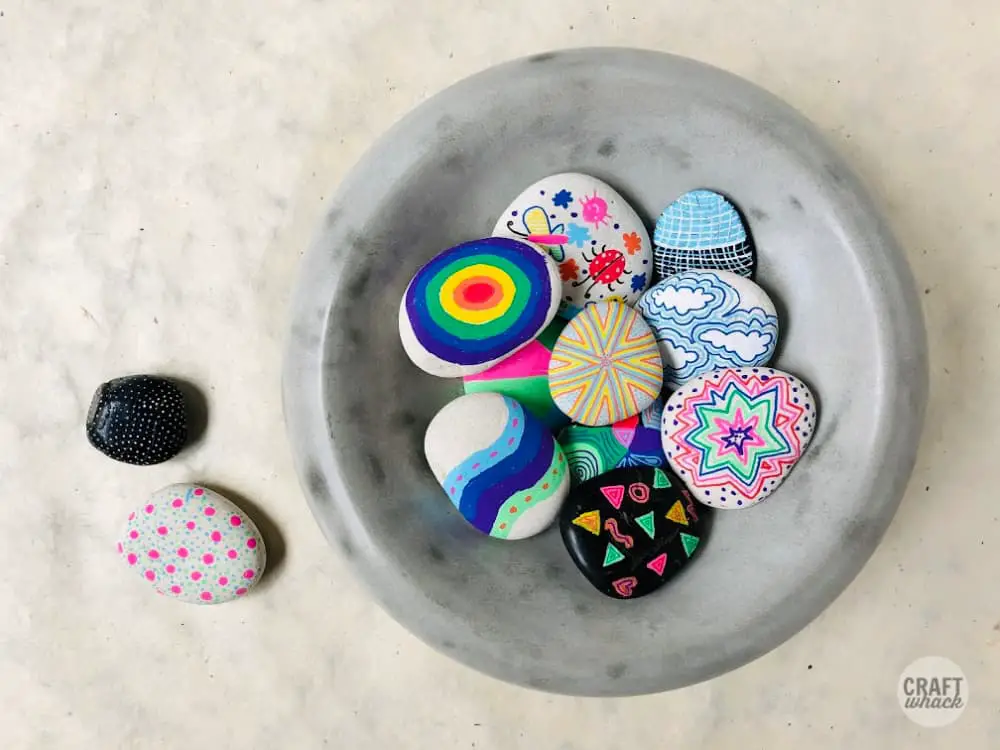 More surfaces you can use Posca Paint Pens on
Don't stop at rocks and paper. These amazing markers will work on:
Fabric

Shoes

Glass

Ceramics

Wood

Metal

Plastic

Canvas

They are truly great to use anywhere. P.S. They don't have an odor, and are water-based so kids can use them worry-free. (I would still give your kids a smock or old shirt when they work with any art supplies.)
The Best Rocks to Paint on
We've only painted on dark rocks in the past, so it was really fun to try these white rocks this time. I just wish we had gotten a lot more, because we could have made so many more of these.
Definitely use smooth rocks with markers. The texture of rough rocks will shred you markers, it's really hard to draw on the rough surface, and the marker paint won't go on evenly. They end up just looking messy.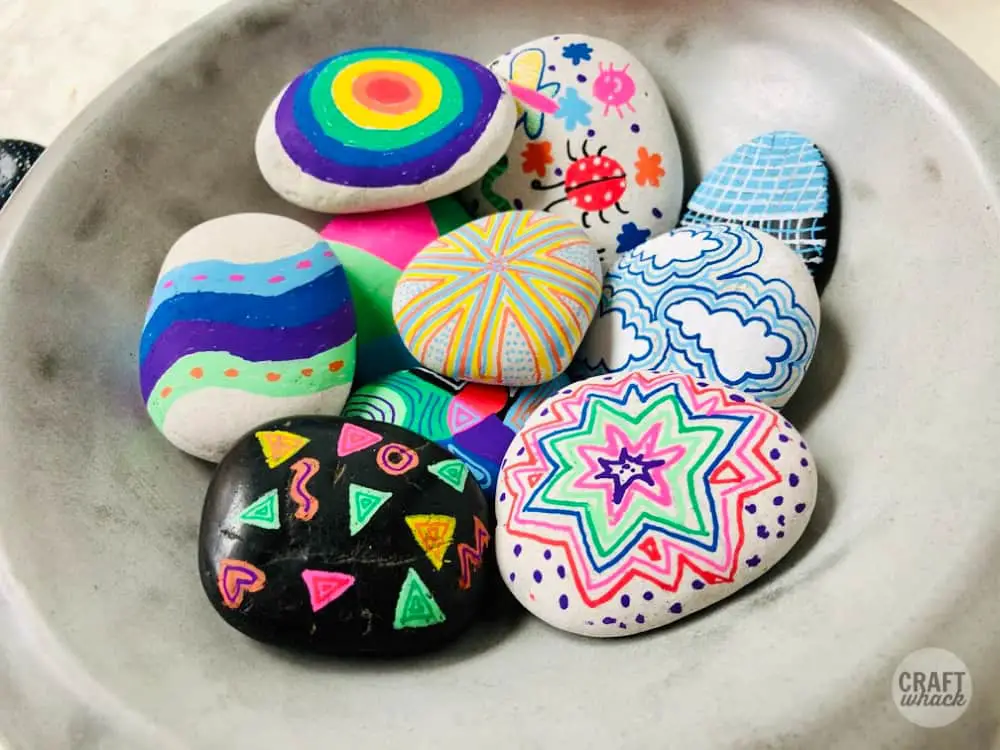 You can prime any rocks with gesso first if you want a nice bright white surface, or if you want a full-colored surface, add some acrylic paint to the gesso to tint it. Let these dry completely before using the paint markers over.
If you will be keeping your rocks outside, you can seal them with a glossy or matte spray sealant. Spray this on outdoors, as they are pretty stinky, but your rocks will last much longer if you seal them.
We had so much fun, we scoured around for a few more rocks and found these: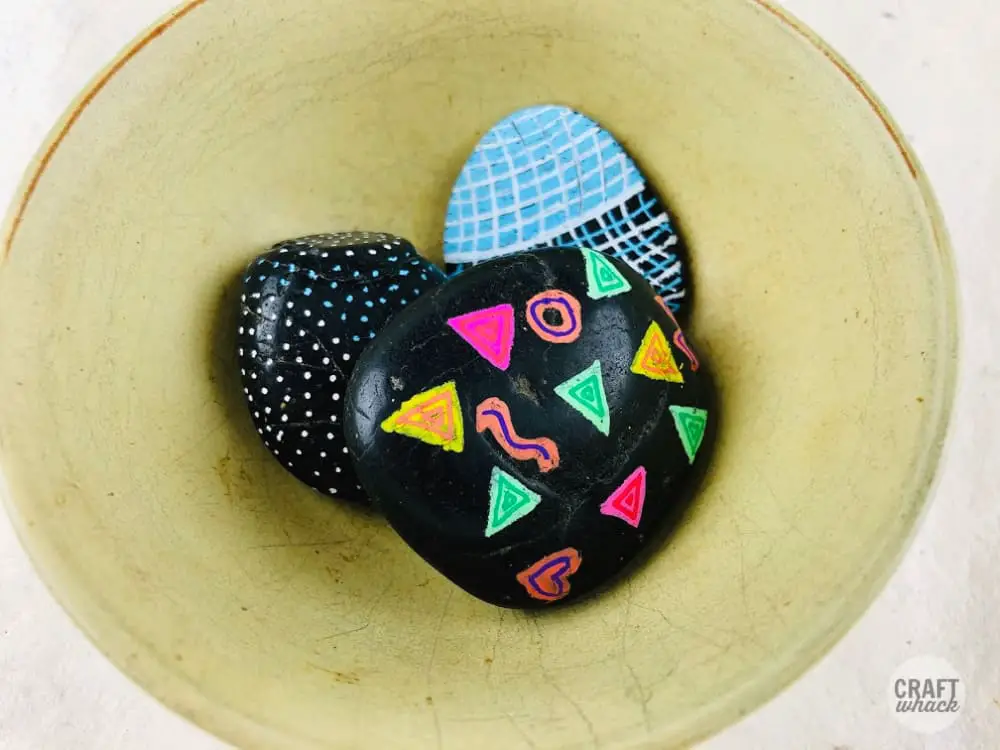 What to do With Your Painted Rocks
Rock painting is so relaxing and fun to do as a family, and if you haven't seen the friendship rock craze yet, here is what you can do:
Decorate a bunch of rocks and hide them all over your neighborhood for people to find as they are out walking!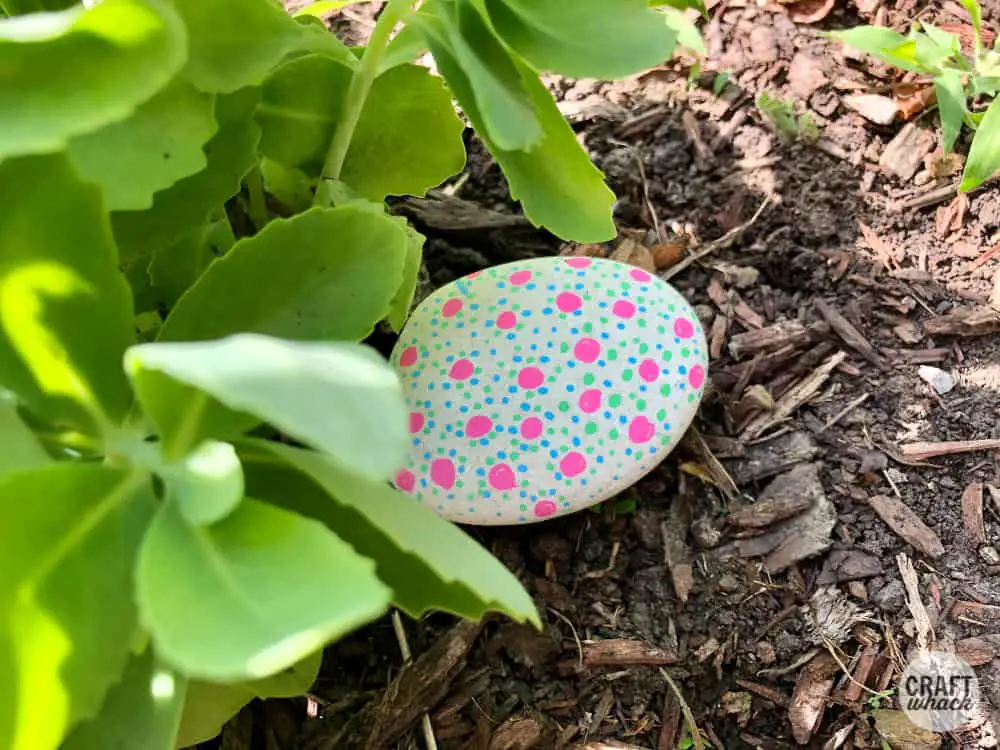 You can write fun messages on them, or just decorate them like we did. It's so exciting to find a cute little decorated rock when you're least expecting it"¦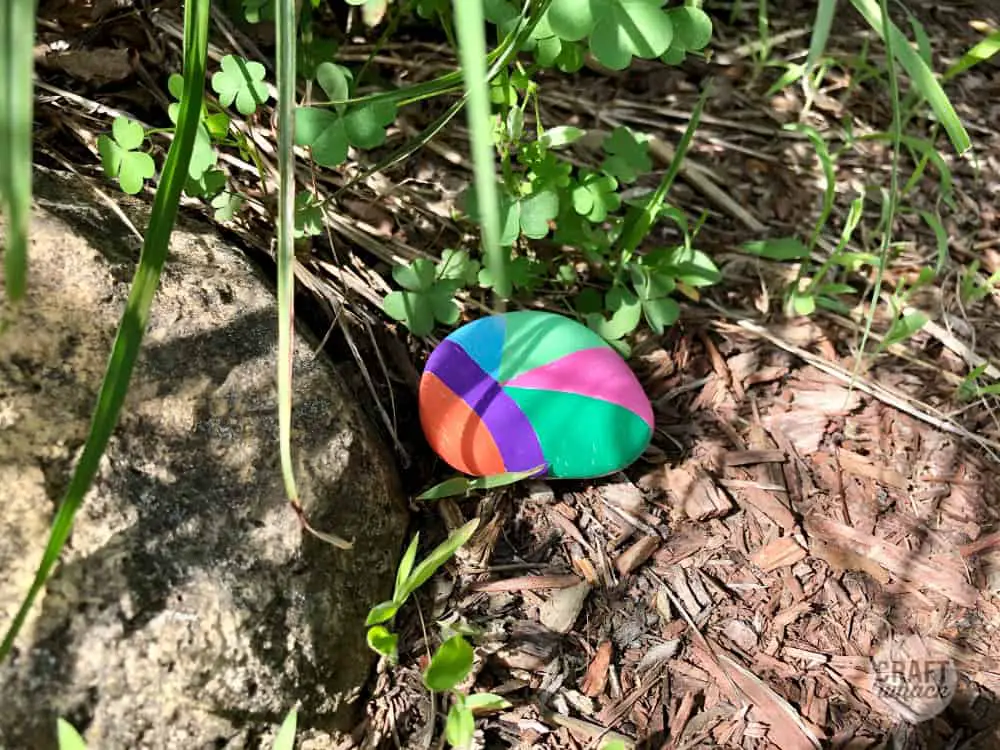 You can even write something like "take me home" on the back to let people know it's okay to take the rock art. Who knows, you may just inspire them to make and hide their own friendship rocks!
Our Favorite Rock Decorating Supplies
White rocksPaint PensSealant matteSealant shiny
Pin it For Later!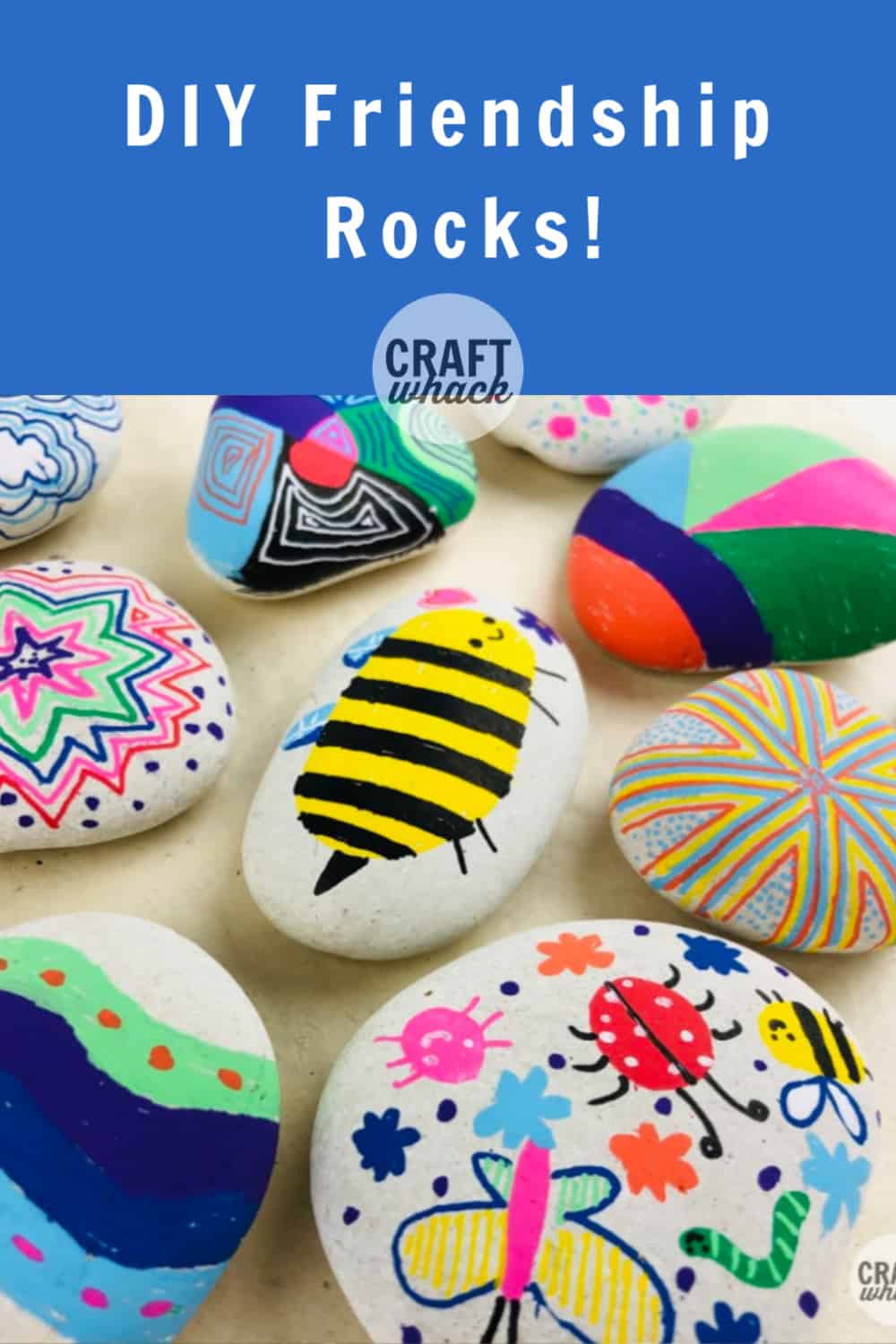 Comments
0 comments