For Star Wars fans, Star Wars coloring pages are really something to get excited about, and even more so if they contain the much-beloved character R2D2. This robot presents some great coloring fun because of its unusual shapes, multiple plates and buttons, and the fun of the movies.If you are looking for the best R2D2 coloring page, we have gathered up a selection of top choices. Some are geared toward the younger fans, while others are pages that adults and teens can enjoy coloring and find challenging enough to have fun with.Let's take a look at the best options!
1. Lego R2D2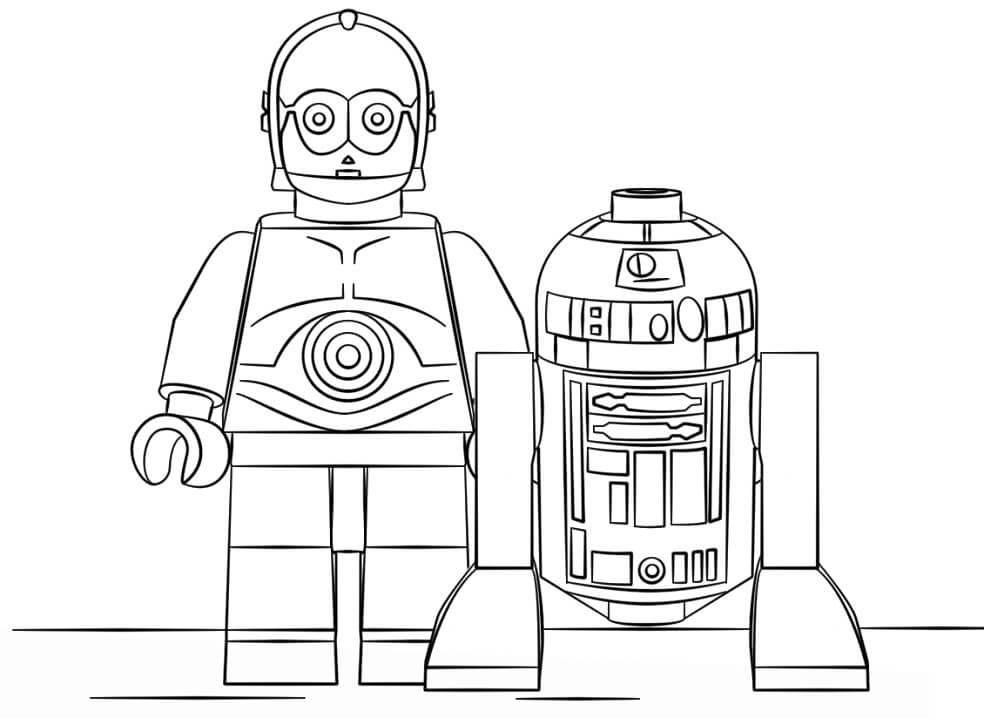 Source: https://coloringonly.com/pages/lego-star-wars-r2d2-and-c3po-coloring-pageOne of the best ways to get simple shapes, if that's what you're after, is to choose Lego R2D2. This character and his little Lego C-3PO friend have quite a lot of detail, but the shapes have all been drawn face-on, with no perspective alteration.This will make them a lot easier to color, and both characters will look excellent once filled in. Children will also enjoy the Lego aspect, and if they have a Star Wars set, they might find it particularly fun to recreate the characters on paper.
2. Detailed R2D2 And C-3PO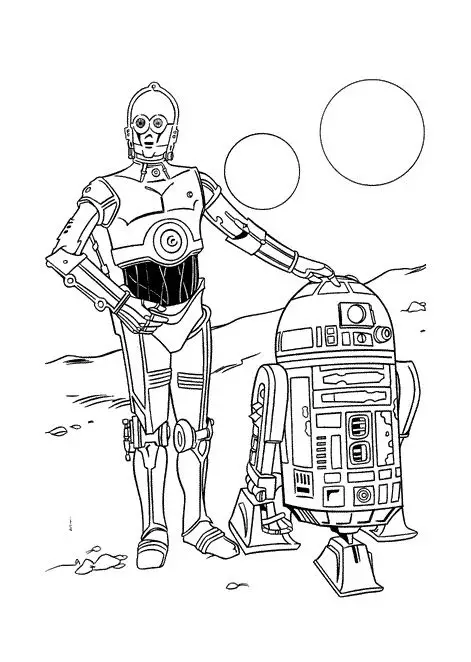 Source: http://clipart-library.com/clipart/19-nTBGExMyc.htmFor a more detailed picture, this Detailed R2D2 and C-3PO coloring page present some great challenges for the colorer. Both characters are immensely detailed, with intricate buttons and plates and gears that make them look fantastic.This would be perfect for an adult fan, offering the perfect amount of challenge. It also has a simple but realistic background, with two suns beating down on the desert-like landscape, and a few rocks and stones to fill in.Star Wars fans will love how professional this looks once it is complete and ready to go!
3. Complex R2D2

Source: https://www.picturethemagic.com/star-wars-coloring-pages/If you'd rather not have C-3PO in there, this Complex R2D2 would be a perfect alternative. It even still has the rocky, desert-like background, which is still minimalistic so you don't have to spend hours coloring it and can instead focus predominantly on the robot.R2D2 is beautifully detailed, with every pane and panel and button and dial depicted. You could spend hours working on this page and come out with a fantastic picture of this highly popular robot at the end.
4. Stylized R2D2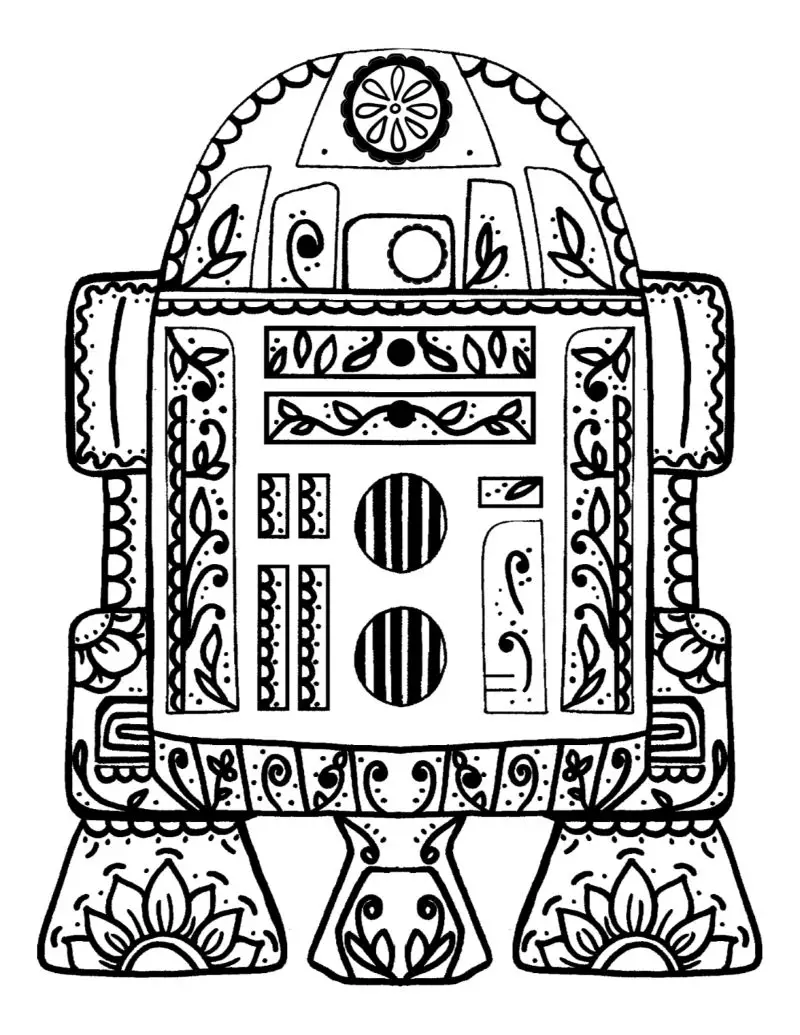 Source: https://mamalikesthis.com/r2-d2-sugar-skull-craftAnyone who would like their R2D2 a little prettier and more interesting will love this Stylized R2D2. Instead of buttons, squares, and fiddly dials, this has been made artsy and elegant with swirls and flowers.You could spend ages coloring this, filling in every loop, and make it look every bit as amazing as a traditional R2D2 coloring page. Anyone who enjoys organic shapes and bright colors will love this little robot, and being able to bring their own twist to the classic character.You don't need to worry about perspective or shading "" just get coloring!
5. Simple R2D2
Source: https://globalperspectives.info/coloring/k/kinect-party-coloring-pages.htmlIf you'd like to worry about shading, however, this Simple R2D2 is perfect for it. It has been very simplified, although the panels and a few knobs do remain to denote the robot's complicated look.That simplicity makes this a superb option for a child to color, but also makes it very suitable for an adult or teen who wants to get the hang of shading curves and edges. Decide on an angle of light, and then start working on the shadows for this little robot.
6. Star Wars R2D2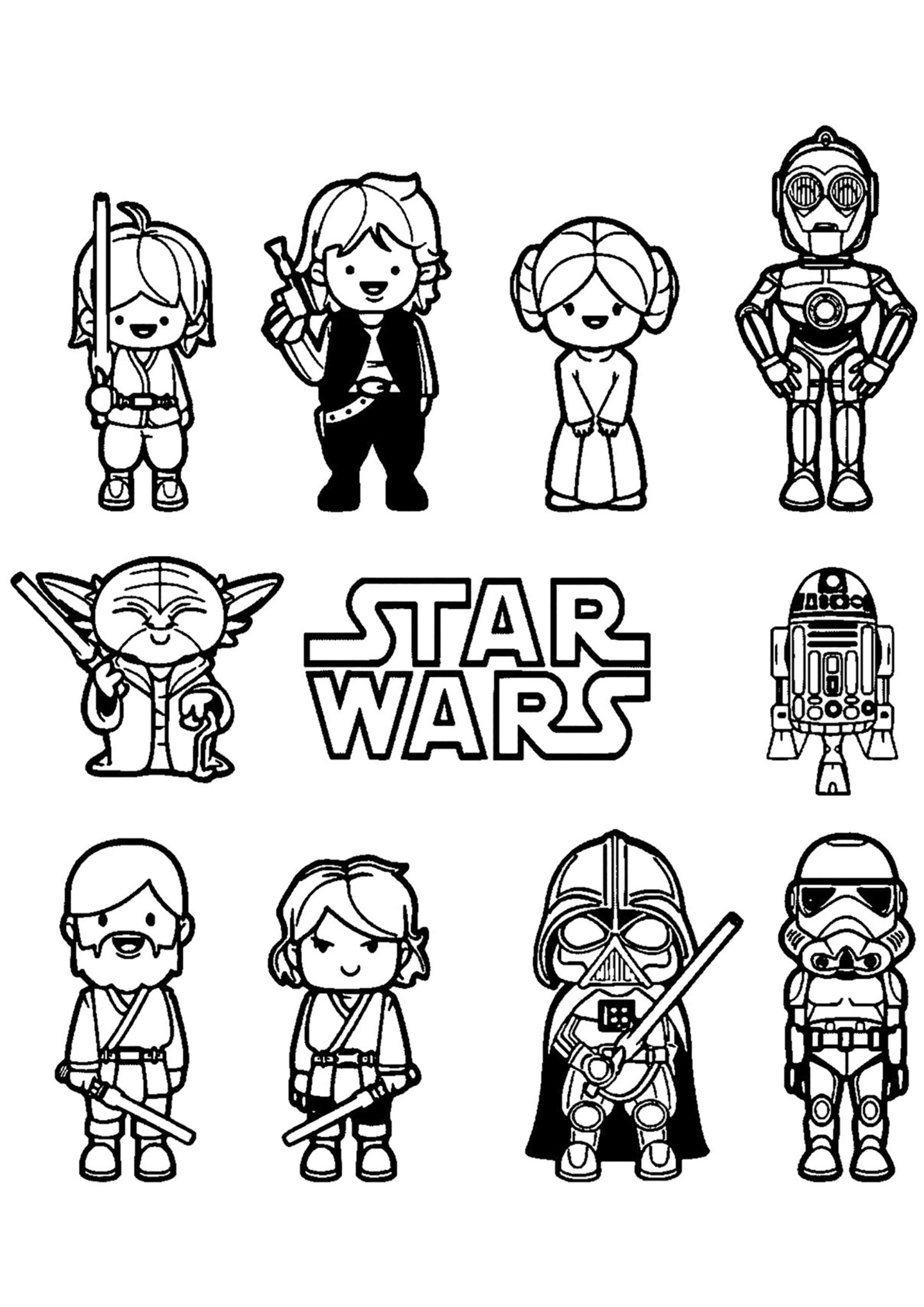 Source: https://anyoneforanyateam.blogspot.com/2019/06/awesome-star-wars-cartoon-coloring-pages.htmlFew people would fail to recognize the iconic robot anyway, but this Star Wars R2D2 includes the film name, the robot name, and space for the colorer to include their own details.This would be perfect for a young teen or a child who is experienced in coloring but still doesn't want a massively detailed and confusing project. There are plenty of dials, nuts, bolts, panels, and lights to play with, but this could be done in a few hours and would make any child proud of their efforts.
7. Shaded R2D2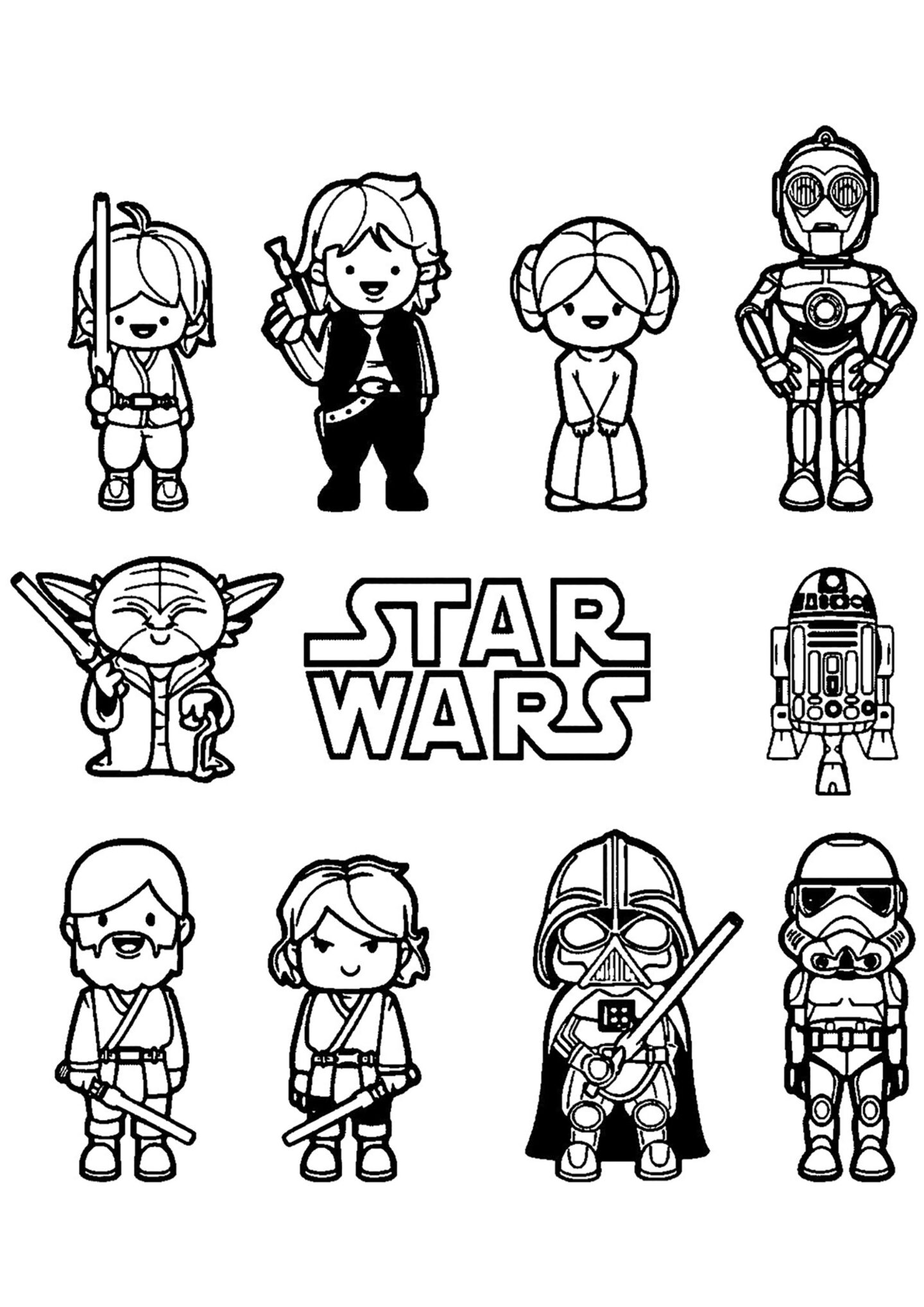 Source: https://anyoneforanyateam.blogspot.com/2019/06/awesome-star-wars-cartoon-coloring-pages.htmlIf you don't enjoy filling in the blocky, dark parts of a coloring page but you do want the dramatic contrast that shading brings, this Shaded R2D2 might be perfect for you. The main shadows have been done for you, with R2D2's legs being shaded, along with some of the front panels and a bit of the head.This will lend the color you add a good level of depth and make the picture look great without you having to spend hours working out where the light falls.
8. R2D2 and C-3PO 2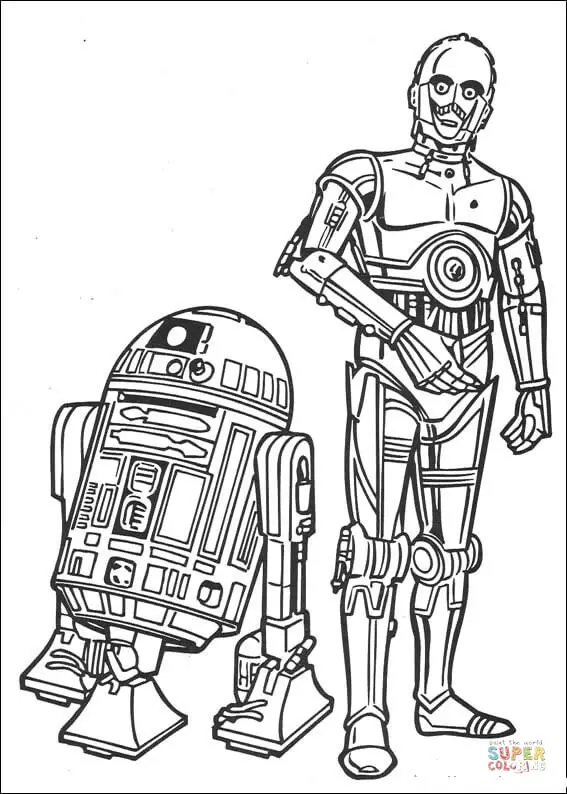 Source: http://www.supercoloring.com/coloring-pages/r2d2-and-c3poIf you weren't sure about the first R2D2 and C-3PO option but you still want to draw this iconic duo together, this R2D2 and C-3PO coloring page is another great option. They are both immensely detailed robots for you to color, but there is no background, which makes this a potentially easier coloring project.
9. Fill-In R2D2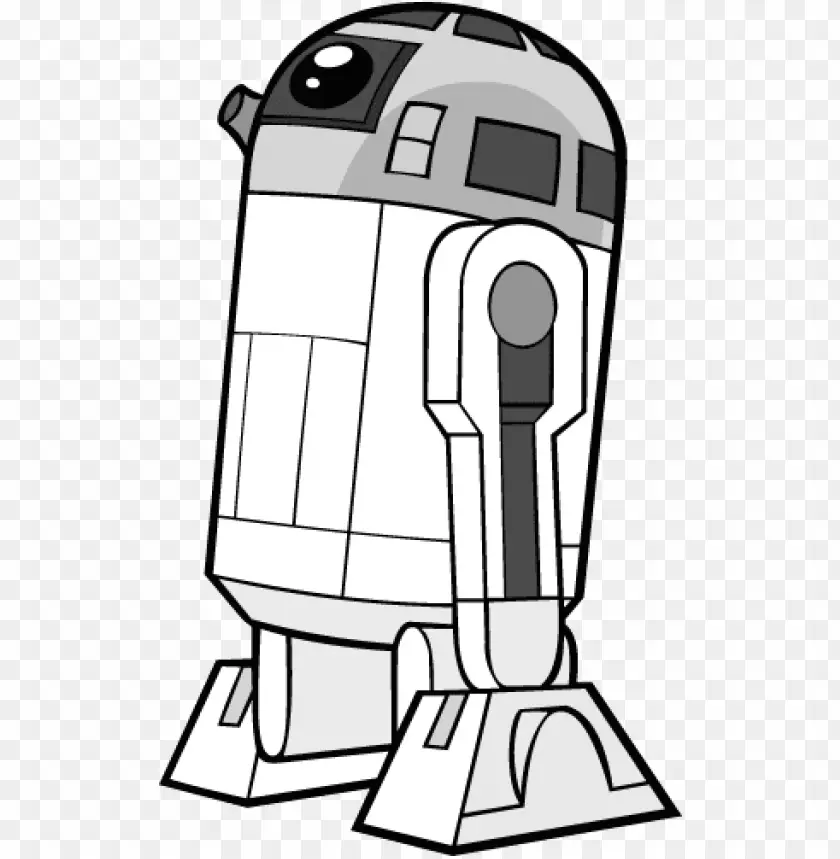 Source: https://toppng.com/reactjs-wordpress-theme-r2d2-star-wars-easy-coloring-page-PNG-free-PNG-Images_220661How about combining coloring and drawing for a greater challenge? This Fill-In R2D2 coloring page gives you all the basic shapes and even quite a significant amount of the shading, but skimps on the details on the panels.You can use this either as a simple coloring project for a young child who would struggle with those panels or as an opportunity to do a bit of drawing yourself and fill in the missing details.
10. Fill-In R2D2 2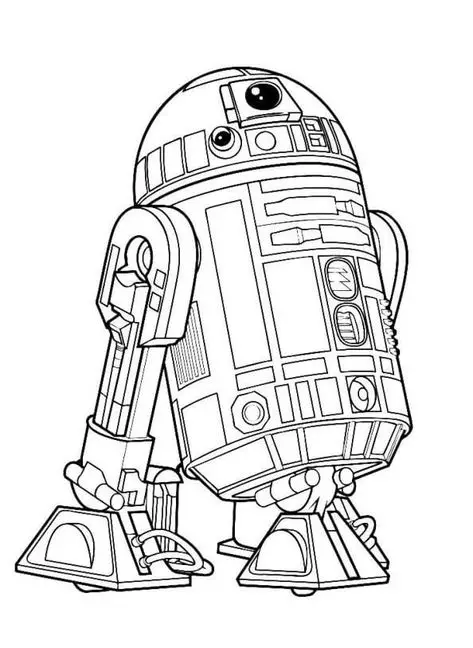 Source: https://coloringdrawing.blogspot.com/2020/01/star-wars-coloring-pages-r2d2.htmlIf that option appealed but you want to go further, this Fill-In R2D2 is really basic lines, leaving lots for the colorer to decide on themselves. Grab a good pencil for this, and consider going over the lines with a fine liner once you are happy with them to make the project feel really finished.You even need to fill in one of the legs for this project, so it's a great one for older teens and adults to try. Once you've got the additional lines in, you can focus on doing some top-notch coloring with your very own design.
Conclusion
R2D2 is a great way to challenge younger children to color more complex designs by engaging them with this iconic character. It's also fun for any adult Star Wars fan to ditch the work for a while, sit down with some pens, and spend a bit of time coloring.
Comments
0 comments