Therefore, we've put together several Mexican painting ideas to inspire your next project. So read on to get your creativity fired up!
1. Mexican Tin Art: Inspired By Diego Rivera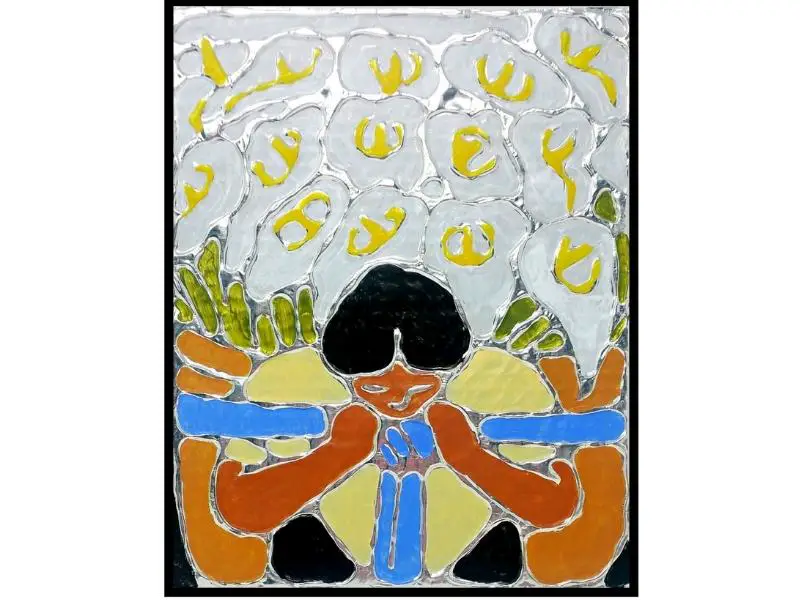 Are you looking for a piece of art that'd be very stimulating to you and your kids? If so, the Mexican tin art project is what you need.
It's based on a painting called "Flower Vendor" by the renowned Mexican painter Diego Rivera.
This project involves using cardboard paper, aluminum foil, different acrylic paints, a paintbrush, a palette for mixing, and a printed copy of Diego's Flower Vendor.
First, you're meant to trace the artwork on the aluminum foil using the cardboard. Then, by painting the outline on the foil, you'll get a shiny work of art.
Find out the step-by-step process of the Mexican Tin Art: Inspired By Diego Rivera at woojr.com.
2. Diego Rivera Watermelon Art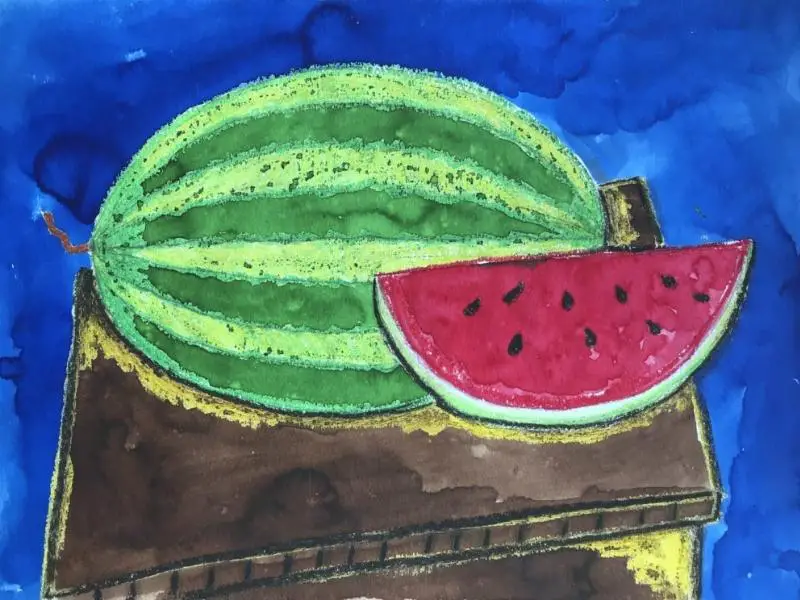 What could be as exciting as eating a watermelon?
It's drawing a watermelon, of course! This juicy fruit is an everyday treat in Mexico. In this craft, also inspired by Diego Rivera, you'll enjoy painting the ins and outs of the watermelon fruit.
Painting the intricate details on this fruit offers the opportunity to improve your painting skills. In addition, you can develop the ability to blend several shades of color while maintaining simplicity. Also, this painting idea brings a Mexican experience to your fingertips.
Learn more about Diego Rivera Watermelon Art on thelaughingzebra.com.
3. Mother's Helper Art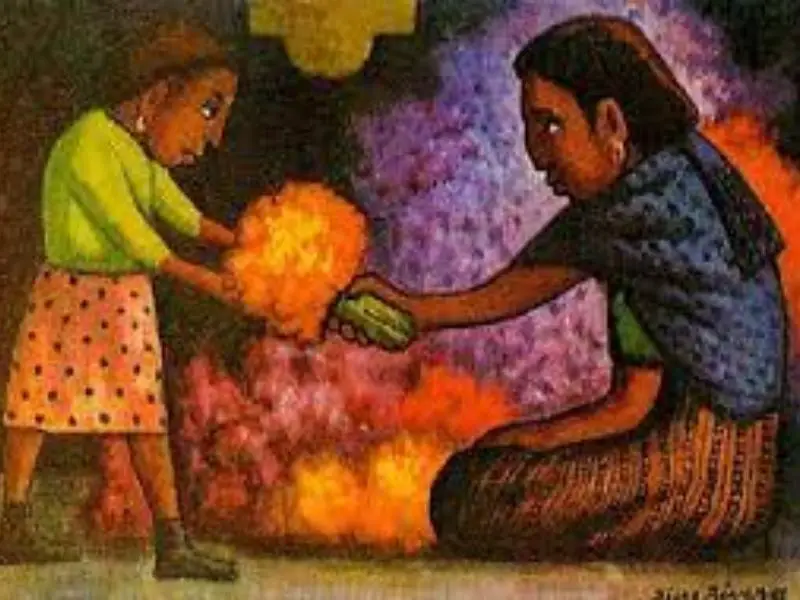 Here's another exciting project your kids would love. Using simple painting tools and techniques, you'll be creating a piece that depicts a little girl helping her mother sell flowers. This project's simplicity makes it ideal and enjoyable for kids.
In addition, this idea will help your kids master the art of using oil pastel on purple sulfite paper. It'll also enable them to relate to the rich cultural heritage and farm life of native Mexicans.
Learn the step-by-step process of creating the Mother's Helper Art on deepspacesparkle.com.
4. Frida Kahlo Inspired Self-Portrait for Kids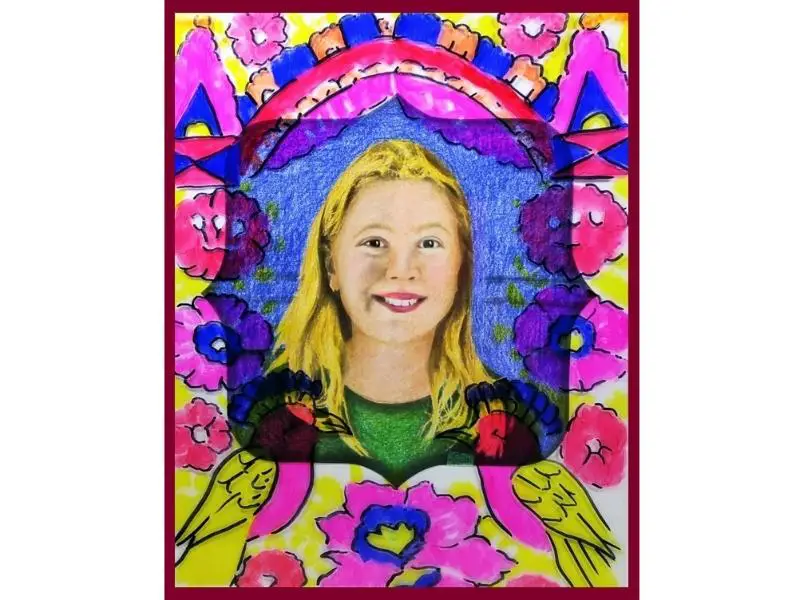 This Mexican painting project will help you and your kids make self-portraits following the style of one of the most popular Mexican artists, Frida Kahlo.
You'd agree that creating a portrait of yourself is quite an exciting activity. After all, who'd do it better than you?
In addition, this project shows how to add floral designs and colorful birds to your black and white photo. So you don't have to draw your image from scratch; you only need to photocopy one of your photos showing only your face.
Learn how to create Frida Kahlo Inspired Self-Portrait for Kids following the step-by-step process on woojr.com.
5. Symmetrical Floral Designs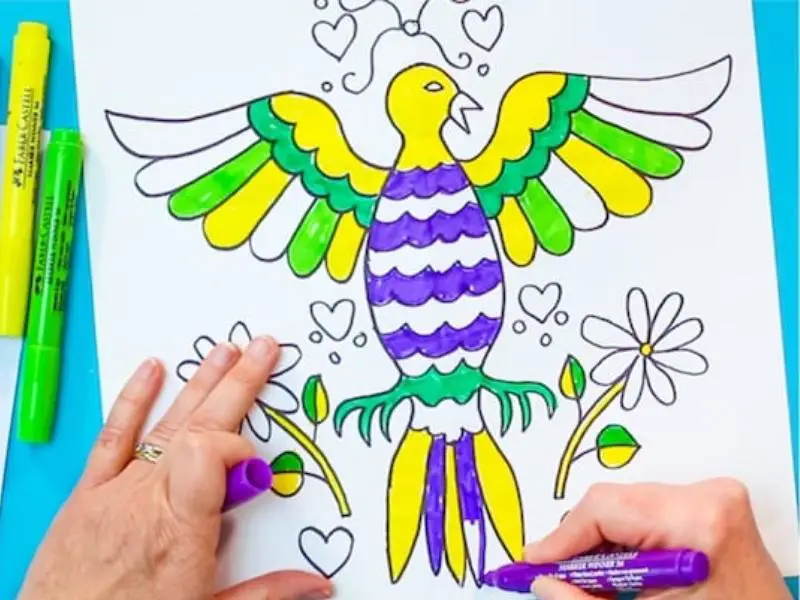 Sometimes the simplest painting materials create the greatest pieces! This Mexican folk art will inspire you and your family to create something beautiful.
This idea highlights creating symmetrical floral designs using simple folding and tracing techniques. The art is easy to learn, and your kids will find the bright colors and symmetrical balance intriguing.
Find out how these Symmetrical Floral Designs can be made on deepspacesparkle.com.
6. Sugar Skull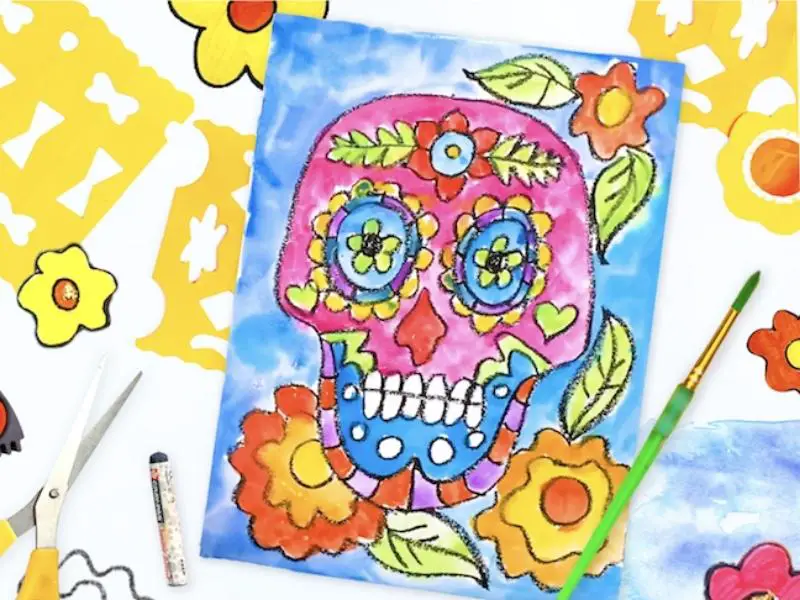 This simple painting is inspired by an old Mexican tradition of honoring loved ones who've passed. The sugar skull is an interesting art showing a skull with colorful floral designs. It's also an exciting way to master the mixing of several colors.
In addition, this painting doesn't require too many materials. So you and your kids can paint some skulls using white watercolor paper, crayon or waterproof marker, watercolor, and a paintbrush.
Learn how to make Sugar Skull paintings at deepspacesparkle.com.
7. Copycat of Diego Rivera's Peasants
One of the best ways to learn is by imitating models. Your kids can learn to paint like legendary painters by simply imitating their original work. And it doesn't have to be perfect; what matters is the fun and lessons they learn in the process.
Moreover, learning to paint the peasants goes a long way to show your kids the average Mexican's culture, struggle, and life. And to do this project, you'll need paintbrushes, white paper, and simple colors.
Find out more about the Peasants on learncreatelove.com.
8. Emboss Painting "Hojalata" Mexican Tin Art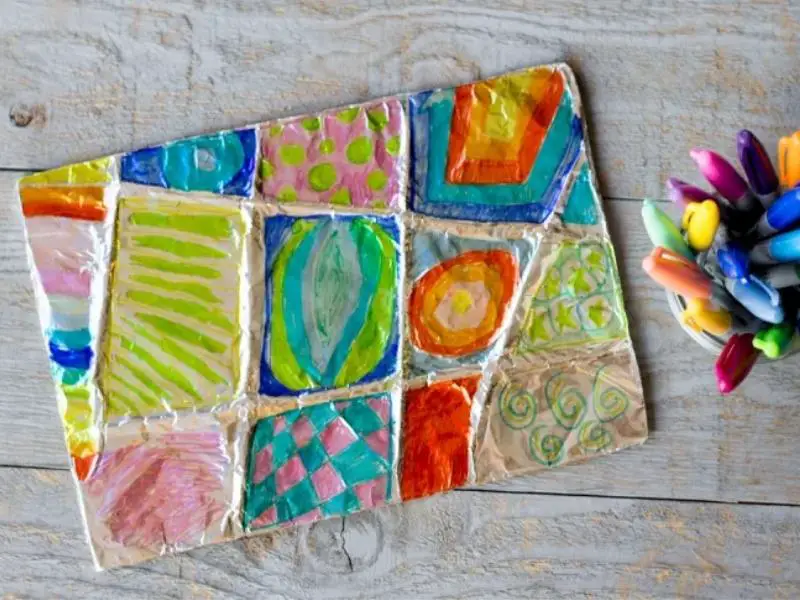 During summer, you and your kids can enjoy some creative playtime with the emboss painting "Hojalata" Mexican tin art. It involves an exciting mix of colors and textures that'll help fire up your kids' creativity and can be used to decorate their rooms.
This painting is done on a punched or stamped tin sheet using blunt and easily accessible materials. So, you don't have to worry about your kids injuring themselves while painting. It's artistry and fun all day long!
Find out more about the Emboss Painting "Hojalata" Mexican Tin Art at tuggunmommy.com.
9. Fruit Crate Art Project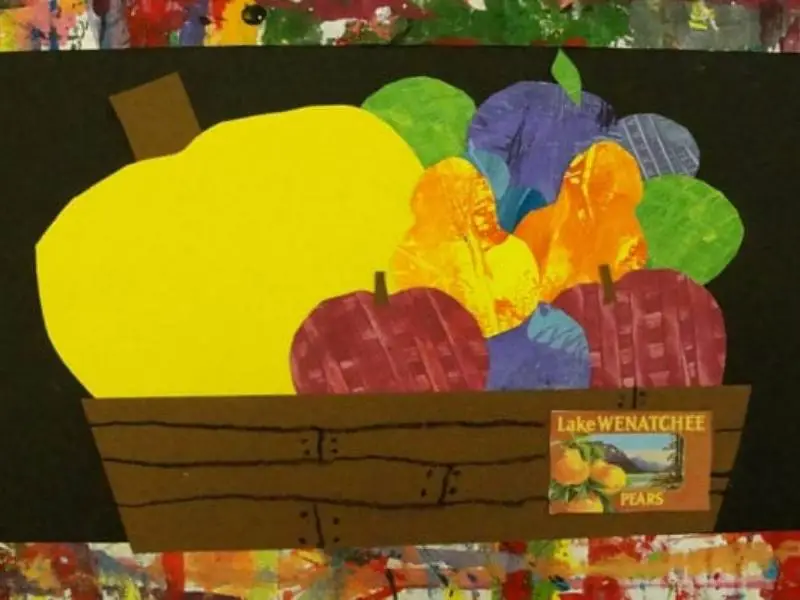 This Mexican-themed idea involves painting beautiful colors on paper cut into different fruit shapes and placed in a basket. The organic nature of this project will ignite your creativity.
We'd also recommend this idea for your little ones as children will enjoy working with colors and fruits.
This mix positively impacts their overall well-being as it'll feel like nature on your paper. You can even make it a family activity and fill a basket of colored fruits together!
See how to create the exciting Fruit Crate Art Project on deepspacesparkle.com.
10. Mayan Temple
You and your kids can learn how to draw and paint the Mayan temple for the next Cinco de Mayo celebrations! With the help of grid lines on white paper, crafting this temple has never been easier.
This idea entails downloading a white coloring page of the Mayan temple for you to work with. The page is equipped with gridlines to help you paint to perfection. So it's suitable for your kids.
Find out how to make the Mayan Temple in this guide by artprojectsforkids.org.
11. Sombrero & Poncho Art Project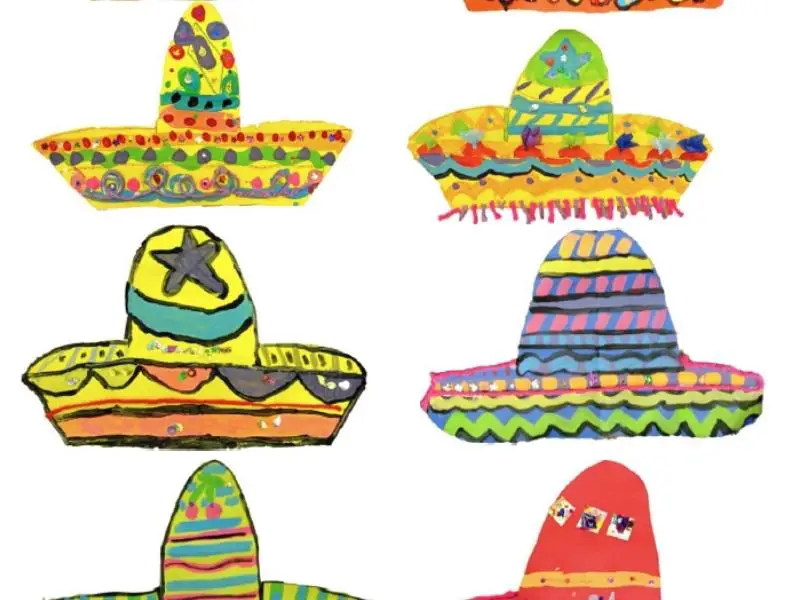 In this project, you'll enjoy painting some colorful tunics on paper. This beautiful Mexican art involves using many different colors to produce a piece that'll keep you beaming with smiles.
In addition, this idea is suitable for your kids. They'll learn to cut papers into different shapes before painting them with several bright colors. The aftermath of this project is indeed mind-blowing!
You can learn more about the Sombrero & Poncho Art Project on deepspacesparkle.com.
12. Frida Kahlo Coloring Page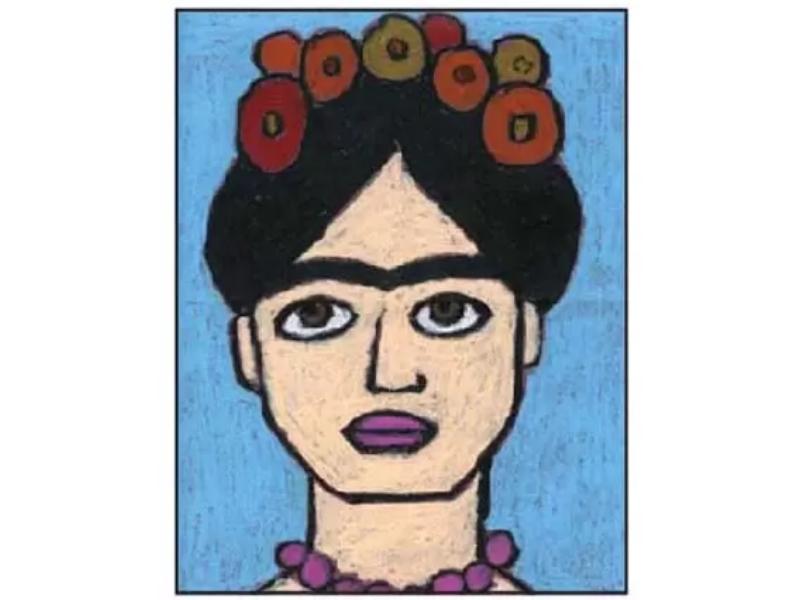 This project provides a coloring page where your kids can learn to draw a portrait of the renowned painter Frida Kahlo. With this painting idea, kids can learn more about this Mexican artist while improving their painting skills.
So, this one provides a coloring page of the artist where you can work with black paper and oil pastels to get a rich look.
You'll need about an hour to finish this interesting project. But, after you're done, you'll find that it was worth the time!
Head over to artprojectsforkids.org to download the Frida Kahlo Coloring Page and learn how to use it.
13. Amate Bark Painting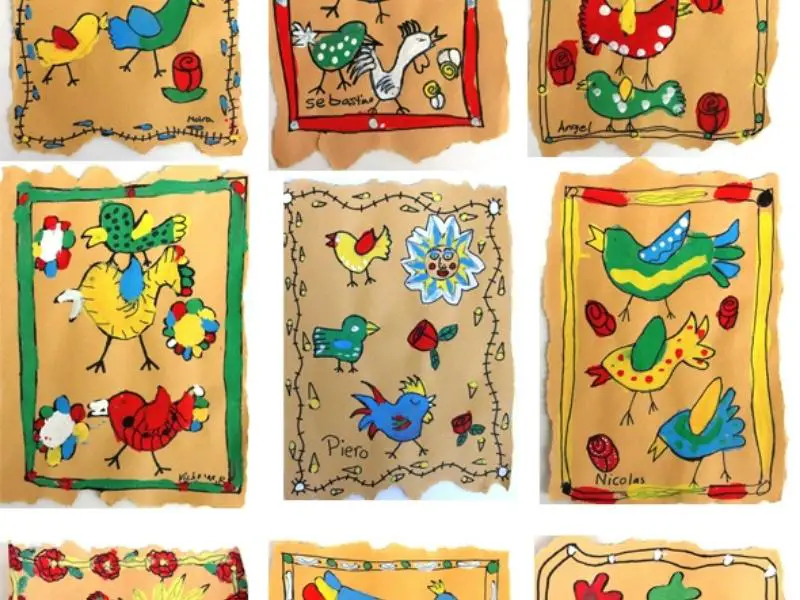 If you want a fun activity for your kids, the Amate Bark paintings are a top choice! From the production of the bark paper to the painting itself, every aspect of this Mexican folk art is fascinating.
The Amate Bark painting project will teach your kids how to use tan paper, tempera paints, black marker, and their creativity to draw and paint colorful birds and flowers.
In addition, the bright colors involved in this idea will surely fire up your kid's creativity.
Find out how your kids can do the Amate Bark Painting on deepspacesparkle.com.
14. Day of the Dead Stone Skulls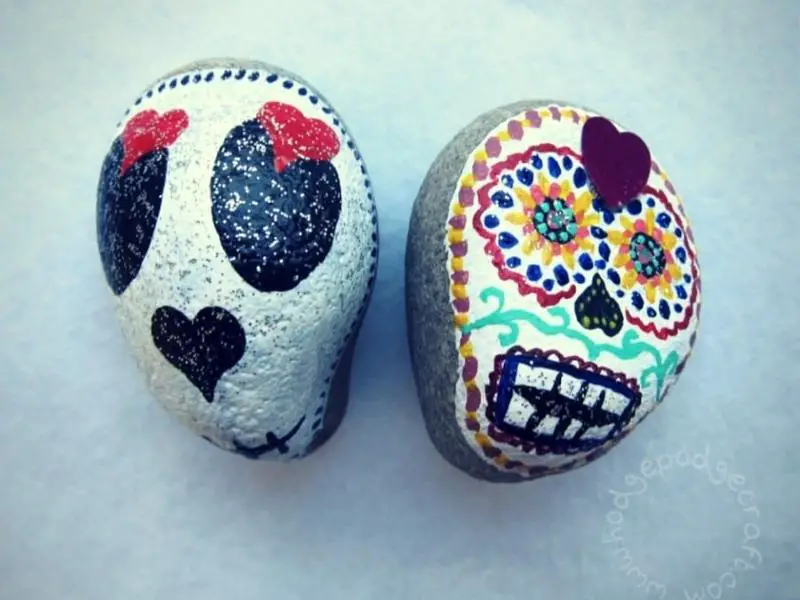 This is an easy and enjoyable Halloween or Day of the Dead craft for your little kids. It involves painting a skull with floral decorations on a smooth stone.
These crafts are usually used to honor the dead in Mexico.
Also, this painting idea will give you some fun time as you work with brushes, acrylic paints, and rocks in the shape of skulls.
You can even let your kids participate and make it a family tradition. Then, your kids can proudly show their creative work to their friends at the next celebrations!
You'll find instructions on how to make Day of the Dead Stone Skulls on hodgepodgecraft.com.
15. Field of Tulips Q-Tip Painting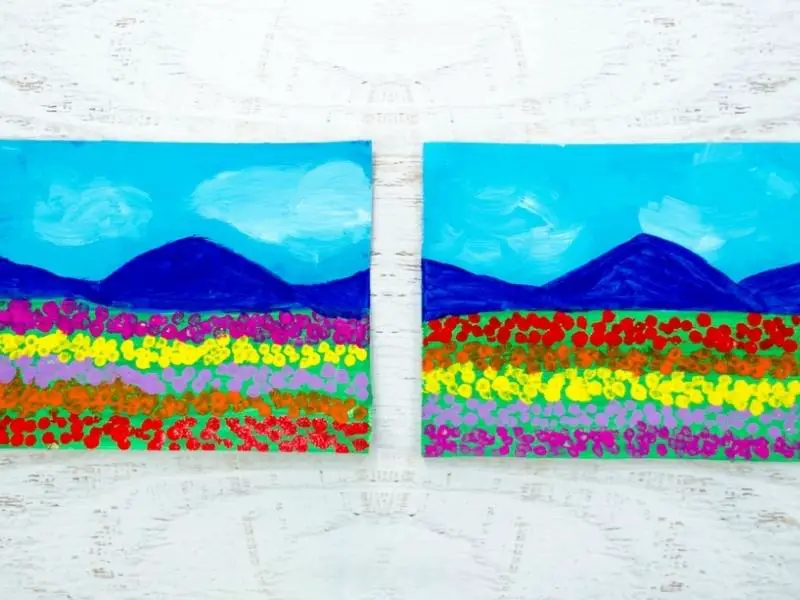 You probably find several painting ideas for kids that promote using household materials instead of brushes. This is one of them. Your kids can explore dot painting by using cotton swabs to dot a Mexican tulip field.
This vibrant and colorful project will give your children maximum fun while creating it. They'll only need a canvas, acrylic paint, paintbrushes, cotton swab for dotting, paint palettes, and their wild imagination!
Learn more about Field of Tulips Q-Tip Painting at projectswithkids.com.
16. DIY Mexican Painted Planters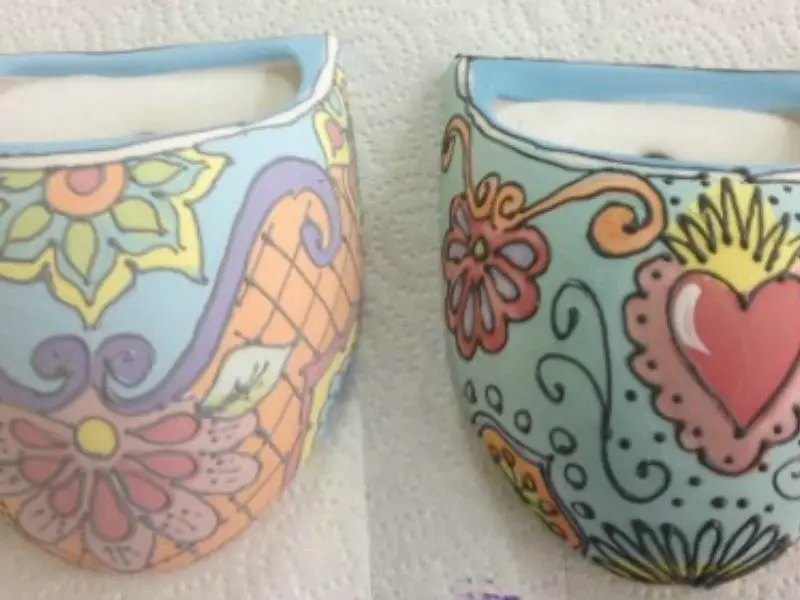 You may not know anything about pottery or firing in a kiln, but one great painting idea for you and your kids is this Mexican pottery painting.
This project requires easy-to-get materials that you can use to paint colorful flowery patterns during the next Cinco de Mayo weekend.
Find out more about this DIY Mexican Painted Planters at ilovetocreateblog.blogpost.com.
17. Symmetry for Little Kids Art Project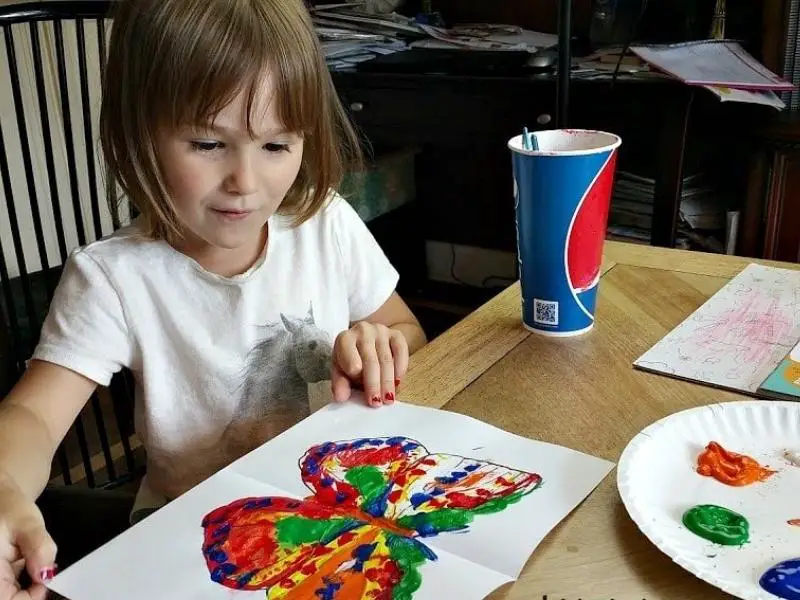 Mexican arts are known for their symmetry. Your kids can explore this concept and create fascinating painting projects!
This intriguing idea offers your kids an excellent opportunity to express themselves using colors.
Firstly, they need to draw a symmetrical object like a butterfly or flower. This is followed by painting one side of the object.
Then, the paper is folded to apply the paint to the other side of the object.
Check kidminds.org to learn all about the Symmetry for Little Kids Art Project.
18. Mexican Yarn Painting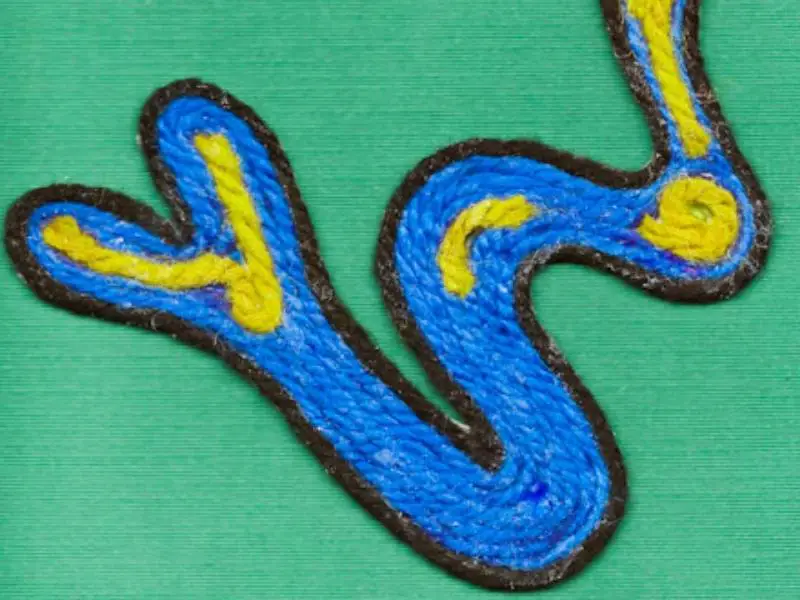 Are you looking for a trendy Mexican painting idea for you and your kids? You can try your hands on yarn painting, and you'd be amazed by the results!
This art project involves creating beautiful patterns using yarn, glue, and various colors of paint. However, this idea may be too demanding for kids, but teens and young adults will find it interesting and engaging.
Learn how to make the Mexican Yarn Painting on auntannie.com.
19. Acrylic Pouring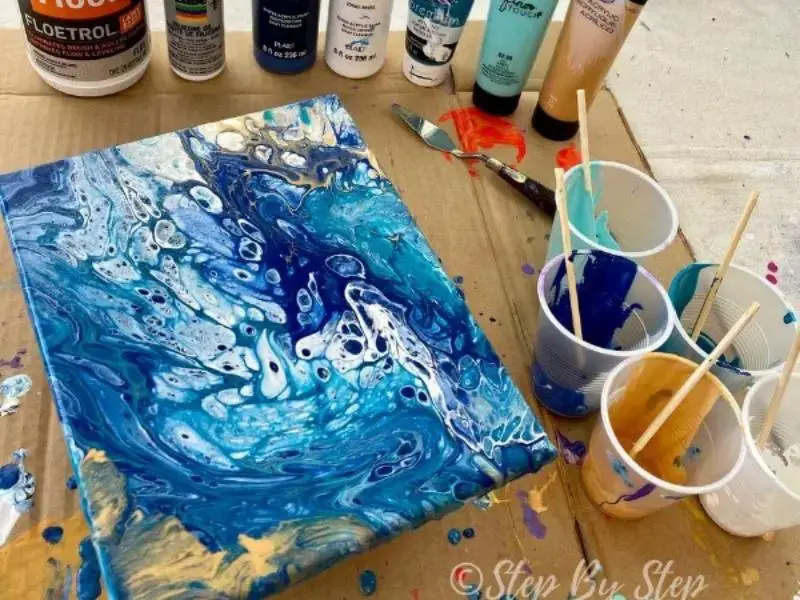 This one involves acrylic pouring or the "accidental painting" as described by the Mexican artist David Alfaros who started this technique in the 1930s.
This painting technique mixes several fluid acrylics on canvases, creating an abstract final piece. You'll start by selecting the colors you'll use and then making them fluid.
The final result would be so beautiful that you'll want to explore more and more with this addictive painting style!
Check out how to do Acrylic Pouring on stepbysteppainting.net.
20. Mexican Mirrors
This Mexican painting idea is inspired by decorative mirrors found at every corner of Mexican marketplaces. Your kids will surely enjoy seeing mirrors on paper at the end!
First, you'll let your kids create large circles of different radius on a piece of paper and design decorative shapes using different colors.
Then, the mirror is created in the center of the circles using copper tooling. And believe us, the result will be simply amazing.
Learn how to make these Mexican Mirrors at paintedpaperart.com.
By now, you should be familiar with some Mexican painting ideas that'll help you start crafting. So grab your paint and tools, and let your creativity go wild.