If you've ever baked in your life, surely you'll know what cupcake liners and lining paper are, and their purpose. They're the cup-shaped paper encompassing a cupcake while baking so that it doesn't stick to the sides. Convenient isn't it? You'll be more interested to know that these paper liners can have other purposes as well, one of them being crafts.Crafting is a hobby that isn't bound by age or gender. Everyone enjoys making crafts, contorting daily household items, utilizing them to their heart's content, their creativity flowing out in waves.Parents often make crafts with their kids, hence crafting isn't just a hobby, it's a means of bringing people together, making memories, and cherishing moments. So we're more than 100% sure that most of you will be interested in what we have to say.Cupcake liners are a household item that is naturally very aesthetic, and one that can be used to make myriads of crafts, be it flowers, or wall hanging carnations, or even a bouquet. We're here to give you ideas on how exactly you can use the cupcake liners sitting idly at your house to make cupcake paper crafts that will awe everyone who comes to visit your house.
Choose Your Weapon
Hey there now don't be alarmed, by this we only mean take out your cupcake paper liners and other handy items you think will help you make the crafts, and lay them out on a table or a clear surface so that you can make crafts in a comfortable environment. It would also help if you could pick out any of the other household items (like colored tissues, toothpicks) that you can envision going along with the crafts you have in mind.
Derive Your Inspiration
If you or your child are facing a creative block and don't actually know how to go about making the craft, we suggest you try researching DIY crafts methods, since they give a pretty good idea of what you wanted the craft to look like. Think of it as a head start. Some of the better sites to derive inspiration from would be Pinterest and YouTube – as YouTube has many videos on DIY craft making. Once there's a picture of the craft in your head, it will be easier to put it into formation.
Execute Your Plan
When you're done laying out all the necessary equipment to make the crafts and have a perfect idea in your mind on how to do so, assemble your craft. And it's okay if the first try doesn't turn out alright because you can get it right on the second one. You make mistakes and learn, this is how you improve. And that's how you succeed.Now that we've prepared you on what to expect when making crafts out of a cupcake liner, now it's time we suggest different ideas on how to actually make those crafts. Of course, you can put your own personal touch to it later on so these are just some of the designs we thought you might enjoy making:
Craft Number 1: Cupcake Paper Umbrellas
Source:https://www.diythought.com/5-fun-umbrella-crafts/Step 1: Layout your cupcake paper and straighten it up a bit.Step 2: Then fold the paper in half and glue it onto a page keeping the curved side upwards so it looks like an umbrella.Step 3: Draw an outline and a person holding the umbrella, and voila!
Craft Number 2: Cupcake Paper Flowers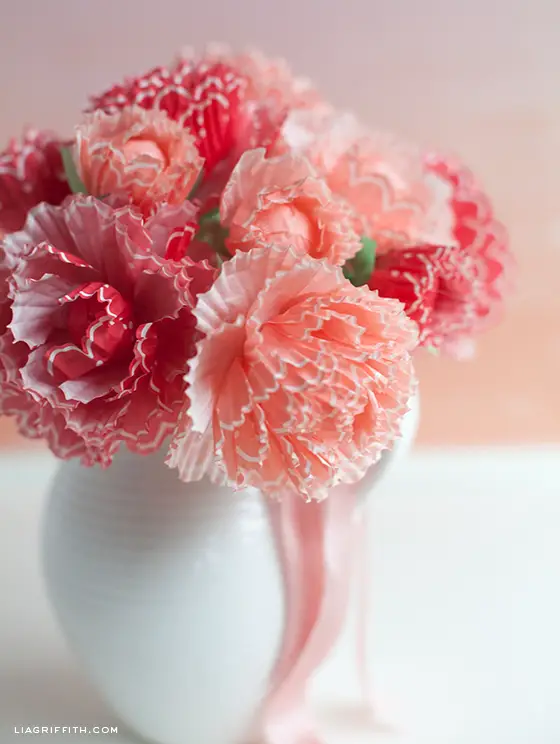 Source:https://liagriffith.com/pretty-peonies-made-from-cupcake-wrappers/Step 1: Take approximately 5 or more cupcake papers, cut each one's sides consecutively so that every following paper is smaller than the last one.Step 2: Put the biggest one on the bottom, and put the other smaller ones inside the first big one, this will give the illusion of a rose and make the craft stand out. To make it more fun and aesthetic, you can also paint the cupcake liners before assembling them into the shape of a flower, or you could just attach pearls or glitter to make them stand out because, let's be honest, a little glitter never hurt anybody.Step 3: Glue or staple the petal-like paper liners at the bottom and fluff the paper out so that it looks better. Attach a long stick or a toothpick at the bottom and secure it with glue to keep it in place. Make a bunch of these and arrange them into a bouquet to give as a gift to a friend.
Craft Number 3: Cupcake Paper Cards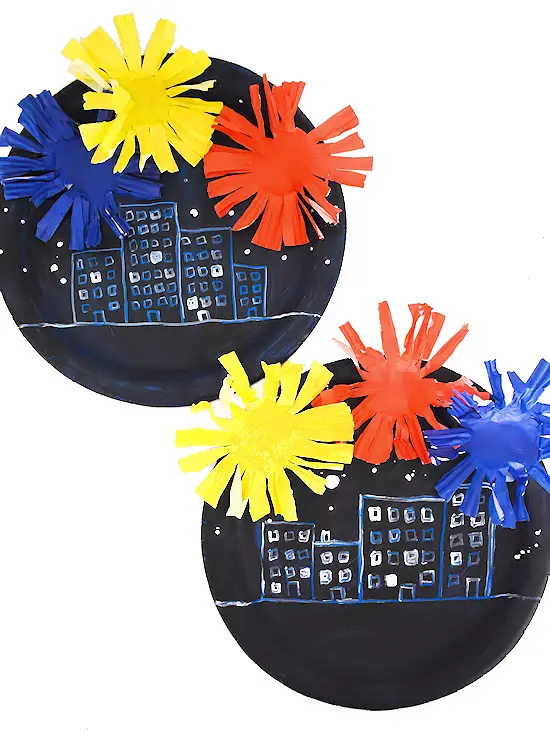 Source:https://www.ourkidthings.com/paper-plate-cupcake-liner-fireworks/Step 1: Take a bunch of different cupcake liners "" it would be more fun if they were of different colors and patterns.Step 2: Cut down the line of the ribbed part of the cupcake paper (don't cut a lot; just enough so that the now cut lines become wavy-er. You can also cut them in a zigzag pattern or a wave one.Step 3: Attach this bunch of the differently designed and cut cupcake paper onto the main page of the card and work your imagination. You can assemble it in a way that makes it look like flowers but you can also make patterns with it as you please, for example, making them look like the fireworks you see on the 4th of July or New Year's Eve.
Craft Number 4: Cupcake Paper Butterflies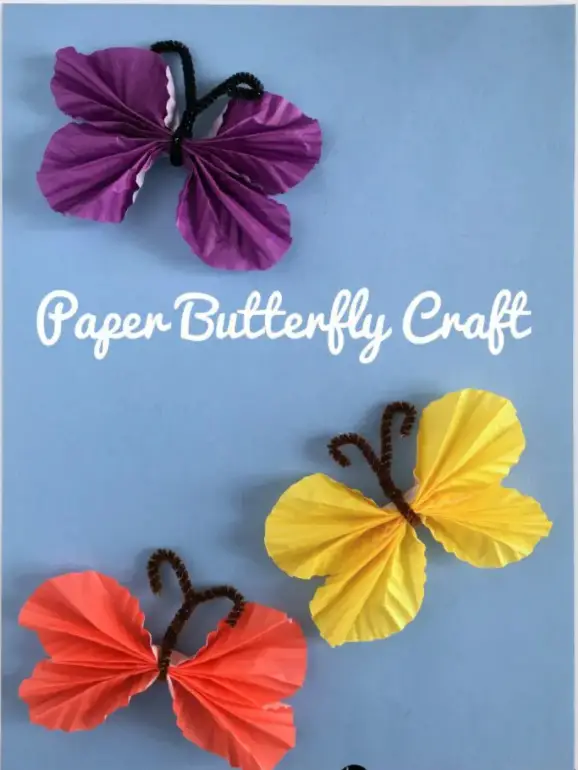 Source:https://thekindergartenconnection.com/paper-butterfly-easy-spring-craft-for-kids/Step 1: Cut your cupcake liners in perfect halves and set them aside. Take at least 2 cupcake liners keeping in mind the shape of a butterfly's wings.Step 2: Next, fold the cupcake liners one by one in vertical lines, in a zigzag formation (like the way you used to make paper fans in your childhood). Do this to all the cut-up pieces of the cupcake paper and set it aside.Step 3: Now take the zigzag folded piece and staple one end. Do this to all of the pieces. Preferably staple the straight end of the cupcake paper (because the other end is in a semi-circle which will resonate perfectly with the shape of a butterfly's wings).Step 4: Once all 4 of the pieces are stapled, glue the individual pieces together in a pattern that you see fit. Make sure to glue them up side by side so that when you look at it from the front, it forms a perfect butterfly shape.
Craft number 5: Cupcake Paper Hairpin
Now we know you thought that the crafts made of cupcake papers were only for decorative use, but what if we told you that they could be used to make accessories as well? Sounds interesting.Step 1: For this, all you have to do is take your cupcake papers and trim them down from the upper layer so that they become a bit smaller in size.Step 2: After that make flowers with the now small-sized cupcake paper (the tutorial of which is already mentioned above), or you could just make miniature butterflies as well, which would be even more fun and beautiful.Step 3: Once you're done with step 2, take an idle bobby pin or a bigger hair clip/pin and glue the butterfly/ flower onto it. To make it stand out you could also embellish your hairpin with pearls. This is a perfect gift for girls who like wearing accessories in their hair. Subsequently, you could also use a headband instead of a hairpin if the person you're giving it as a gift to prefers wearing headbands more.
Craft Number 6: Making Animals Out Of Cupcake Papers
Source:https://www.easypeasyandfun.com/ocean-animal-cupcake-liner-crafts/
Children generally love the ocean and anything in it, so ocean crafts tend to be extremely popular. Using simple items like cupcake liners is a good way to make the craft more accessible to young children, and faster and easier for the adults involved. This craft combines the best of both!
You can make a whole range of different animals using this craft idea. Why not try out a bright red crab or a green turtle? Or, if your child loves jellyfish, make one of those! An octopus is another great option, and will let your child have fun with the texture on its tentacles.
If your child is a big shark fan, you can try the friendly looking shark craft instead, or make a colorful fish with pretty much any colored cupcake liner you have. One of the best things about fish is that they can be any color or pattern, so no matter how wacky your cupcake cases are, they should work!
All of these are great fun for kids and only need you to have access to cupcake liners, bits of paper, and perhaps some tissue paper and pens. The smiley faces are adorable and perfect for getting your child engaged. This could be a great project for learning about all the different creatures that live under the sea.
Alternative ideas
An alternative way to use the cupcake liners would be to either use them as a makeshift dress on a drawing, or other types of animals. For example, when folded in half they could also be used as scales to put on a drawing of a fish that your kid just made. This will not only teach your kid to think outside the box, but they'll also be open to all kinds of possibilities and hence their mind will now be more creative. Another way to use this paper would be to make a crab or a cute and fuzzy jellyfish out of it, which is pretty easy when you think about it, isn't it?An alternate form of flower you can make to the one mentioned above would be a lily. You can do this by cutting up the paper into a petal-like structure and then attaching it with glue as mentioned above. You can also make props for your child's birthday yourself by using the skills and ideas acquired here. The sky's the limit and your craft depends on your imagination.One other thing you can make out of cupcake paper is Christmas ornaments. Yep, that's right, no more overspending on flashy ornaments which you're just going to put away into a box till next Christmas. By folding the cupcake paper into 3 conical shapes and gluing them together one after the other, you can make a pretty decent miniature Christmas tree ornament!
Comments
0 comments