Butterflies are some of the most beautiful creatures found in nature.
Although there are different butterfly species, the signature orange, yellow, and black of a monarch butterfly paint an instant mental picture and inspire a lot of butterfly art.
Painting butterflies is perhaps one of the first craft projects we work on as school kids.
Butterfly paintings are often a go-to with children because they're so easy to make and give such beautiful results.
In addition, such activities can bring together a group of children and are so much fun to participate in.
Butterfly paintings are also common among adults and artists. People get creative with the painting tools, techniques, and detail, making butterfly art a field of endless creativity.
Because everyone may want to paint butterflies, we've brought together some butterfly painting ideas to get you inspired. So let's get straight to it.
Butterfly Painting Ideas
Whether you're a parent, a school teacher, or an artist, you can probably make use of some butterfly painting ideas.
Whatever inspiration you may need, we got it covered for you. So, without further ado, below are 30 ways to paint butterflies. Let's dive into them.
1. Symmetrical Butterfly Painting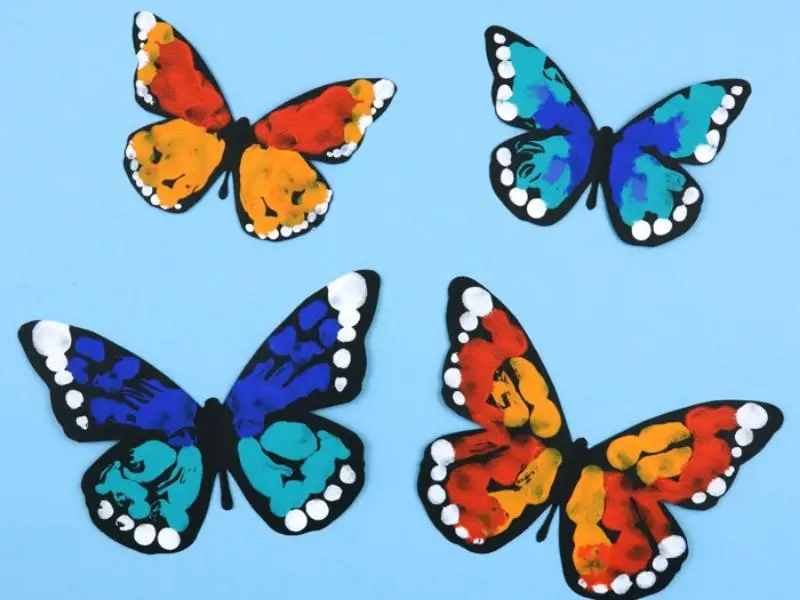 With this fun art project, you can create cool, realistic butterflies while teaching your kids about symmetry.
The black background of the paper gives a unique pop to the butterfly colors.
Symmetrical Butterfly Painting from The Craft Train
2. Butterfly Symmetrical Painting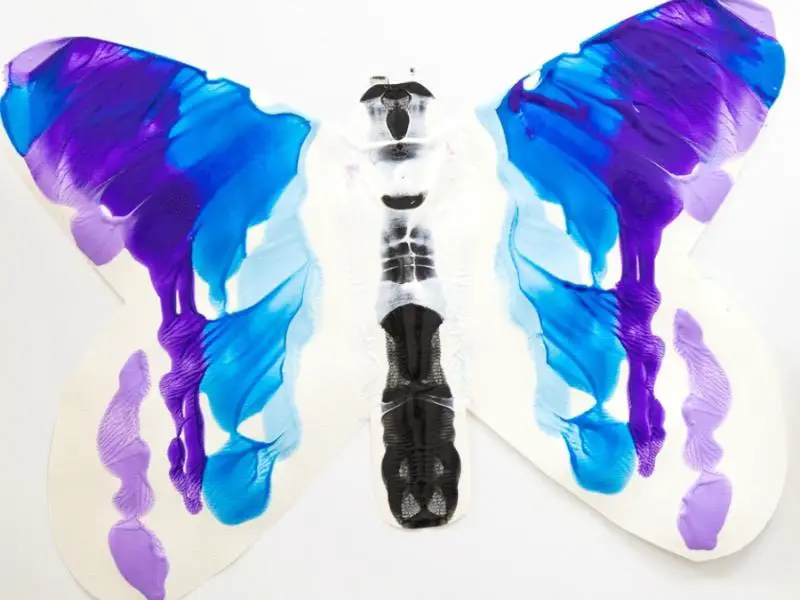 This is another symmetry project. The fold, press, rub, and reveal method is a classic with the kids, and the results never disappoint.
Butterfly Symmetrical Painting from The Artful Parent
3. Monarch Butterfly Painting
Paint beautiful monarch butterflies with this project. The soft pink background with the yellow, orange, and black of the butterfly brings together a lovely work of art.
Easy Monarch Butterfly Painting from Feeling Nifty
4. Rock Butterfly Painting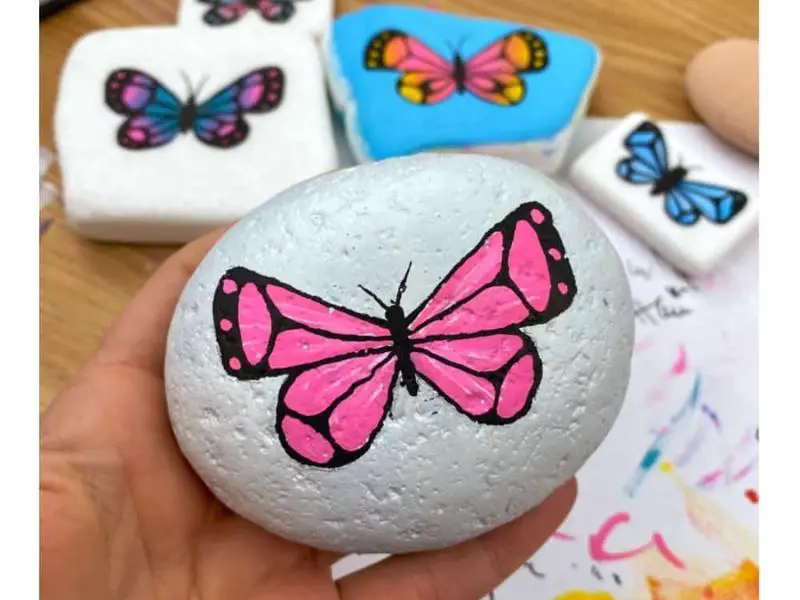 This one is somewhat unusual but amazingly gorgeous and unique. It's quite suited for beginners and will give you gift-worthy stones.
So forget mainstream paper and let the rocks be the canvas of your butterfly painting.
Rock Butterfly Painting from Rock Paintings 101
5. Watercolor Butterfly Painting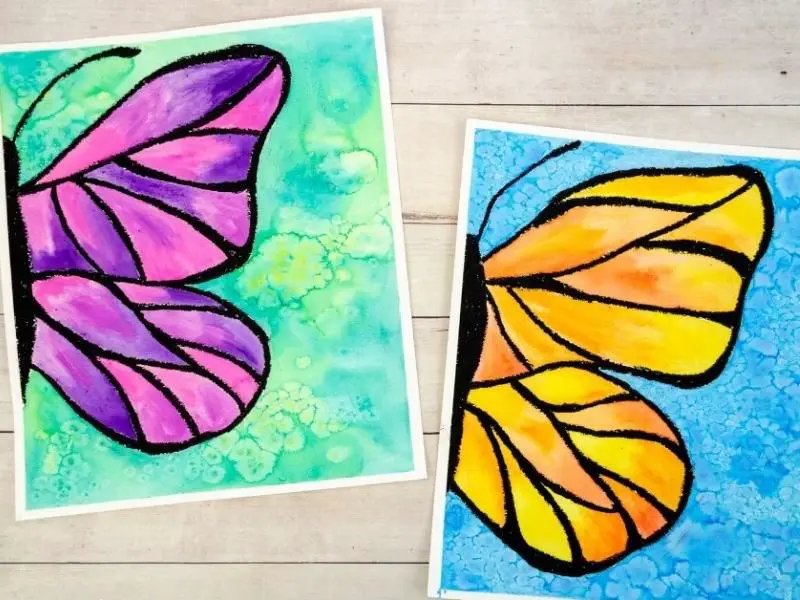 This is one of those paintings that are so simple to make yet give such beautiful, sophisticated results. You'll definitely want to hang these on your walls.
Beautiful Watercolor Butterfly Painting from Projects with Kids
6. Butterfly Painting for Toddlers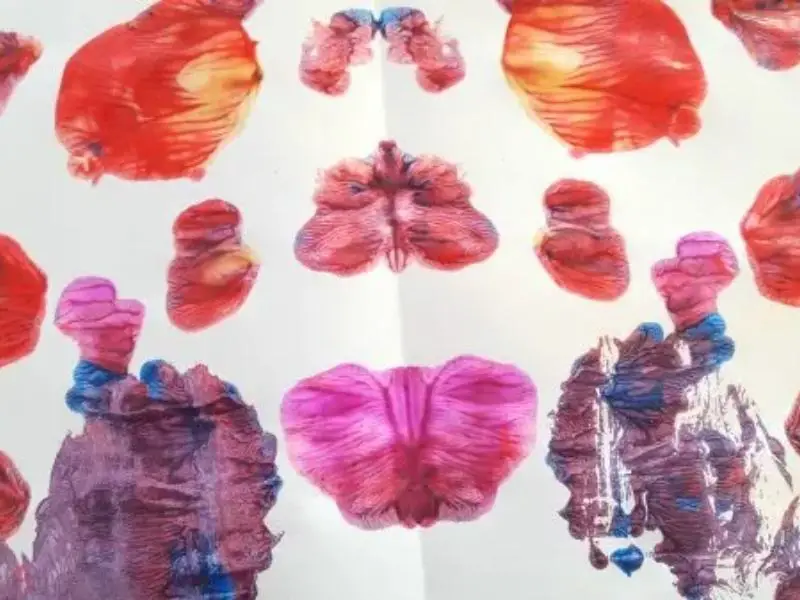 Have your toddlers create their own art with this one.
This butterfly art project has almost no guidelines and will give your toddlers the chance to create their own abstract art.
Butterfly Painting for Toddlers from My Bored Toddler
7. Acrylic Butterfly Painting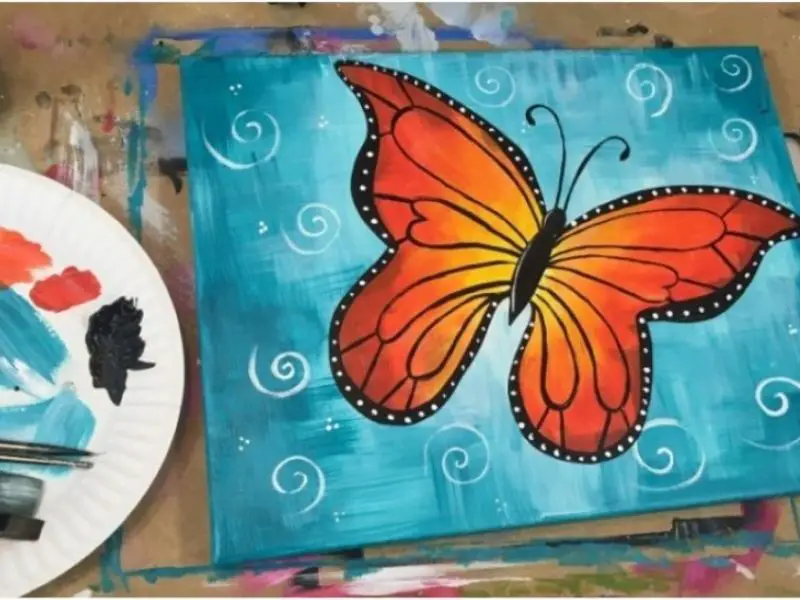 Paint a classic monarch butterfly with some acrylic paint on a stretched canvas. Finish your painting off with some highlights, and your butterfly painting will be ready for display.
Acrylic Butterfly Painting from Step By Step Painting
8. Finger Paint Butterfly Craft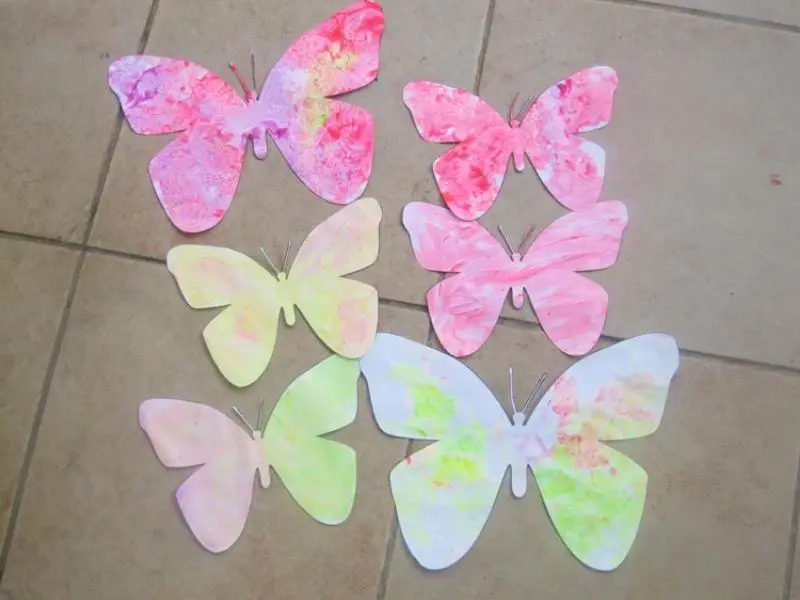 Are you looking for some butterfly painting ideas for your toddler?
With kids, messier is always better. Let your child explore the world through finger painting to create beautiful butterflies. Again, this project will be messy, so brace yourself.
Finger Paint Butterfly Craft from Fun With Mama
9. Butterfly Salt Painting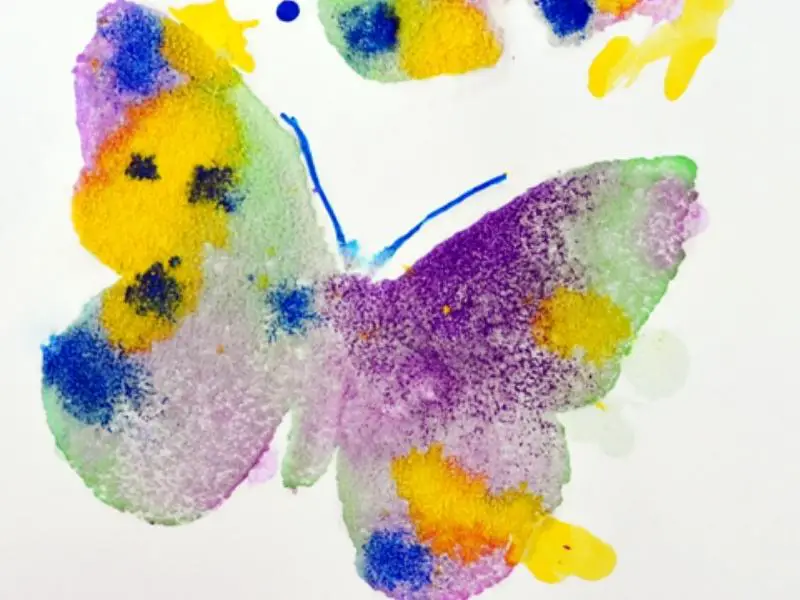 Ever tried to paint with salt before? Experiment with this butterfly painting technique for a mesmerizing process and wall-worthy butterflies.
Butterfly Salt Painting Art Project from Artsy Momma
10. Acrylic Butterfly Painting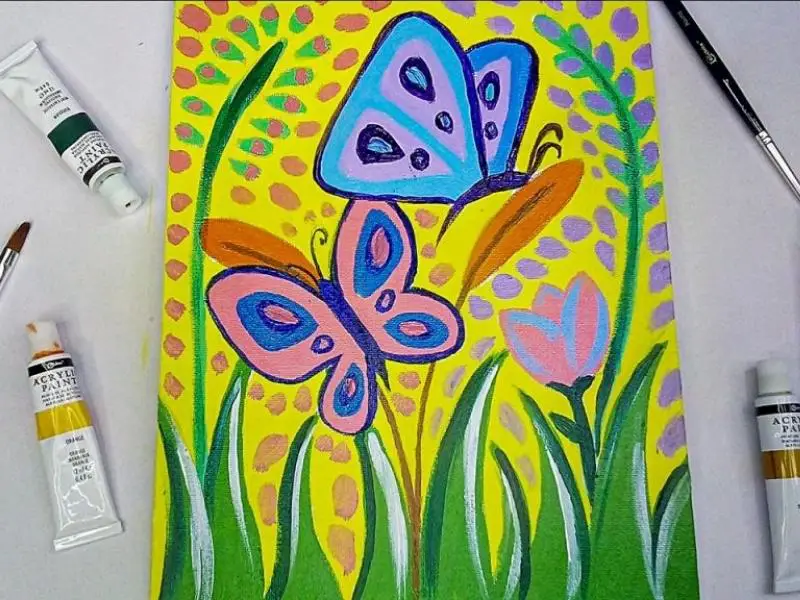 If you're a beginner looking to master some painting techniques, this project is for you. Paint some cute and vibrant butterflies by applying the basics of acrylic painting.
Acrylic Butterfly Painting from RiseBrite
11. Easy Butterfly Kid's Art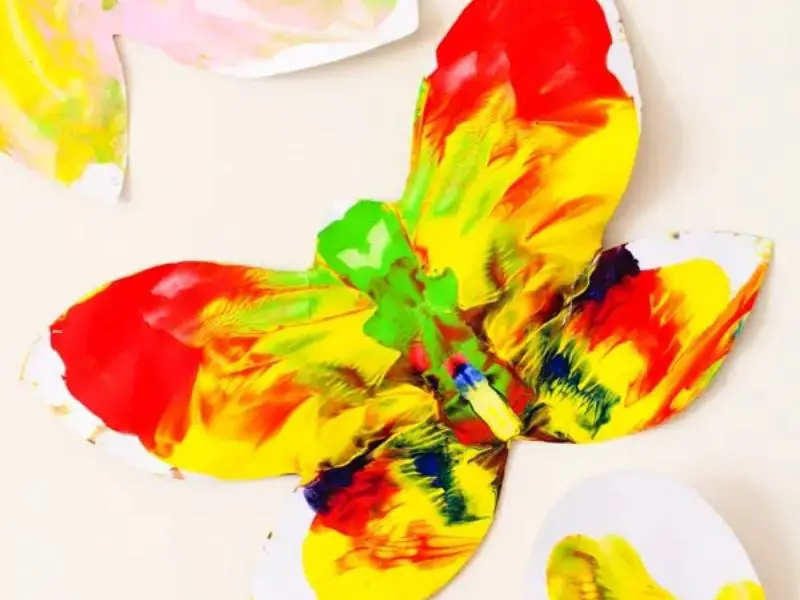 Another symmetry butterfly painting idea here, a messy one too. Have your kids learn about symmetry the fun way with this painting activity.
Then, watch them glow with joy as they unfold their creations.
Easy Butterfly Kid's Art from Arty Crafty Kids
12. Symmetrical Butterfly Craft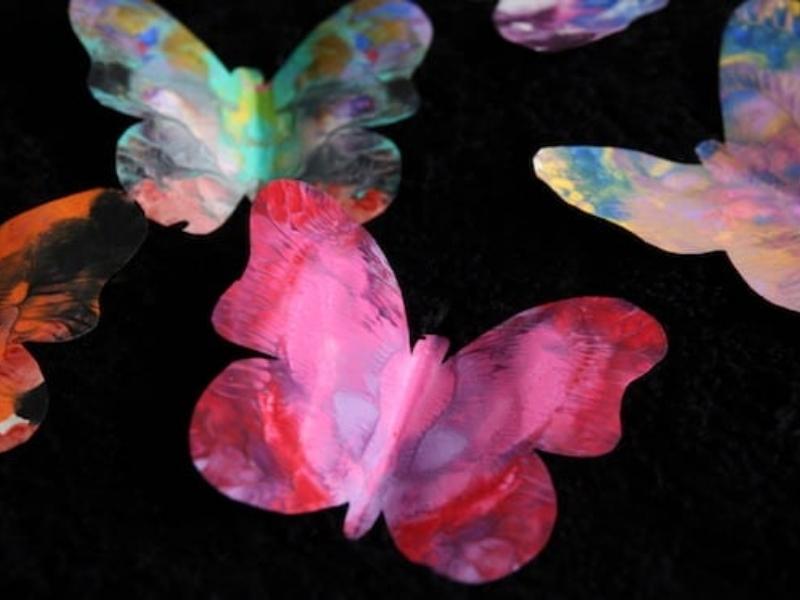 If you've got paint and some paper plates, you're all set for this one. Fold the paint-bearing paper plates for some squish action, and cut up the dry masterpieces into beautiful butterflies.
Symmetrical Butterfly Craft from Happy Hooligans
13. Butterfly Squish Art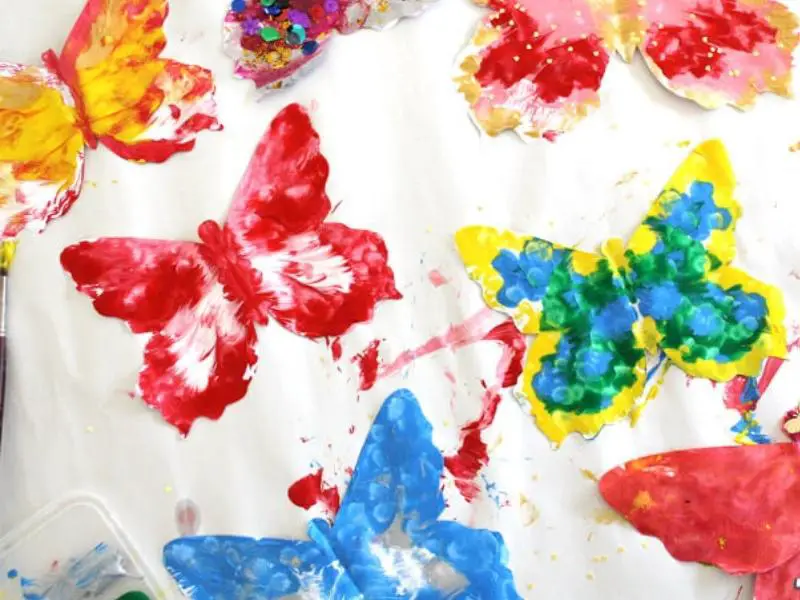 Chaotic butterfly crafts seem to be a kids' fan favorite in the world of butterfly painting ideas.
The mix of paint colors, tiny fingers, and paper squishing makes just the perfect combo.
Butterfly Squish Art from The Craft Train
14. Abstract Butterflies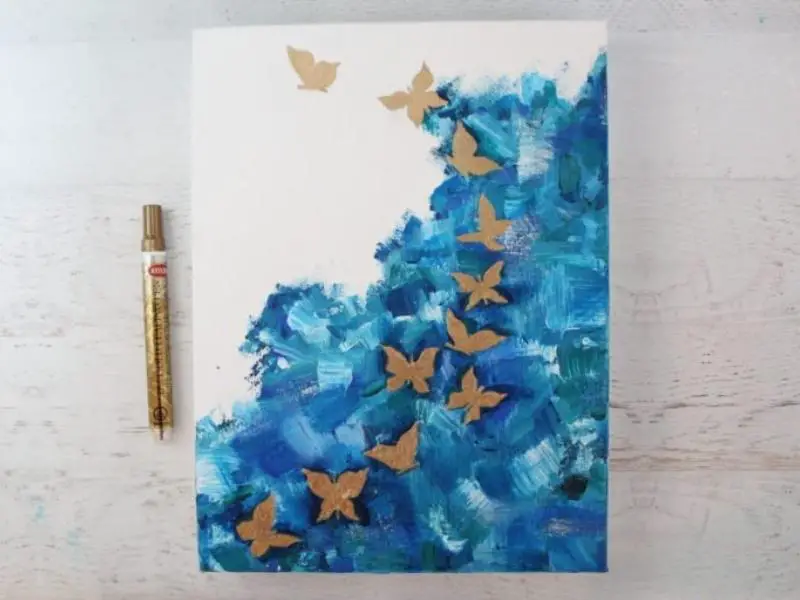 Abstract paintings are perfect for beginners; they're a lot less intimidating and are guaranteed to give beautiful pictures.
So try your hand at this abstract butterfly painting to unleash your inner artist.
Abstract Butterflies from Feeling Nifty
15. Butterfly Art for Kids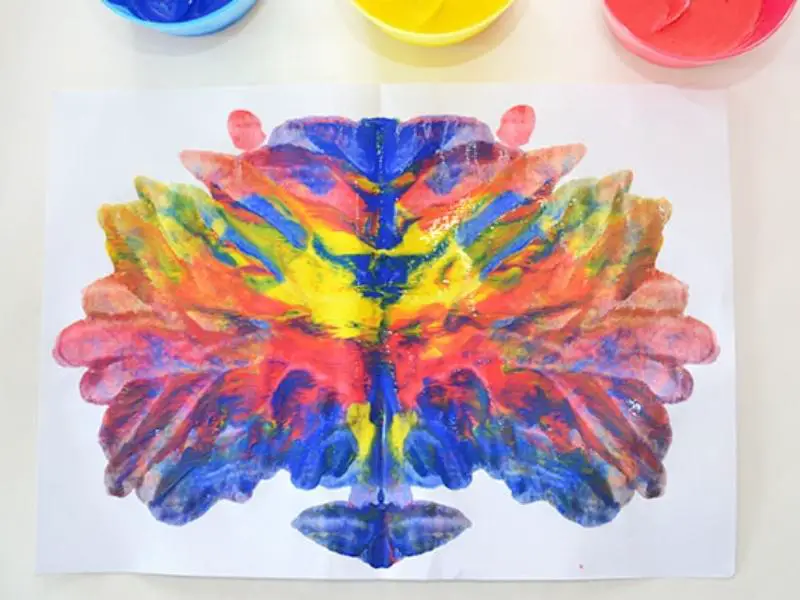 Try this butterfly squish painting activity for some psychedelic paper art. The symmetrical butterfly painting is both toddler-friendly and super easy to set up.
Butterfly Art for Kids from Picklebums
16. Acrylic Butterfly Painting for Beginners
These butterfly paintings are so easy to make and will leave you with some unbelievably vibrant canvases.
The cartoon-looking butterflies will also be a great addition to your room.
How to Paint a Butterfly for Beginners from Easy Peasy and Fun
17. Step by Step Butterfly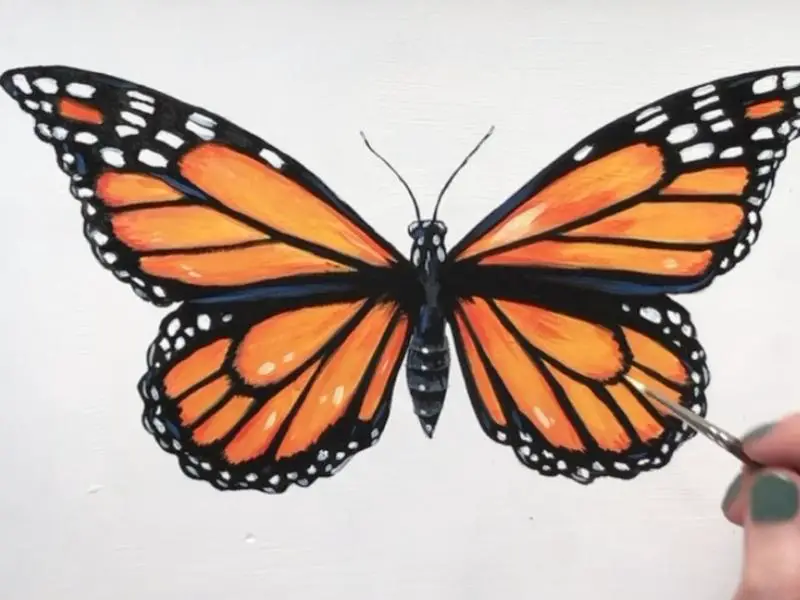 This beautiful painting is a classic: an orange and black monarch with white-spotted wings.
This painting takes you a few steps up the learning ladder, and it's worth it.
Step by Step Butterfly from Bonnie Lecat
18. Black-Veined Butterflies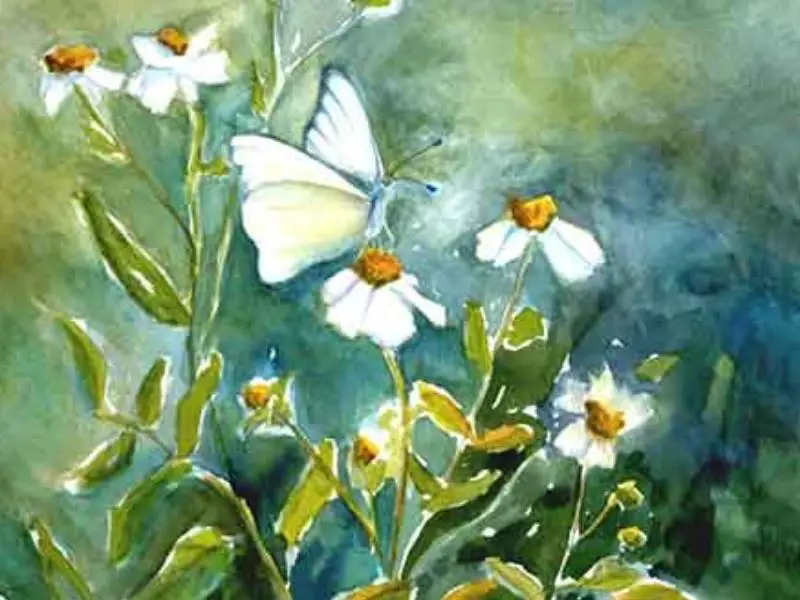 These breathtakingly gorgeous butterflies are too majestic. If you're looking for a realistic butterfly painting idea, you just found the perfect one.
The details on this painting are just crazy.
Black-Veined Butterflies from Art by Carol May
19. Handprint Butterfly Craft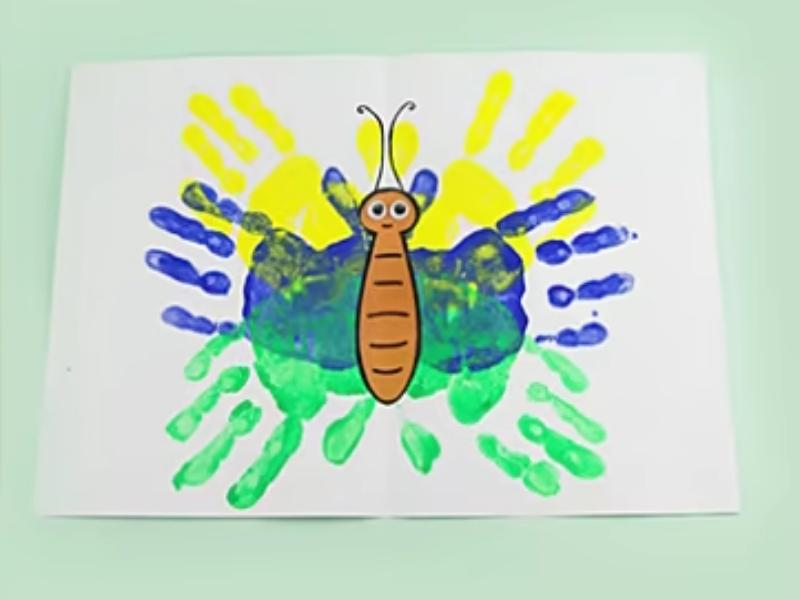 It doesn't get easier than this.
Tiny hands, paint, and a piece of paper, that's all you need for this one. This butterfly craft is super fun for the kids and requires minimal effort on your part.
Handprint Butterfly Craft from Twinkl
20. Butterfly Wood Slice Painting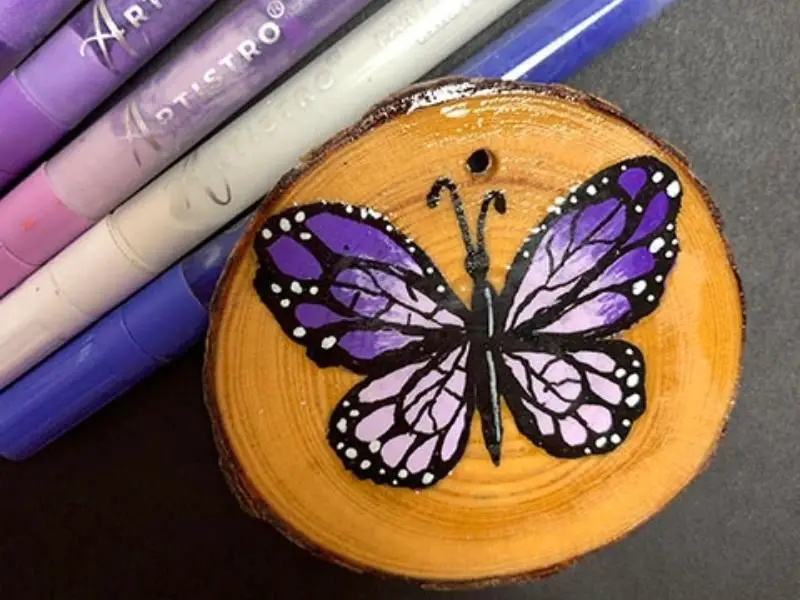 What's better than a butterfly painting?
A butterfly painting on a wood slice. You can personalize this ornament with your personal choice of color and design.
Butterfly Wood Slice Painting from Artistro
21. Butterfly Mug Painting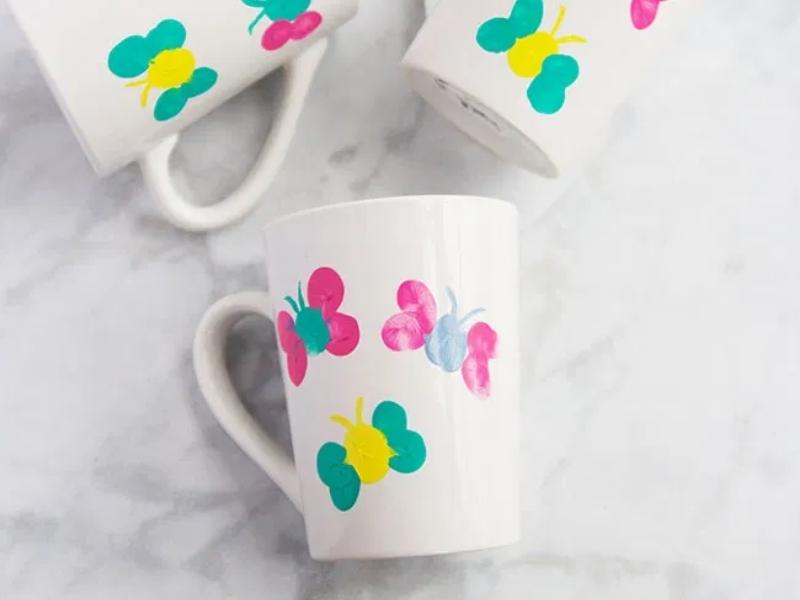 Talk about the best mother's day craft idea. This craft is one that the child will enjoy making, and the parent will get to treasure it forever.
Fingerprint Butterfly Mug Painting from The Best Ideas for Kids
22. Butterfly Symmetry Painting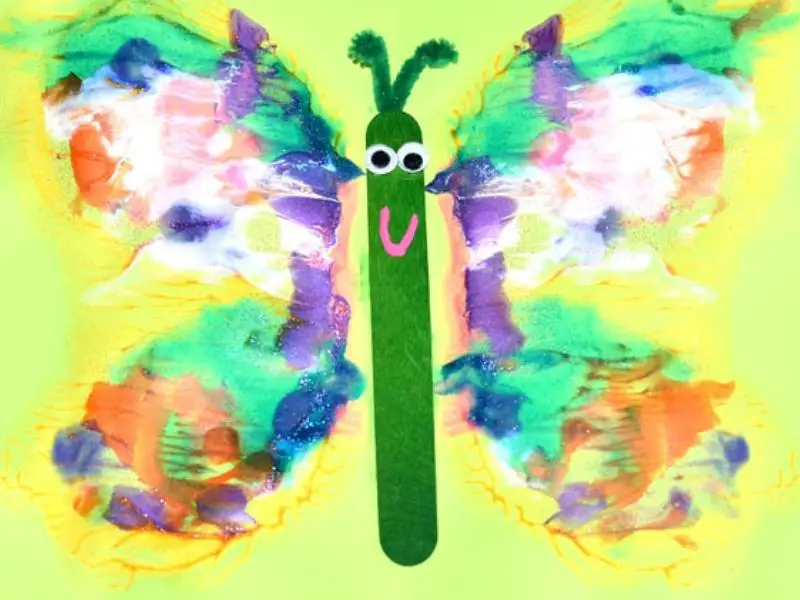 What's remarkable about this symmetry painting is the little final touches.
After you unfold the artwork for the big reveal and all the wings paint has dried up, glue on some sticks, googly eyes, and antennas to simulate a butterfly's body.
Colorful Butterfly Symmetry Painting from Artsy Momma
23. Crazy-Colorful Butterfly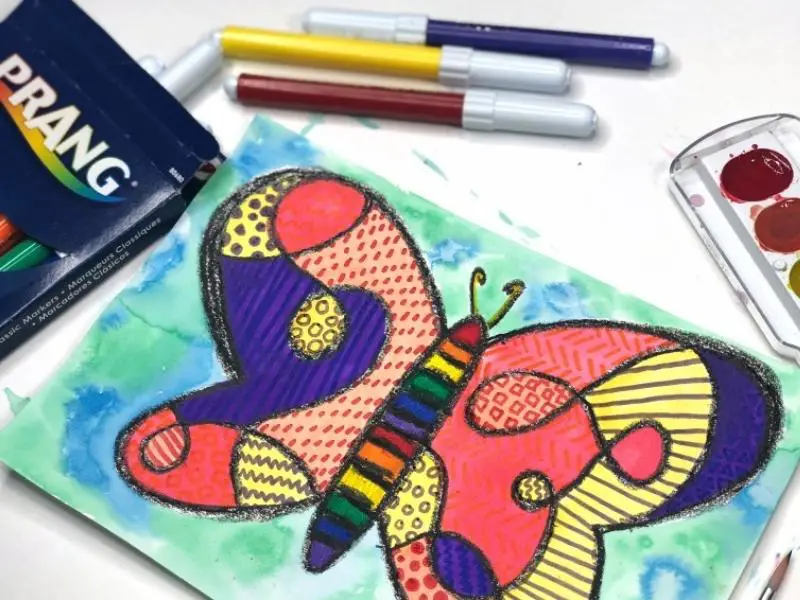 With crayons to draw the outlines and watercolor paint to fill in the details, you have all you need to create some gorgeous butterflies with your kids.
Projects like these give children the chance to express themselves using art.
Crazy-Colorful Butterfly from B-Inspired Mama
24. Sponge Painted Butterfly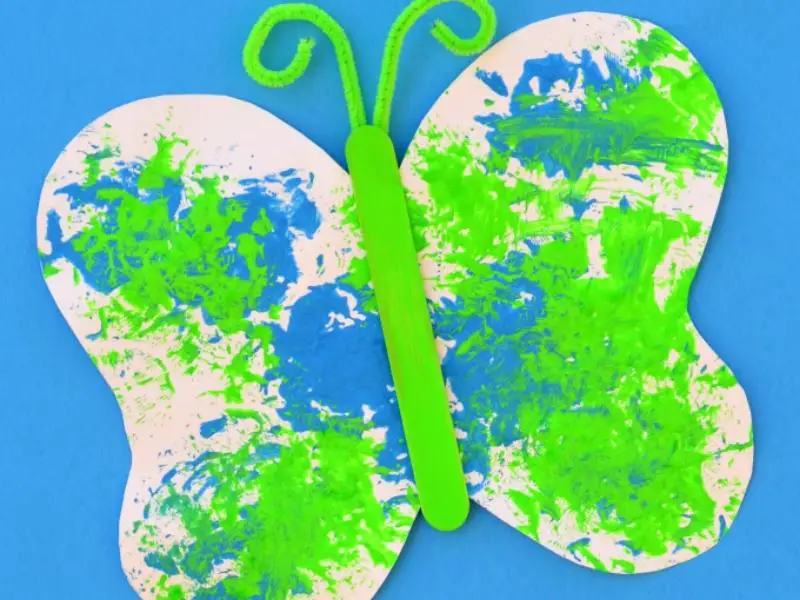 You can't go wrong with this one. Whatever paint colors you end up choosing, the resulting butterfly will look unique and special.
Get the paint and the sponge ready, and let your toddler take care of the rest. Once the paint dries, add in the details for the body, and you'll have a masterpiece.
Sponge Painted Butterfly from The Resourceful Mama
25. Garden Butterfly Painting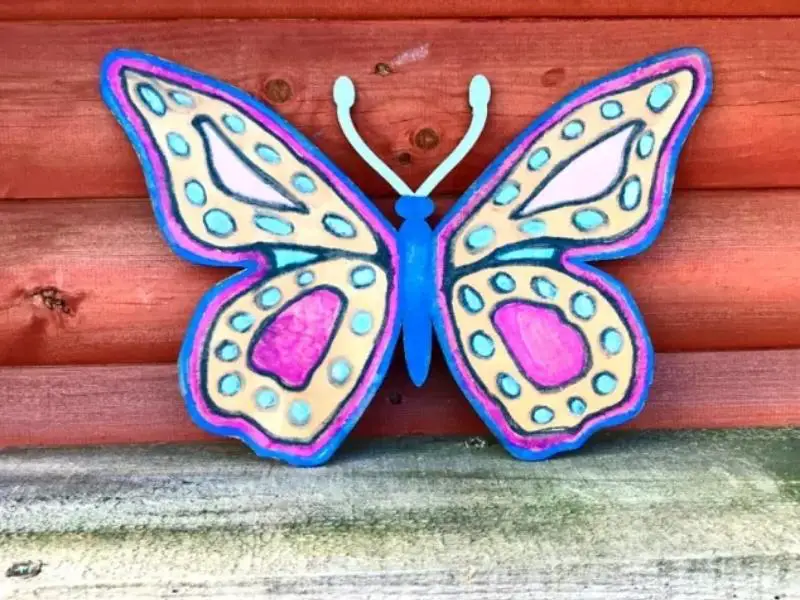 Painting on one of those craft shop laser-cut butterflies makes the perfect addition to your garden.
Choose whichever size you like and paint on your design using watercolor pencils. Make sure you spray on a protective layer and hang as many butterflies as you want all over your garden.
Big Beautiful Garden Butterfly Painting from Home Talk
26. Galaxy Butterfly Painting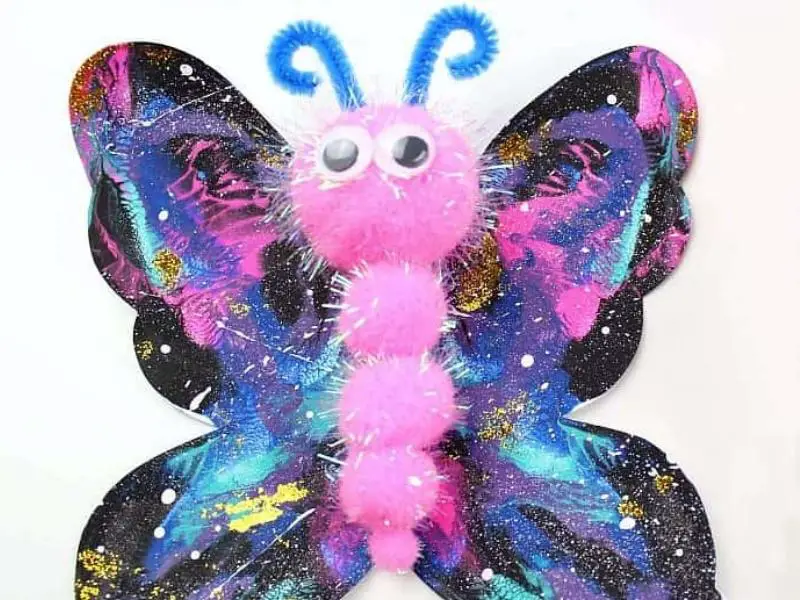 A clever twist to the fold, squish, and rub approach would be to use galaxy colors. This painting technique already blends in colors perfectly.
Plus, using colors like blue, purple, green, gold glitter, and black will effortlessly produce a perfect galaxy painting.
Galaxy Butterfly Painting from Buggy and Buddy
27. Foam Brush Butterfly Painting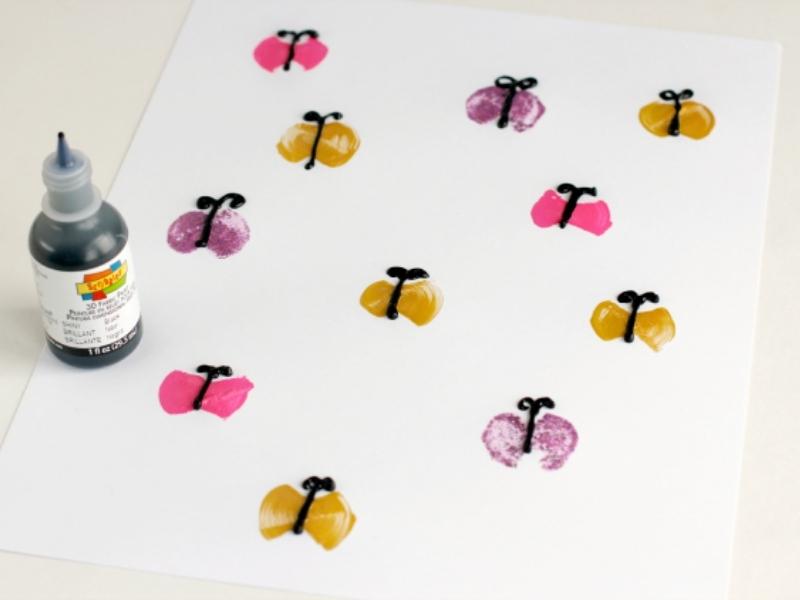 This is an immaculate and straightforward painting idea that leaves you with the cutest little butterflies.
Using a foam brush, wiggle on little snow angel butterfly wings and draw in the antennas and body with puffy black paint.
Foam Brush Butterfly Painting from Make and Takes
28. Watercolor Butterfly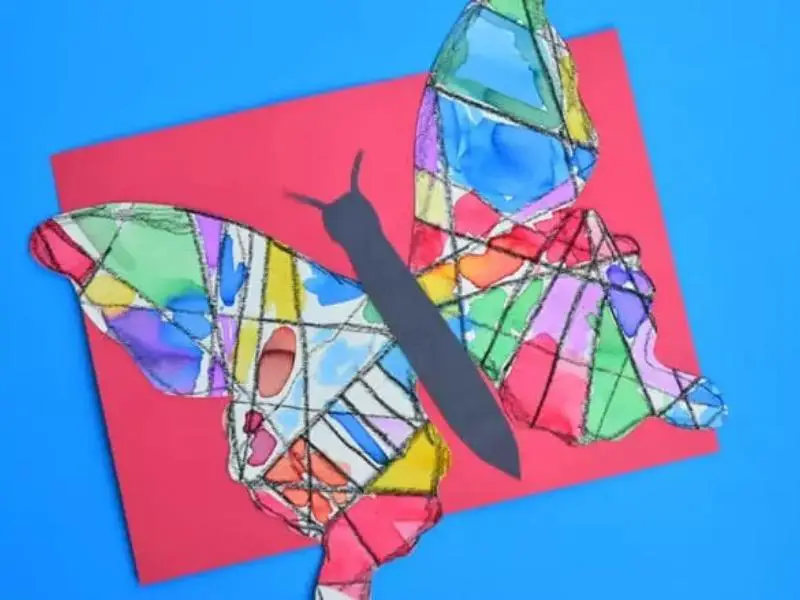 You can easily simulate a stained glass painting with a few tricks and no particular skill.
Show your kid how to draw crisscross lines, then have them color inside the borders.
Cut up their design into a butterfly outline, and you'll have your stained glass butterfly ready to go.
Watercolor Butterfly from Rainy Day Mum
29. Acrylic Pour Butterfly Painting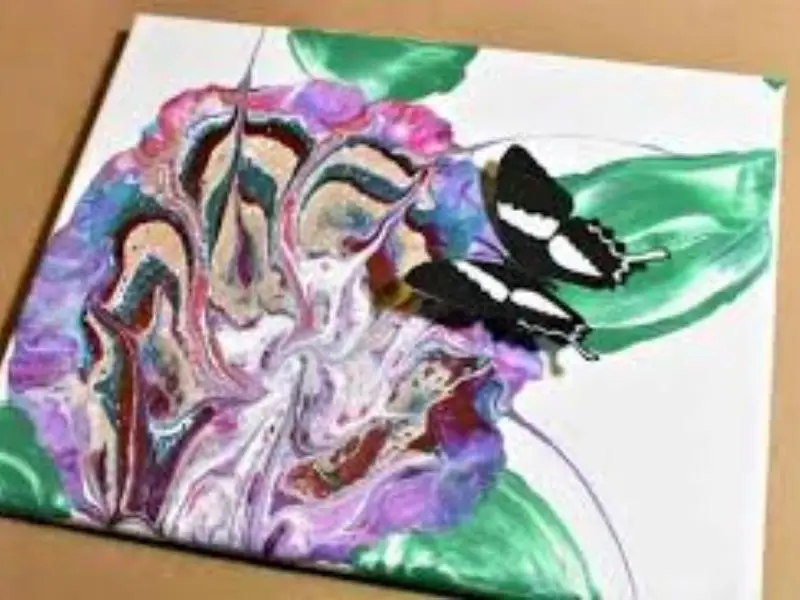 Who could've thought that we could make beautiful paintings of butterflies using the acrylic pour technique?
However, if you worry too much about creating a mess with your paint, this idea won't be the best for you.
Acrylic Pour Butterfly Painting from Homebody Hall
30. Footprint Butterfly Flower Pot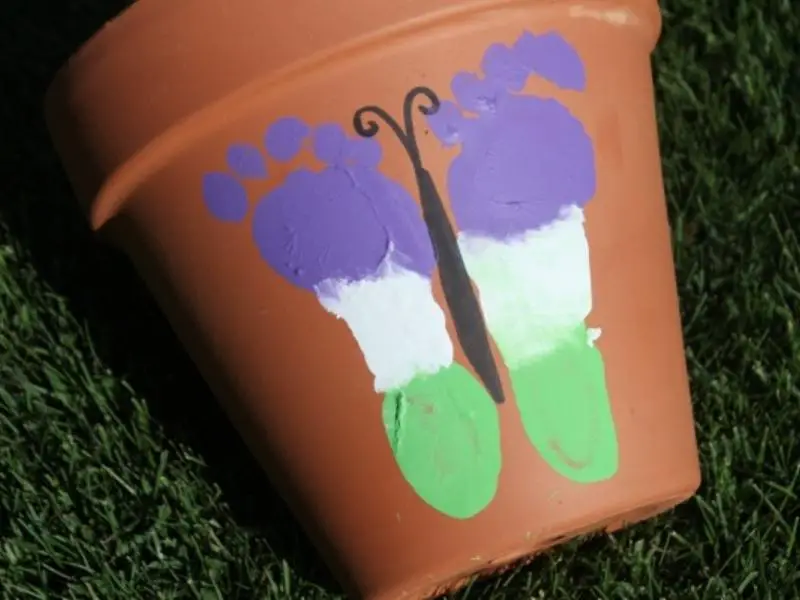 We've got footprints for butterfly wings with this one. This butterfly project is a fun way to engage your toddler and is guaranteed to age beautifully.
Your toddler's little feet are only tiny for so long, so make the best of it while it lasts. You can also add a date on this beautiful piece; your future self will thank you for it.
Footprint Butterfly Flower Pot from Mama Papa Bubba
Last Words
To recap, butterfly painting is one of the most fun and creative activities for different age groups.
It can be so easy to make and yields such rewarding results. Because inspiration is a significant part of creating unique art, we brought together this list of butterfly painting ideas for all the distraught parents, teachers, and artists out there.
Let us know which one is your favorite!
Comments
0 comments