Clay crafts are super diverse. Since air-dry clay is easy to deform and reshape, you can get creative with your air-dry clay projects to gift someone you love with a piece of jewelry, add a little piece of decoration in your home, or even craft something to eat in. Not to mention, clay is inexpensive, so an air dry clay project won't likely cost you more than a few bucks.
We love air-dry clay because it's fun for kids and adults alike. Oh, and it doesn't require a kiln or oven.
Alright, let's explore 23 of the best air-dry clay craft ideas that you can get your hands dirty with now!
Stamped Air Dry Clay Bowls
Stamped clay is so easy to shape into bowls of all sizes. They won't turn out to be perfect circles, but that's just part of their beauty, isn't it?
To customize your air-dry clay bowls even further, you can stamp words, names, or phrases on them. Just make sure that you do this when the clay is still drying up.
This would be a cute gift for your lover or friend on any day of the season.
Find out more about the stamped clay bowls at aliceandlois.com.
Tropical Themed Air Dry Clay Plates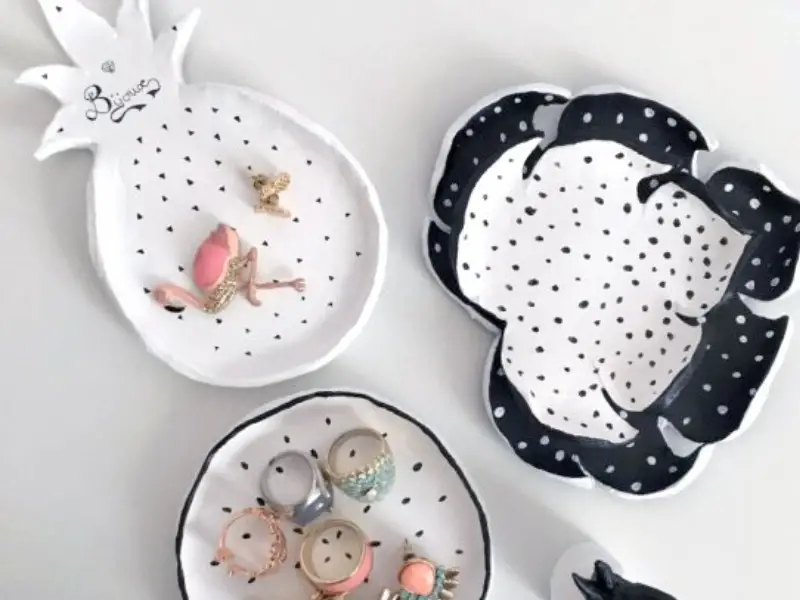 Ditch the traditional solid-color plates and spice up your dining room with some cool black and white tropical-themed air dry clay plates.
From round to floral and pineapple-shaped plates, you can create an eccentric and trendy dinner set for your home. Don't be afraid to spice up the black and white combo with a touch of yellow or green.
Get the instructions for the tropical air dry clay plates on monptittresor.fr.
Air Dry Clay Mini Succulent Planters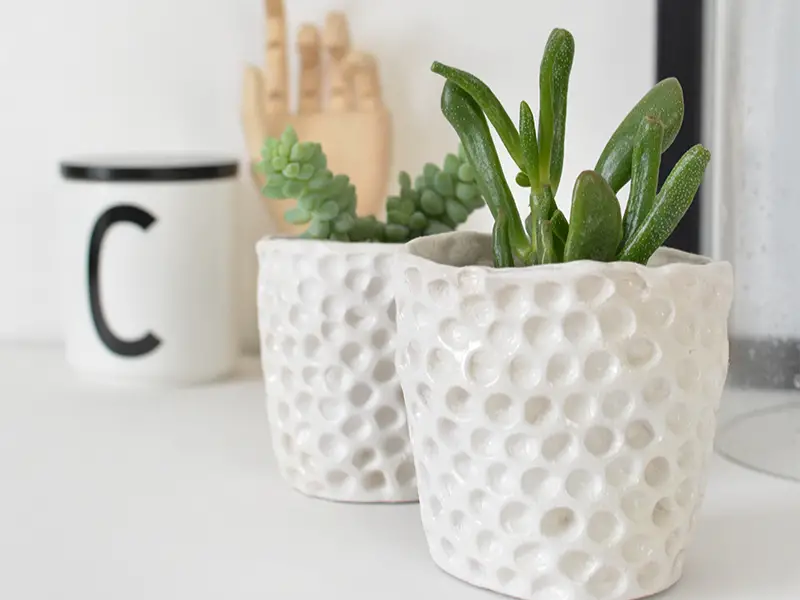 Adding some greenery in the room can create a lovely and ambient atmosphere that projects calmness and serenity, and what better way to house them than with some lovely clay mini succulent planters?
Alright, you're probably thinking that clay won't tolerate water, but you can easily get around that by simply wrapping the clay around plain plastic pots. The result is a planter that can hold moisture while also being dry from the outside with a beautiful texture.
Check out how to create the mini succulent planters on burkatron.com.
Air Dry Clay Necklaces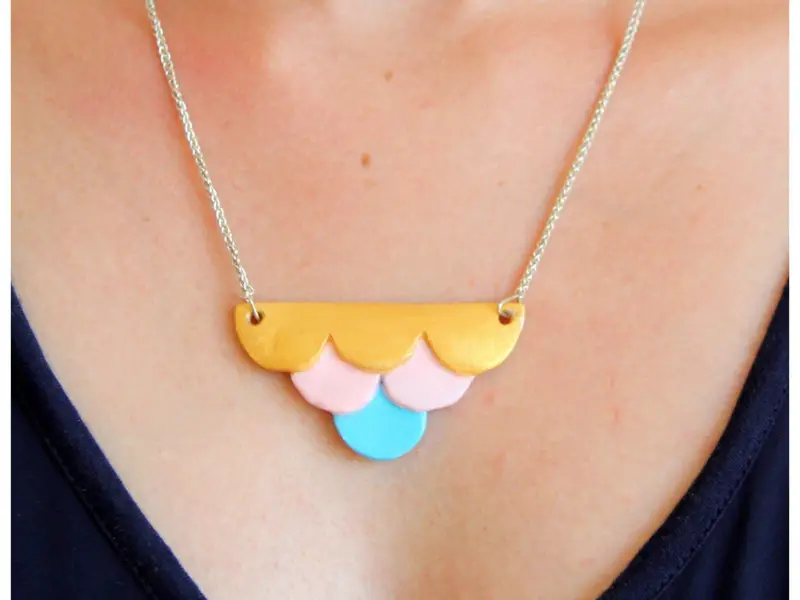 Seriously, who would say no to a stunning air-dry clay necklace? You can craft some unconventional necklaces with air-dry clay.
All you have to do is roll the clay into a thin sheet, cut the pattern from a template, and stack and dry the scalloped shapes. You can then add whatever combination of colors you prefer.
Get the air dry clay necklaces instructions on littlebuttondiaries.com.
Clay Circle Garland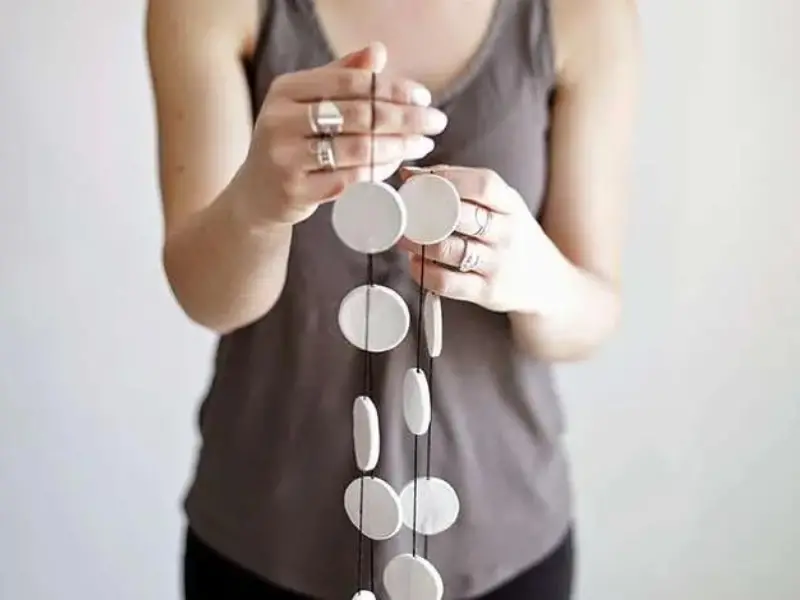 Garlands are often made of paper, but these don't last that long. Not to mention, they're not very durable.
Well, guess what? You can make create a circle garland with clay. It's as simple as cutting circles from the wet clay, leaving them to dry, and hanging them from a string. You can then spray-paint the rounds to match them with the home decor.
Read more about clay circle garlands on poppytalk.com.
Clay Pendant Hanging Lamp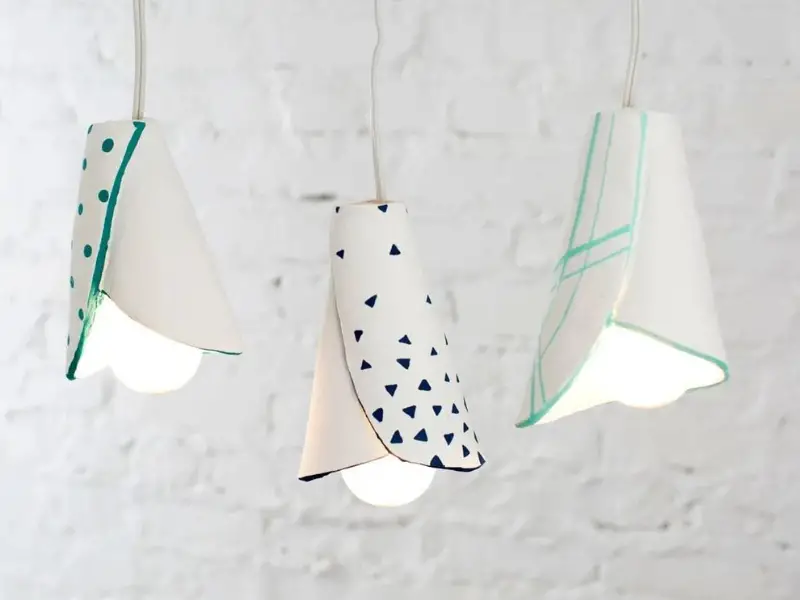 Lamps comprise more than just a source of light; they can truly accentuate the room's decorations.
A clay pendant hanging lamp is an excellent way to pump up the lighting in the room while also adding something artsy that can spark a conversation with your guests.
Learn how to craft a clay pendant hanging lamp on brit.co.
Air Dry Clay Animal Heads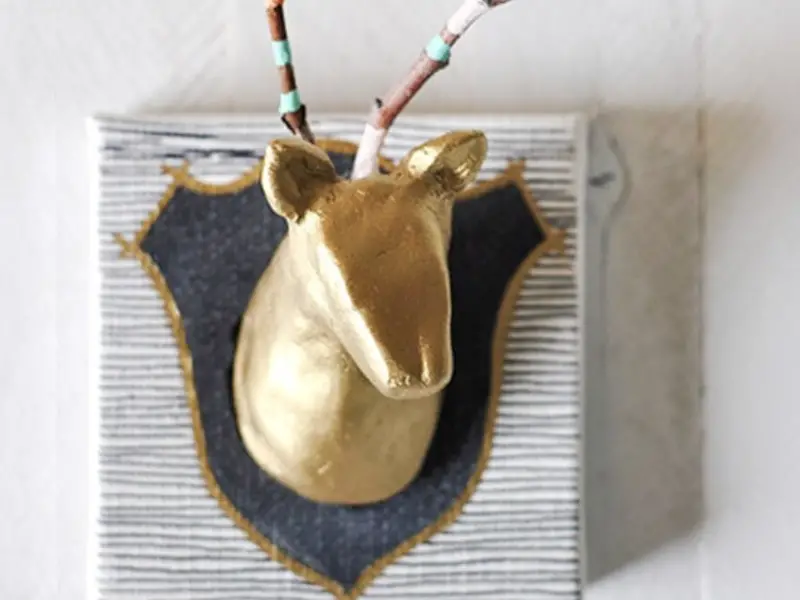 This one is a bit wild (bun-intended). If you're a fan of exotic decorations, completing your home decor with air dry clay animal heads is a surefire way to express your style.
Sure, they won't be as detailed and complex as real animal heads, but creating the outline of an elephant, deer, or horse head would suffice. Spray the final product with an eye-catching color like bronze to make it stand out.
Check out the in-depth air dry clay animal heads instructions on delineateyourdwelling.com.
Air Dry Clay Wall Planters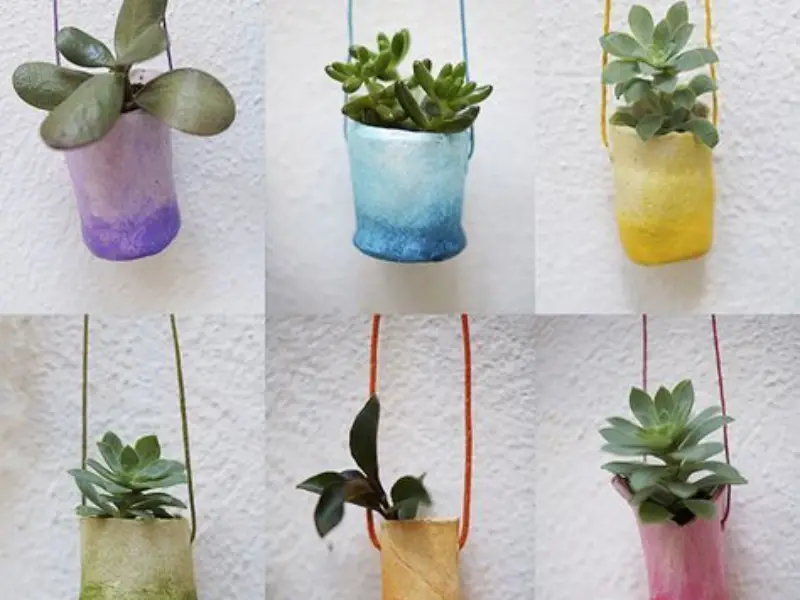 Is your room tight on space? That shouldn't stop you from adding some planters. With these eye-catching air-dry clay wall planters, you can include a little bit of greenery in your room without making it crowded. It's a wonderful alternative that'll give your walls character.
Read more on how to create air dry clay wall planters with air dry clays on irrelephantblog.com.
Clay Egg Carton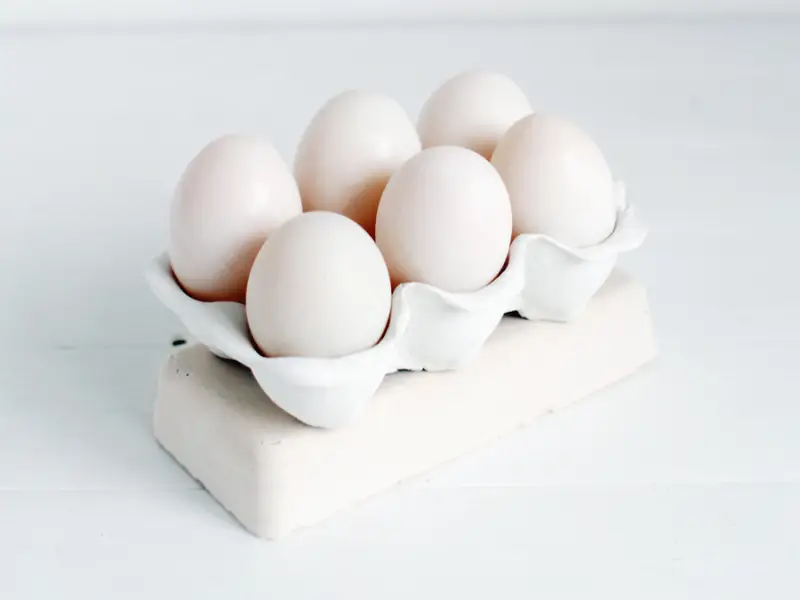 Who would've thought an egg carton could be so beautiful and functional? You can use this clay egg carton on your dining table or office desk to get your morning treat in style.
Of course, you can use it for so many other purposes than holding your breakfast eggs. It's basically an organizer that doubles as an egg carton.
Discover how to create a clay egg carton on fallfordiy.com.
Air Dry Clay Leaf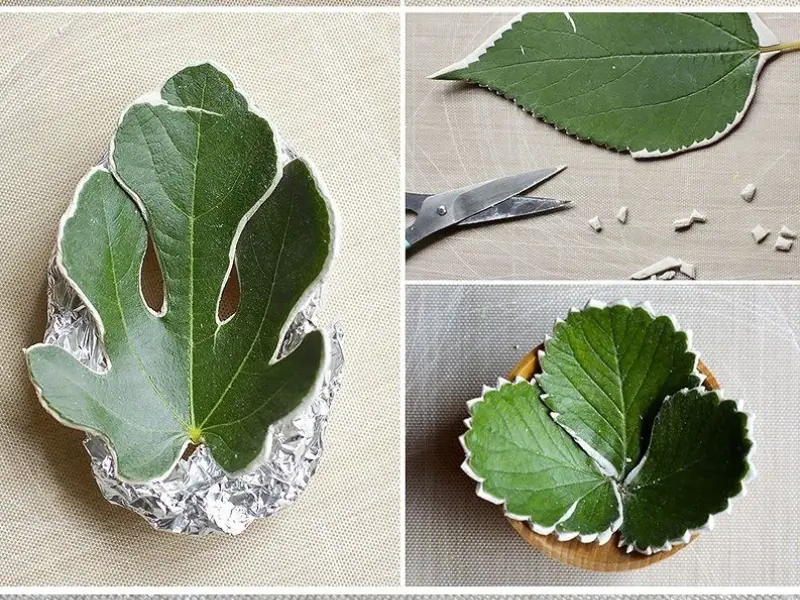 A clay leaf can be used for organizing or pure aesthetics. But how can you create the distinctive leaf shape with air dry clay? Easy! Just grab some leaves from your backyard, cover them in wet clay, and leave them to dry.
Check out the full clay leaf craft tutorial on apfiya.livejournal.com.
Air Dry Clay Paint Palette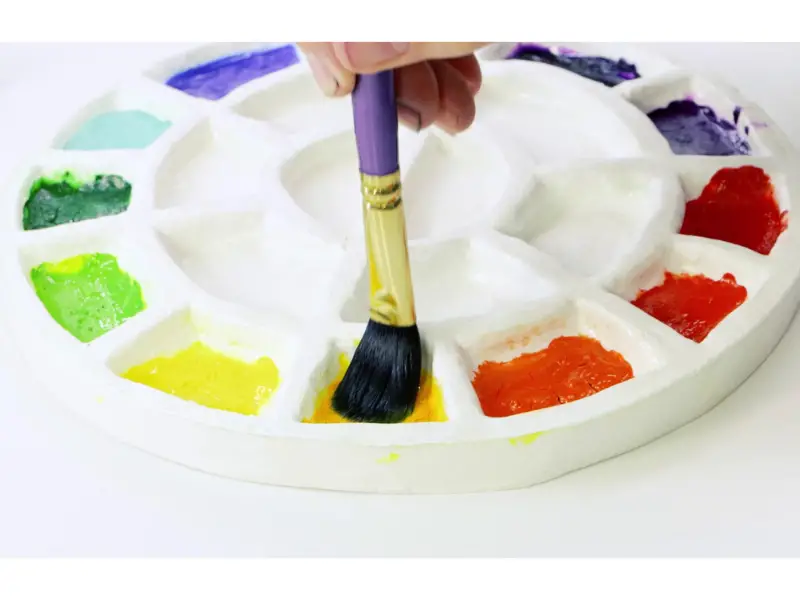 This one is for the artists. While plastic paint palettes are fine, they won't have the same feel and appearance as a paint palette made out of clay.
With an air-dry clay paint palette, you'll be able to organize your colors in style.
Check out how to make clay paint palettes for painting on montmarte.net.
Air Dry Clay Paintbrush Holder
Complement your art toolset with a paintbrush holder and stay organized while focusing on your art pieces. Make a curvy pattern with air dry clay and finish it off with your preferred color. You can make the holder more fun by incorporating light-hearted floral designs into them.
Learn how to craft air-dry clay paintbrush holders on linktr.ee/Oceanhughes.
Air Dry Clay Pencil Cup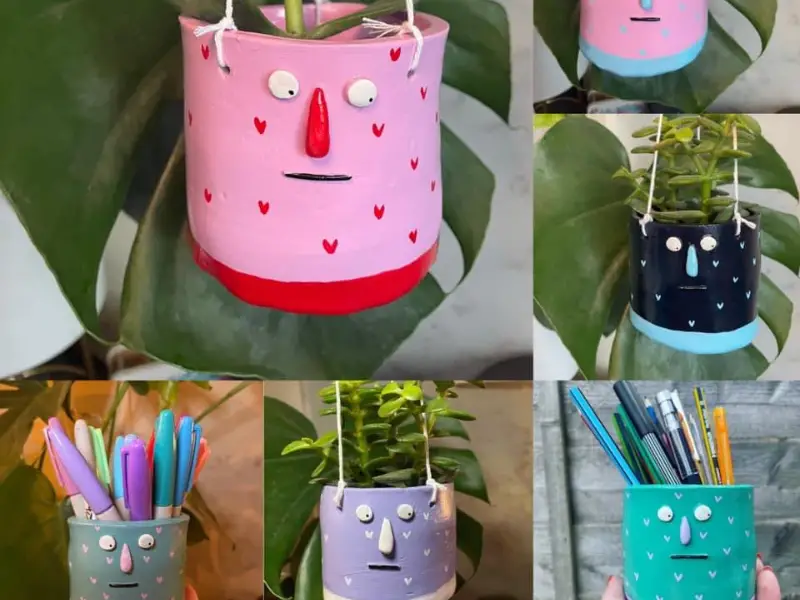 Keep your office tools organized with this trendy air-dry clay pencil cup without making it look dull. You can even use clay pencil cups to store faux succulents, paper clips, and craft supplies. You may personalize these desk organizers by adding fun facial elements to them to give yourself a little giggle while studying or working on your tasks.
Read more about air dry clay pencil cups on Wobblybobblypots.com.
Snake Earrings With Air Dry Clays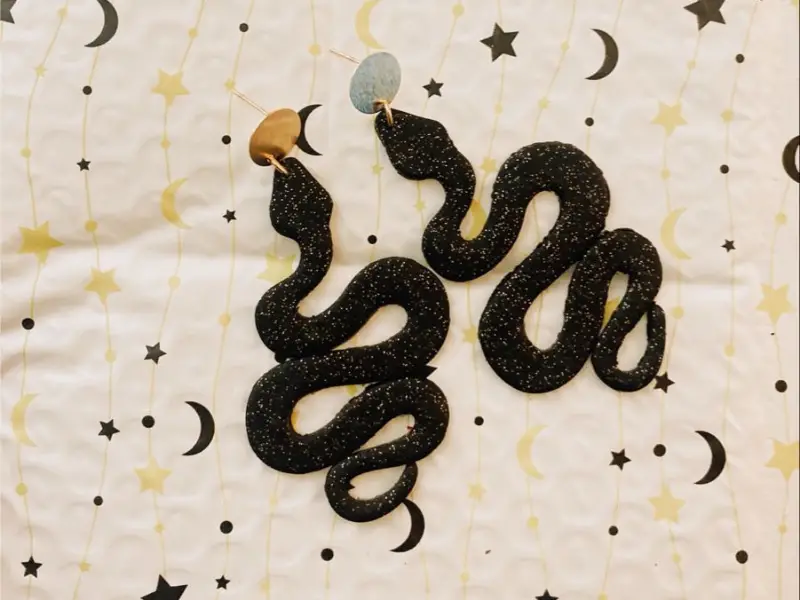 Gold and silver necklaces are fine, but they won't stand out and catch attention as these air dry clay snake earrings would. They would make a cool addition to your travel wardrobe. Your little girls would love them, too!
Shape your air dry clay into a zigzag pattern and spray-paint it to mimic the snake appearance even further.
Check out the story behind the snake earrings with air dry clays on linktr.ee/joannaclaydesign.
DIY Air-Drying Clay Herb Garden Markers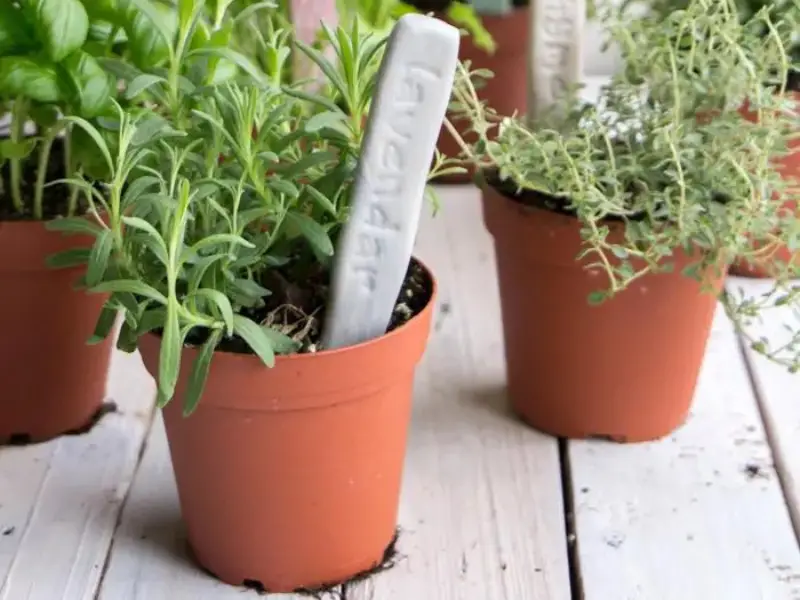 One of the most creative craft ideas for hobbyist gardeners is DIY herb garden markers. It's so easy to confuse your herbs for one another no matter what your gardening experience is.
So, instead of sticking some ugly plastic stickers on the planters, you can create these DIY herb garden markers and put the names of the herbs on each of them. It'd be better if you colored them differently for visual identification.
Find out more about DIY herb garden markers on crazylaura.com.
Air-Drying Clay Garden Gnomes for Kids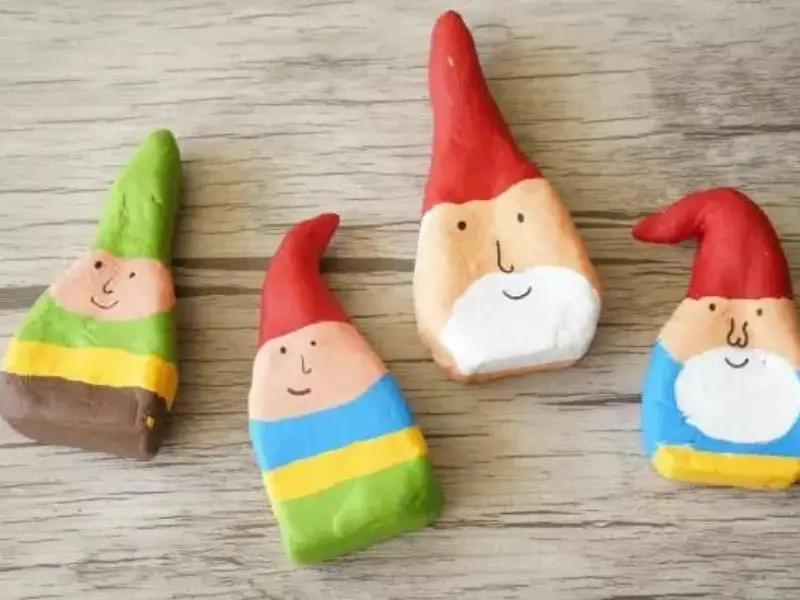 If you love spending time with your kids in your garden, you should definitely make some of these air-drying clay garden gnomes. You can use them as easter eggs for your little ones to find and even as plant markers. No matter how you use them, these gnomes would definitely give your garden a totally different vibe.
Check out the step-by-step air-drying clay garden gnomes for kids guide on rainydaymum.co.uk.
Sea Shell Creatures With Air Dry Clay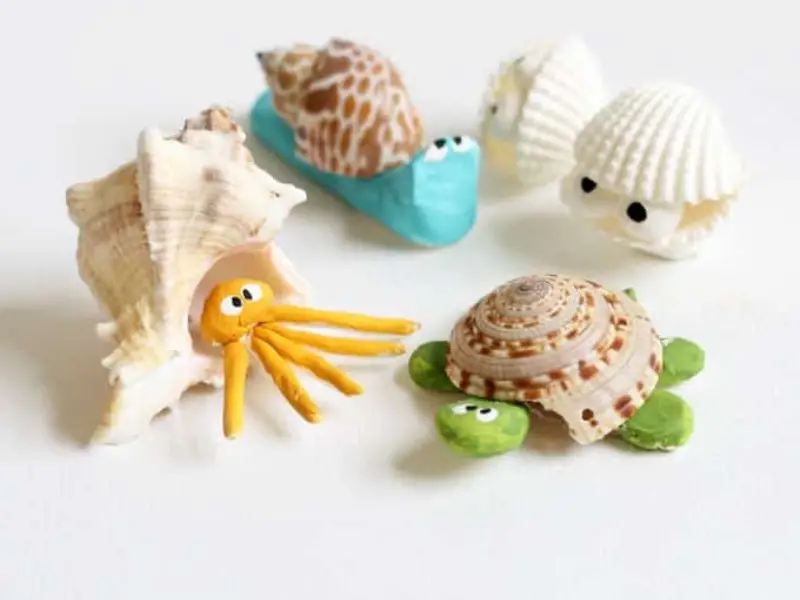 One of the most exciting craft projects for kids is creating sea shell creatures with air dry clay. With clay, you and your kids can make snails, hermit crabs, clams, and turtles. You can even create a beautiful scene by adding the creatures in a large glass aquarium.
This would also be a fun beachside activity that you and your kids can enjoy together!
Read the full air dry clay sea shell creatures guide on craftsbyamanda.com.
DIY Air Dry Clay Christmas Tree Ornaments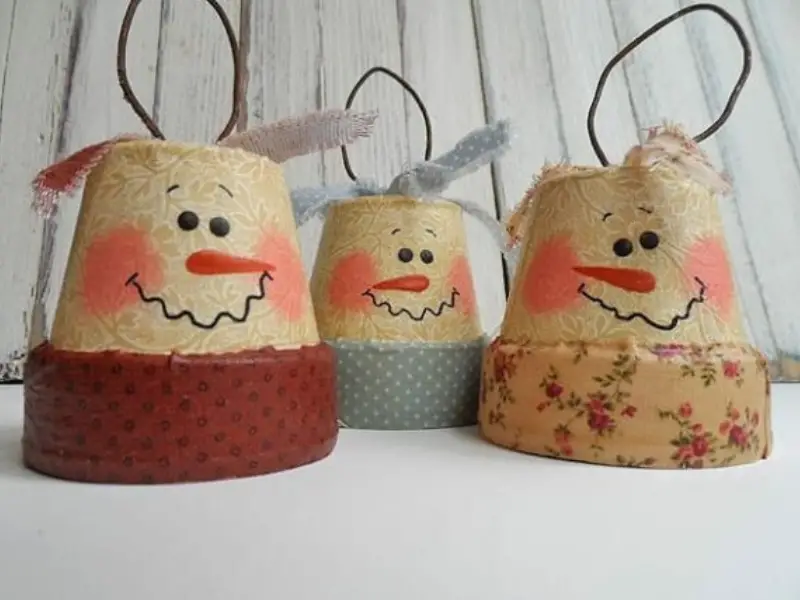 Christmas decorations never fail to give the place a magical and charming festive vibe. But have you ever considered making your own decorations from scratch? If not, you should definitely try crafting these beautiful air dry clay Christmas ornaments.
There are many beautiful pieces that you can make with clay, like mini Christmas trees, deers, Santas, and even bells. You can either keep them plain white or add some colors like red and green.
Find out how to create these festive air dry clay Christmas tree ornaments on craftsbyamanda.com.
Air Dry Clay Knobs
Want to make a door look more interesting? Replace its old rusty metal knob with a clay knob. Clay decorations carry a mesmerizing charm because of their unsymmetric appearance. You can customize your clay knobs' color with spray paint and match it with the rest of the room's decorations.
Check out the full clay knobs tutorial on colorfulcraftcorner.com.
Geometric Clay Necklace Pendants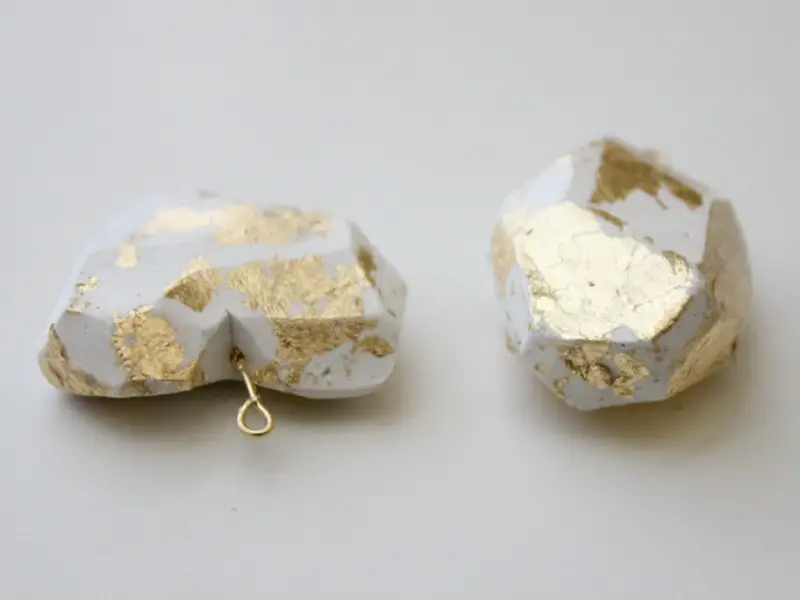 Yup, geometric pendants are a thing, and you don't need more than some air dry clay to create them and accentuate your outfits. You can make your geometric clay necklace pendants more elegant with gold leafing or paint.
The one we have here is heart-shaped, but of course, you can get creative and come up with your own designs.
Learn how to craft geometric clay necklace pendants on deliacreates.com.
DIY Air Dry Clay Candle Holders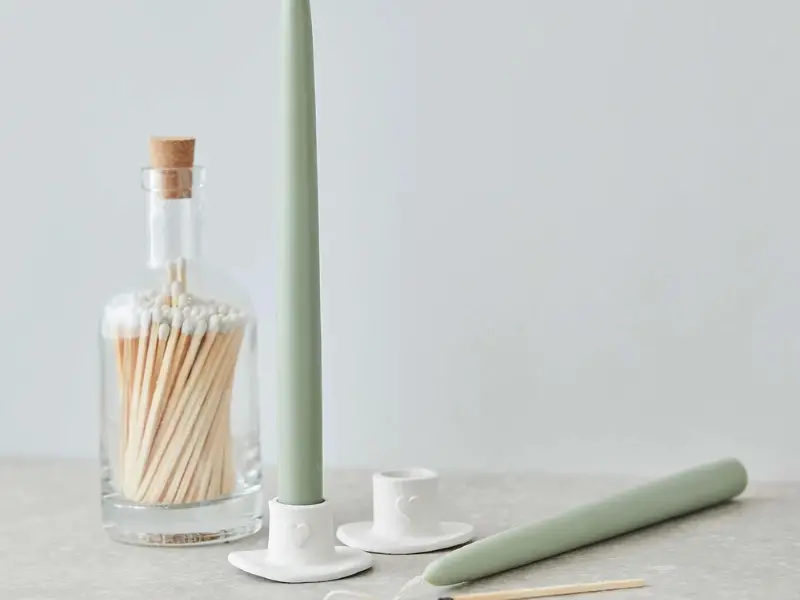 Do you want to set up a romantic atmosphere in your room? Scented candles would be perfect for that! And to make your decoration stand out, try making some DIY air dry clay candle holders. Even if you're not lighting a candle, you can just let them sit on your dressing table for decoration.
Figure out how to make DIY air dry clay candle holders on hobbycraft.co.uk.
Terracotta Rainbow Photo Holders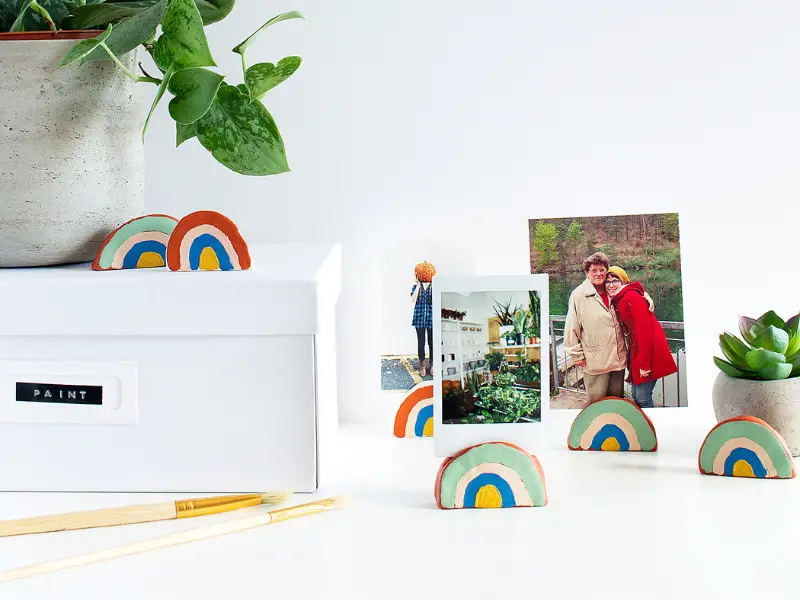 Photos engrave ever-lasting memories, so why not place them in trendy terracotta rainbow photo holders? Give your favorite photos new life with these cute, easy-to-make photo holders while also decorating your room with the vibrant colors of the rainbow.
Read more about terracotta rainbow photo holders on idlehandsawake.com.
Terracotta Clay Oil Diffuser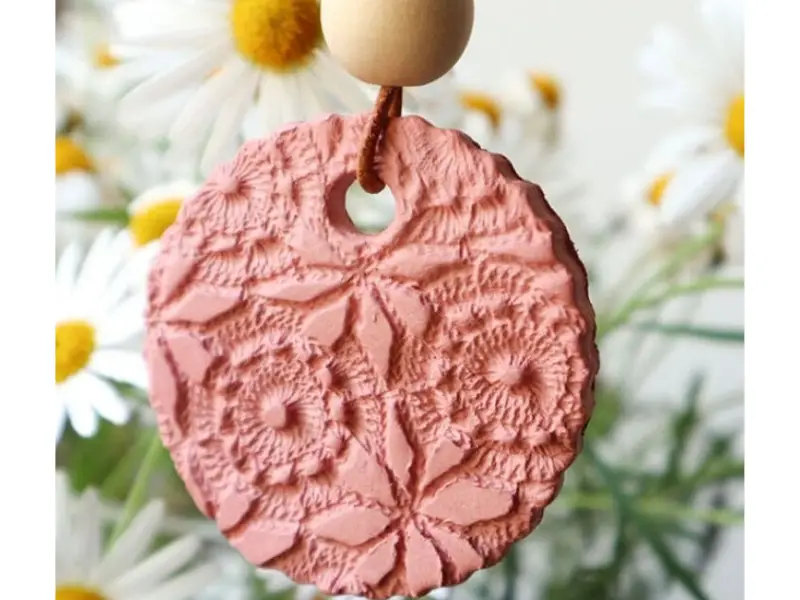 Whether you want to make your car, room, or office smell better, a terracotta clay oil diffuser would be a unique way to do it. Not only will you smell a nice scent but also add a touch of elegance to the place or car.
Clay is pretty porous, which is why it'd be the perfect choice for a diffuser. You can shape it like a dream catcher, an evil eye, a snowflake, or even an ornament.
Check out how to make a terracotta clay oil diffuser at gatheringbeauty.com.
Air Dry Clay Projects and Ideas Round-Up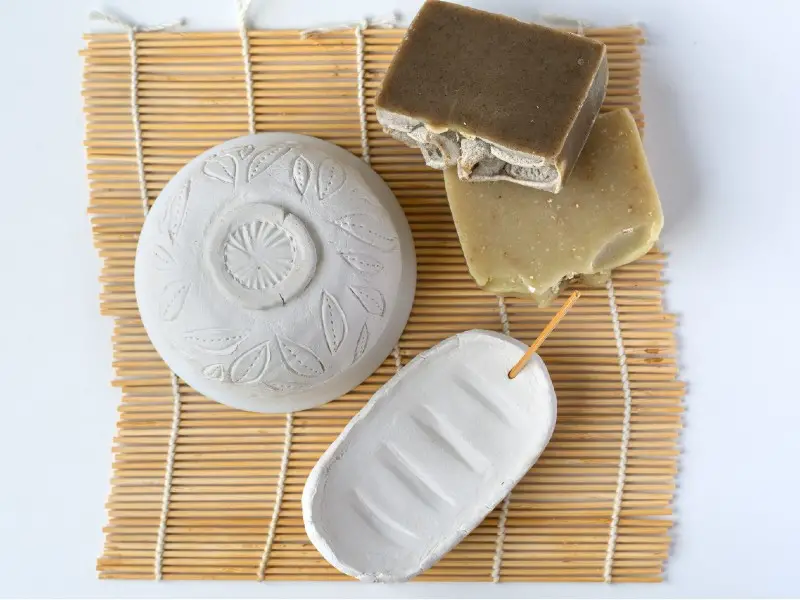 So these were some of the most exciting air dry clay ideas for your next DIY project. Clay projects are often not that hard to execute, even for beginners.
However, we'd recommend starting with something simple like clay pots or stamped clay bowls; then you can get it into more complex projects such as clay animal heads.
Get more air dry clay ideas on craftwhack.com.
Comments
0 comments