If you're looking for some top triceratops coloring pages, we have gathered up some of the best out there, ranging from complex to ultra simple. There are options for both adults and children, and a mid-range so that any skill level can find a coloring page that they will enjoy on this list.Triceratops are great fun for kids, and also fun for any adult who loves dinosaurs, and the more complicated pictures present the chance to color some fantastically weird and wonderful scenes, with prehistoric plant life and jungles abound.
1. Simple Triceratops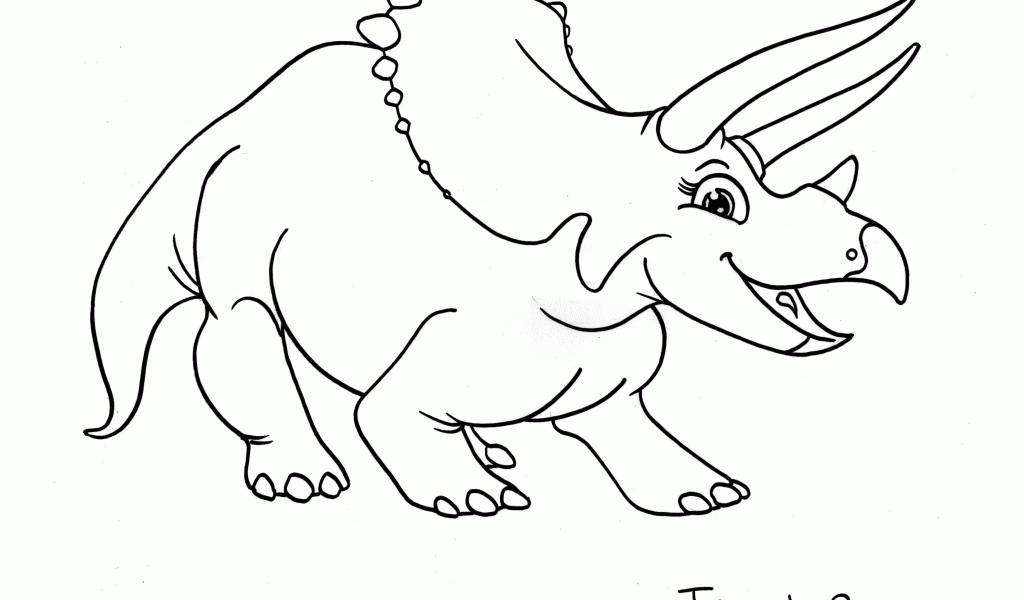 Source: https://coloringhome.com/coloring-page/351933?album=triceratops-coloring-pagesIf you're looking for a very simple triceratops coloring page, you'll love this Beauty Triceratops, which has a good level of detail for any age group except the youngest and oldest. It may be too easy for adults looking for a challenge and too tricky for very young children, but otherwise, it's a good all-rounder option.
2. Triceratops Fight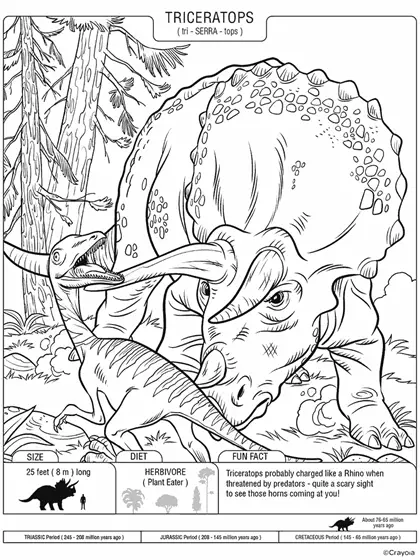 Source: https://www.crayola.com/free-coloring-pages/print/triceratops-coloring-page/For a really dramatic scene, try this Fighting Triceratops, testing its mettle against another dinosaur. This is great if you want a challenging scene with lots to look at and color in. Experiment with different hues for the trees and grass and plants, and have fun with the stripes on the back of the smaller dinosaur.This also includes some nice little facts about the triceratops, telling you its estimated height and behavior.
3. Ferocious Triceratops
Source: https://coloringhome.com/coloring-page/50056?album=triceratops-coloring-pagesThis Ferocious Triceratops is perfect if you want your colored dinosaur to have some real attitude. It also comes with lots of shading so you don't have to work on that yourself; you can just color and finish.It is a bit dark in places, which may make it hard to add more details if you want to, but if you just want something quick and easy that has a little bit of a mean streak, this is the one for you.It's also on a plain background, meaning you can fill in any details you like yourself, or keep this simple and just color the triceratops.
4. Spotty Triceratops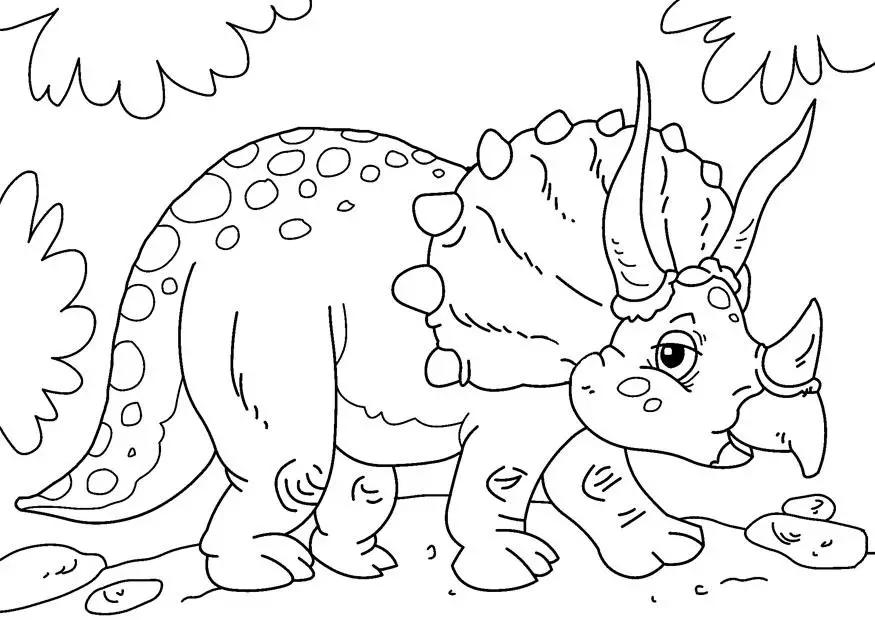 Source: https://coloringhome.com/coloring-page/351804?album=triceratops-coloring-pagesThe Spotty Triceratops would make a great option for anyone who enjoys little fiddly shapes and lots of colors. You could do every spot a different hue to make an amazing rainbow triceratops, or create stripes of color.The background is minimalist, making a nice middle ground that you can expand and add detail to, or keep super simple depending on your preferences.
5. Spiky Triceratops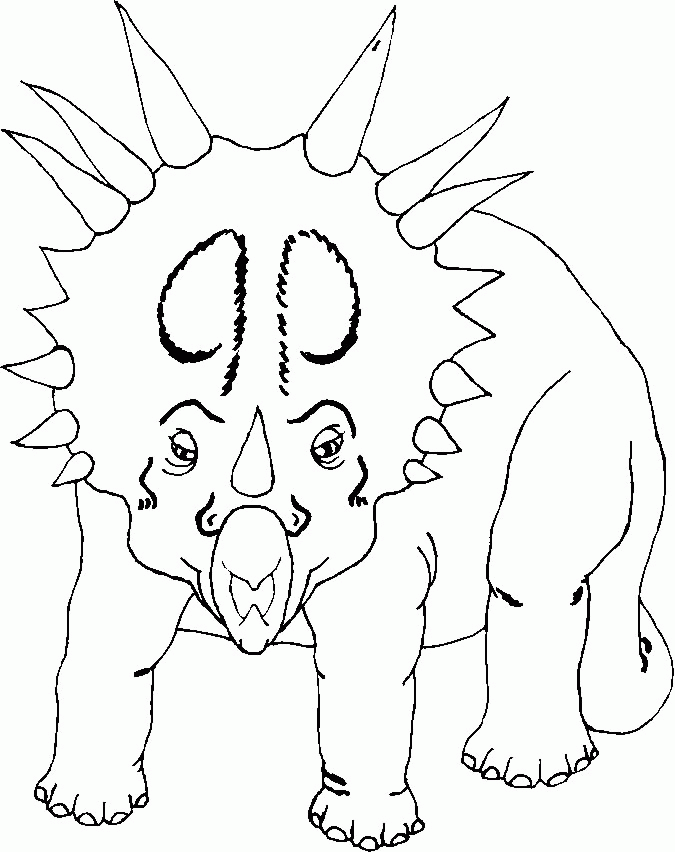 Source: https://coloringhome.com/coloring-page/352179?album=triceratops-coloring-pagesDo you really admire the triceratops horns and fierce, plated armor? If so, Spiky Triceratops should be perfect. The emphasis is all on that spiked plate at the front of the head.This picture is unusual in that it's also a front-view of a triceratops, giving you a very different look at the dinosaur to most coloring pages. This should be fun to shade as you'll have different shapes to contend with.There isn't any background, and the patterns on the triceratops are minimal, so some artists may find this one a little bit simple for their tastes, but it's great if you want to explore a new angle for this dinosaur.
6. Cute Triceratops
Source: https://raskrasil.com/en/coloring-pages-triceratops-download-or-print-for-free/Perhaps you're looking for something a little more cartoony and cuddly? Dinosaurs can be adorable as well as fearsome, and this Cute Triceratops definitely comes in the former category, with lovely rounded shapes and a friendly face.This one should be nice and easy for children to tackle, as it is made of curvy lines and lacks any narrow points that might be hard to color. However, it offers a good balance as it does have some little spots where they can practice their fine motor skills and think about their color choices.
7. Mother And Baby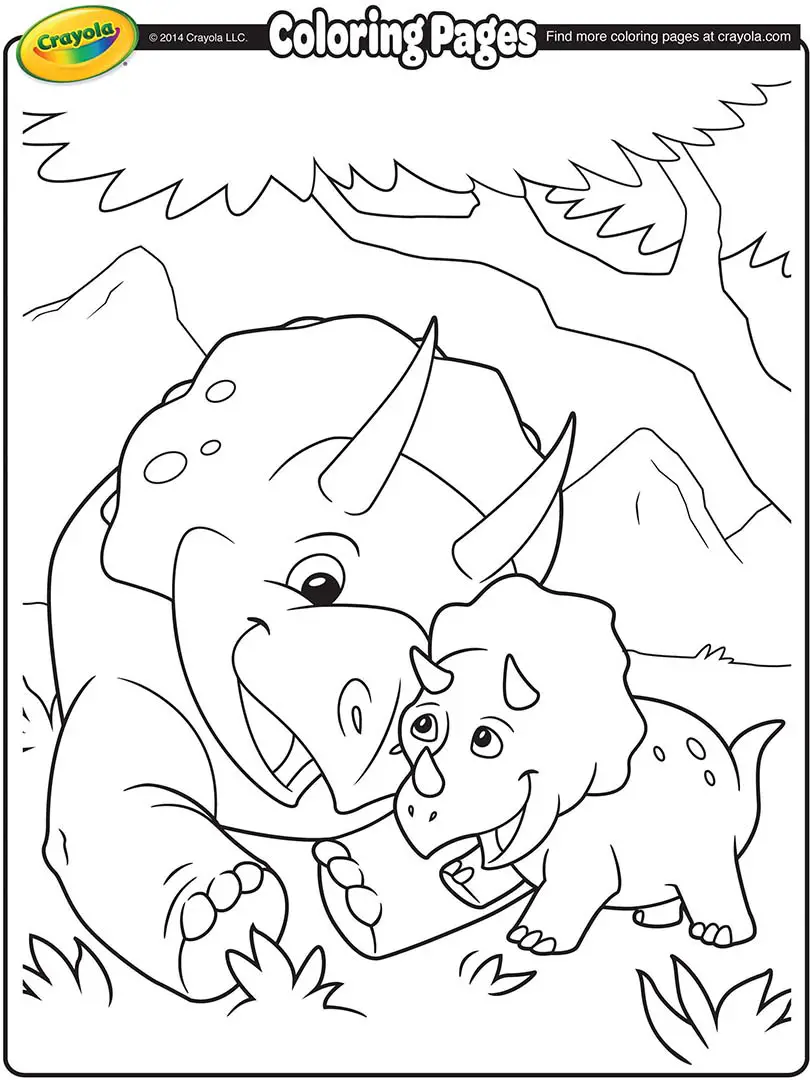 Source: https://www.crayola.com/free-coloring-pages/print/triceratops-coloring-page/Another really nice choice for children, the Mother And Baby Triceratops are very sweet, and this coloring page is great in that it offers a chance for children to have a go at a more complicated background, without having to color lots of plants. They can simply fill in the grass, the tree, the mountains, and the sky, making a complete picture that will require them to think carefully about their color choices and how they're coloring, but which won't overwhelm them. It also doesn't matter if they choose to just fill in the dinosaurs and leave the background blank.
8. Realistic Triceratops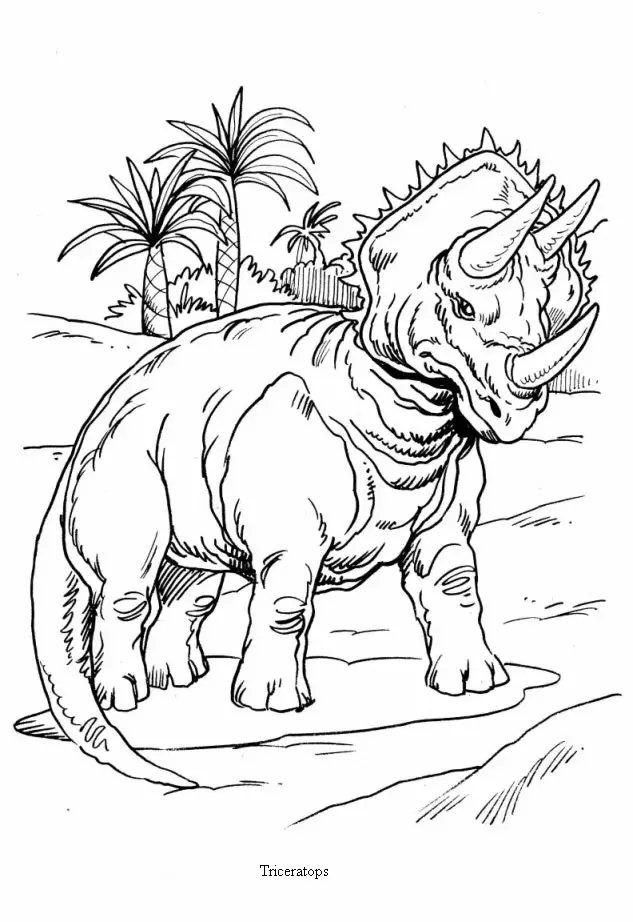 Source: http://www.hellokids.com/c_14363/coloring-pages/animal-coloring-pages/dinosaur-coloring-pages/triceratops-and-palm-trees/Anyone who wants a Realistic Triceratops will love this option, which is very detailed and complex. It doesn't have spots or patterns to color but makes up for that in outlining the triceratops' muscles.This is a great exercise in shading and will help even experienced artists to think about how exactly to shade it. The background again offers some coloring opportunities, but it's quite minimal so you can focus on making the triceratops look amazing and following the folds of skin and muscle.
9. Full Scene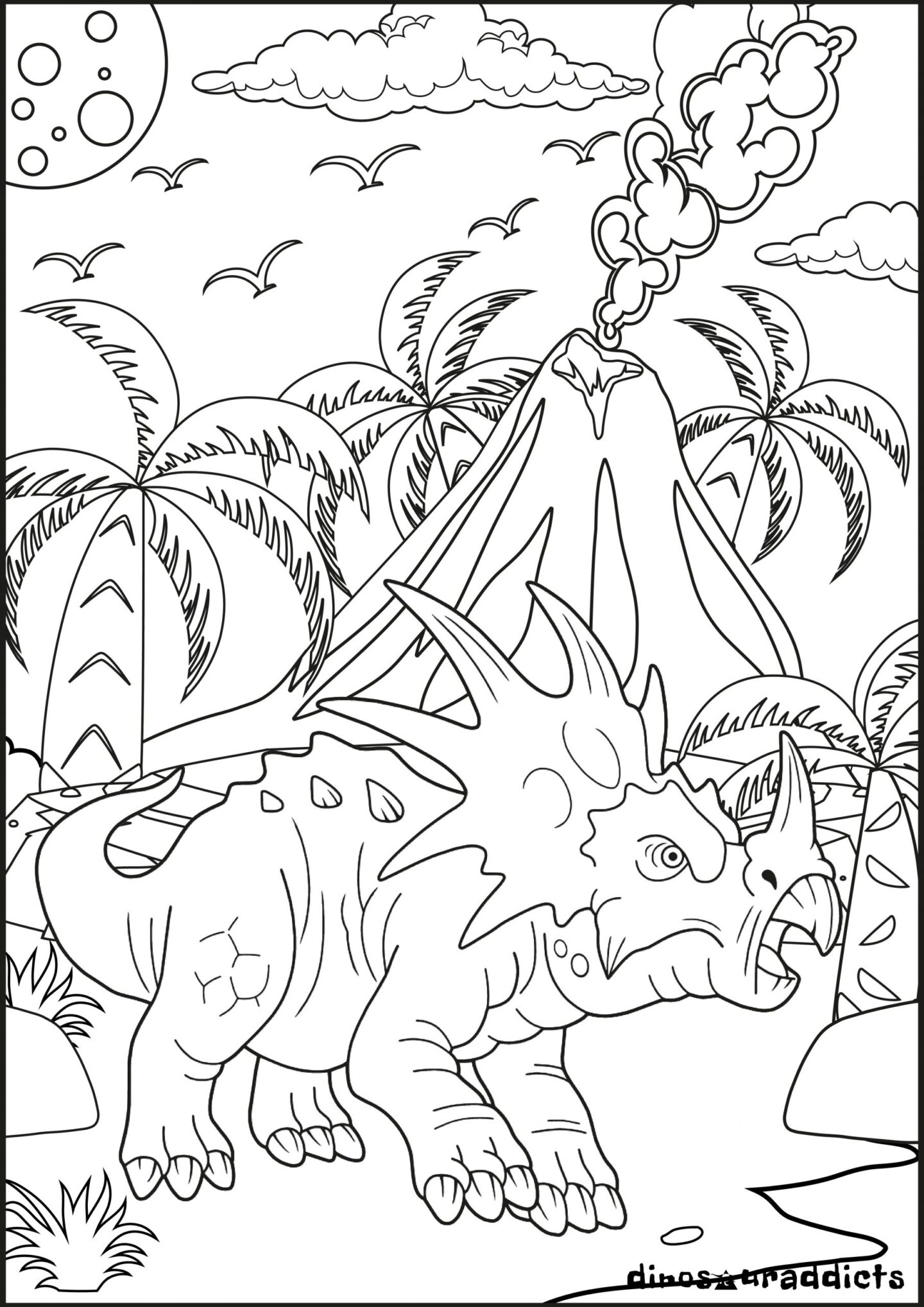 Source: https://www.dinosauraddicts.com/dinosaur-coloring-pages/triceratopsIf you were planning to create an amazing scene, complete with volcanoes, palm trees, and highly detailed triceratops, this Triceratops Scene will be perfect for you.It has a stylized edge to it, with the little triangles on the palm trees and the double rings of smoke pouring out of the volcano, but it still has lots of opportunities for you to leave your individual mark using color.Because it's quite a busy scene, you'll want to think carefully about which colors you use for the triceratops so it stands out well against the background.
10. Roaring Triceratops

Source: https://www.dreamstime.com/triceratops-dinosaur-coloring-page-children-adults-hand-drawn-illustration-size-design-wallpapers-triceratops-image170213003For anyone who wants to go to town on the details, these Roaring triceratopses will be the perfect option. It has lots of amazing details on its neck frill, which you can color in all sorts of hues, or variants of your main color.The same goes for its body, which has spots and patterns, as well as a ridge on its back. The background also has plenty of scopes but remains simple and uncluttered so that the triceratops stand out.
Conclusion
No matter what sort of scene you want for your triceratops, or what age the intended artist is, there are some great options out there to try. Triceratops can be any color, so get inventive and have fun!
Comments
0 comments