I received a small package in the mail. I knew it was coming, but I didn't know when. I tore into the damn envelope and pulled out the tiniest glassine envelope, complete with tantalizing wax stamp.
I squinted through the envelope, trying to make out what was written inside, but it was TOO SMALL.
Then I had to place the wee package on a shelf for the next day.
You haven't experienced pure torture until you've gotten a package from Leafcutter, but had to wait to open it so you could take pretty pictures in daylight. I swear the thing whispered my name all night, and I did not pay attention to any of my family. I may have snuck up at 3am to make sure it was still there. It blew me a sweet kiss.
Are you intrigued? I know I was when I heard about this company. It takes a lot for me to break my rule of not posting about products I'm pitched randomly, but I jumped all over this.
Okay, here's their whole deal: Leafcutter Designs is the company and I want to be friends with them. I found myself swearing happily inside my head as I perused their site because their stuff was so wonderful. These are the products of brilliant creativity.
OMG! Matchbox Theater!
OMG! These conceptual knitting kits!
OMG! Notebook "paper" embroidery kit!
OMG! DIY Tiny Mail Kit!
But back to the letter they sent me. Yes, that's a tiny magnifying glass included.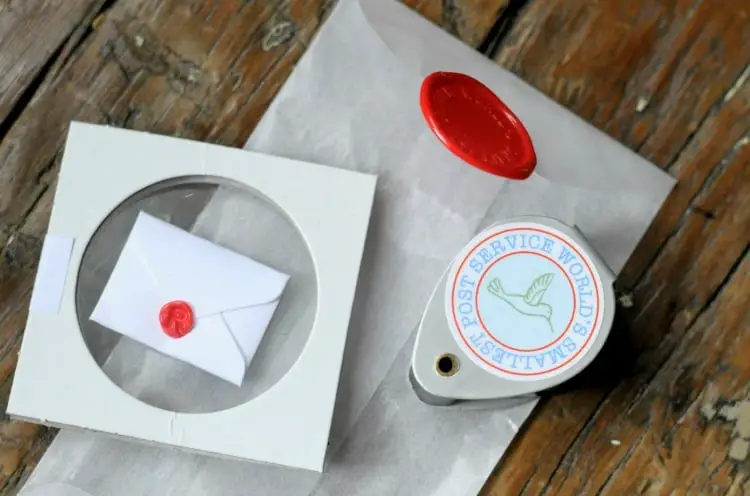 Are you dying of happiness? I was. It's like receiving a letter from a tiny, magical entity. You just order through their site, type in what you want the letter to say, and they send it on out for you. Sigh.
Here they are on Facebook , Twitter, Pinterest, and Instagram.