Raise your hand if you are thrilled when your kids spend an hour outside exercising with no coaxing at all by you. That's the magic of ride-on toys. They lure kids with the promise of flying down the sidewalk, wind whipping through their hair, nary a care in the world.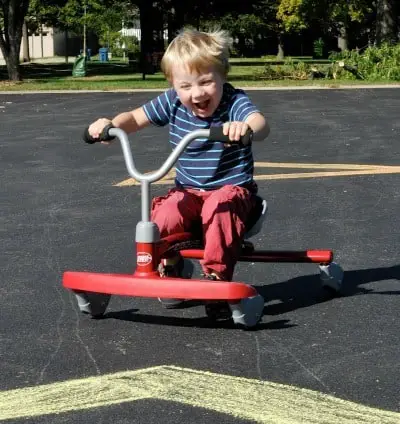 We got the chance to test out the new Ziggle from Radio Flyer, which thrilled me to pieces because, hey, it's Radio Flyer. All their stuff is good.
It was delivered one day when we happened to be playing outside, and since the photo of it was all over the box, Beckett wanted to jump on it right away. So, instead of pawning it off on Christian to put together that evening, I dug in and had it all ready in about 40 minutes. I am a total whiz with the Allen wrench.
Beckett has been reluctant to pedal in the traditional way with his other ride-on thingies, so I was curious to see how he'd react to this new thingie-with-no-pedals. When he first hopped on, he resorted to his usual walk-riding, and then I showed him how to put his feet on the front bar- maybe I should make up a name for this front bar. How's Zigbar?
I showed him that you control the movement of the Ziggle by pushing your arms back and forth on the handles and he started to get it. It's a whole new way of moving on a ride-on for kids, so it takes a little getting used to.
The best part is that it takes you moving your whole little body to get the thing going, and you're sort of wiggling back and forth, but the payoff is worth it. It's really smooth and the wheels are on casters, so you can get it going really fast if you want to and make some big wild turns.
But! It's controllable, so if you're just a little guy you can keep it from going too fast based on how you move it.
Fen couldn't resist and had it flying around all over the place. Even though she's 10, and it's specified for ages 3-8, she LOVED it.
Here are some actual quotes from our morning: "That uses a lot of energy! I'm tired." Gold. And, "This is sooooo fun!" Gold. 
On top of the rave reviews, it's the classic, bright red Radio Flyer color, it's sturdy, made really well, glides smoothly- all things you expect from Radio Flyer.
I trust once Beckett rides on this a few more times that he will be spastically giggling as he whips around on it. Do you want one? Yes, you do! Win one here! Of course, they're available at Target, Radio Flyer, all over the place, too.
a Rafflecopter giveaway