It should not come as a surprise that I love watercolor projects. Watercolor is an amazing paint for kids and adults to pick up easily and experiment with and get really cool results. It dries quickly so you don't have to wait long to add to it, it revives immediately with water when it dries on its palette. It mixes, or you can use it straight from the pan/tube/bottle, and it's always lovely. Hooray for watercolor!
Since I can't get hearts off my mind this timeuh year, I embarked on an epic journey to make 3 watercolor resist hearts using 3 different techniques.
Materials
Watercolor paper
Watercolor or gouache paint
White crayon
Rubber cement
Blue painter's tape
Black fine marker or drawing pens
 (optional)
Watercolor Resist Techniques
Just make a big old heart in the middle of 3 pieces of watercolor paper. One with ripped blue tape. I like to use the ripped edges for the outside of the heart so it has an interesting, jagged edge.
The rubber cement you can just paint on (thick). Use this next to an open window because it stinks.
I drew concentric hearts with my white crayon, and I used a beeswax crayon
. Beeswax crayons are buttery and wonderful.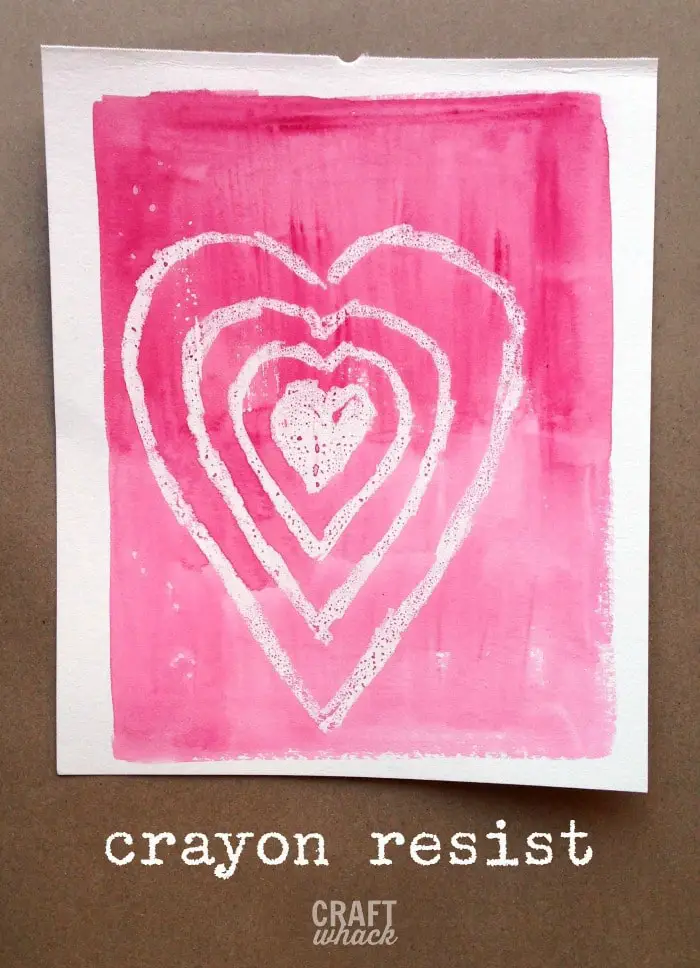 After the rubber cement has dried, you can go on in with your watercolors or gouache paints. Have you used gouache before? It's a more opaque version of watercolors. I used the brand I linked to above in the materials section.
I got all fancy with an ombre look. Crimson mixed with a little water at the top, then mixed with a little white at the bottom, and blend them together while they're still wet in the middle.
Guess what happened then? I got the tangle bug and went all nutty on the crayon resist heart. Oh yes I did. See an easy way to Zentangle here.
Isn't it fun to take a tried-and-true, basic technique and go in different directions? Hit me up with more ideas if you have them int he comments.