Part 2 of this important study will focus on the really ugly or completely insane looking human characters in children's books.
Why are so many grandmas, aunts and neighbor women portrayed as "wacky"? This is a recurring theme I've noticed in a lot of books, and it's creepy.
This Grandma is headless wherever she occurs in this Muppet Baby book. I picture her head as that of a tiny laughing spider monkey.
Here's the 'eccentric artsy aunt' who wears 'fun', 'unconventional' clothing.
Then there's the homely, modest parents phenomenon.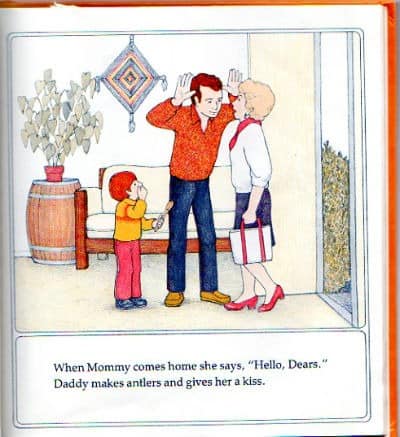 Hi honey, why don't you kick off your sensible pumps and I'll make sweet love to you on the futon under our giant macrame god's eye?
Curious George is usually immune to criticizing, but not when there's a boneless gentleman floating down the sidewalk in the background.
This illustration from a Thomas the Tank Engine book haunts me to my core. This is obviously a gay porno about to get very interesting. I wonder when Spoogey the Clown is supposed to show up.
This is not endearing. These characters do not make me feel like reading the rest of this book.
Something went terribly wrong at a firehouse where most of the firefighters are 16 and have perpetual smiles on their faces. I smell a cult.
No comment.