Advent calendars are one of those Christmas traditions I've upheld for my kids, and we still buy the nasty waxy chocolate variety. I've been meaning to make advent calendars for my kids for years, but never manage to get around to it.
You know when you build something up in your head so there's absolutely no way the finished result will match your visual idea of what you want it to look like? Yeah, that's what's holding me back.
So I started sniffing around the old web and found some extremely creative options. I think I might just throw in the towel and buy a few pre-made, gorgeous options and focus my energy on art projects for the blog. Right? 🙂
This Animal Village Advent Calendar
 is completely adorable. Who is that little fella on the sled? Is it a platypus? I want one!
I had no idea Lego made advent calendars. When I saw this, I actually said, "woah!" out loud. It's such a great idea-
Count down to Christmas with the LEGO City Advent Calendar, featuring buildable surprises, exclusive elements and 8 minifigures
Open a window every day to reveal 24 different LEGO City-themed gifts
Features 8 minifigures, including a police officer, robber, astronaut and a surprise holiday-themed minifigure

I think it would be pretty fun to buy tiny treasures to tuck into these pockets every night for the kids to discover the next morning. Present Countdown Calendar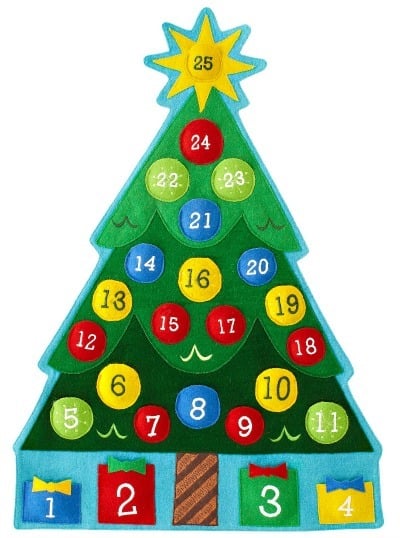 More little pockets to tuck things into! This time in Christmas tree form. Kids Holiday Decor: Christmas Tree Calendar Countdown
Round tins advent calendar – These little babies are magnetic, so you stick them on your fridge and pop tiny presents into them. I think they'd be fun to play with as well….
This is so cute, and you don't see many 3-D advent calendars. These would be great in a kid's room, so they get to open a little door when they wake up each morning. Wood 3-d Advent calendar
Do you do advent calendars in your home? Have you ever made one?