Have you ever wanted to invent your own car? I think about it way more than I probably should- especially all of the different wonderful colors cars could be. I find most of the current car colors to be very yawn-worthy. Of course, I would probably drive just about any sort of car a child could dream up.
Take a look at some of the winners of last year's Toyota Dream Car Art Contest: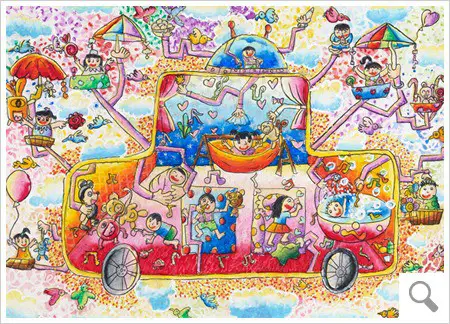 by 9 year old Wiran Honthumma from Thailand
by 10 year old Jiraphat Seejan from Thailand
by 14 year old Stefania Mihaela Calinescu from Romania
For this contest, kids are challenged to draw not only their dream car, but the whole dream environment in which the car exists. This is a fantastic jumping-off point for young artists. Cars offer so many possibilities for exploration, especially when kids aren't mentally limited by really understanding how to drive a car.
There's still time for your kids to enter the Toyota Dream Car Contest, which is a global contest Toyota holds every year since 2004. The 3 categories are: under 10, 10-12, 13-15 yrs, and the two tiers of the contest include 9 local (from each country) winners that then go on to compete in the world contest. 30 lucky winners get a trip to Japan!
I wonder if we'll see some of these designs as concept cars soon. Also, don't forget you have about a month left to enter the Google Doodle Contest.