Let's learn about Leo and Diane Dillon. They married straight after attending Parsons School of Design in NY, and collaborated on children's book illustrations ever since. In 1997 they celebrated their 40th anniversary, and their 40th collaboratively illustrated book, To Everything There is a Season.
The pair won two consecutive Caldecott medals for their artwork in Why Mosquitoes Buzz in People's Ears: A West African Tale, 1975, and Ashanti to Zulu: African Traditions, 1976.
Their work celebrates their diverse backgrounds and belief that, Art in its many forms has survived to inform us of lives long gone. Art inspires, lifts our spirits, and brings beauty to our lives. We wish to pay homage to it and the people who created it. From the National Center for Children's Illustrated Literature.
Just by looking at the covers of the 3 books above, you can see the different styles they employed in their work. The first is spiritual and flowing, the second is graphic, while the third is rich in warm colors and African culture.
A quick look at some of their other book covers shows even more styles, from the calm cover of Two Little Trains, written by Margaret Wise Brown,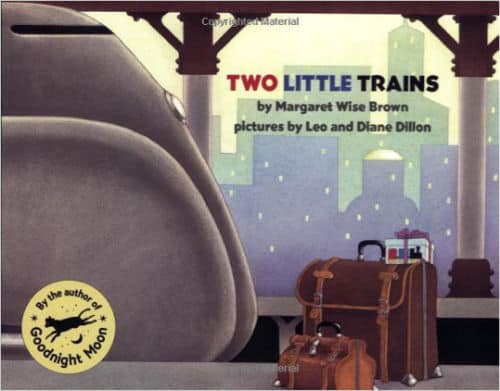 to the flat, cut-out style of Rap A Tap Tap, a book they also wrote.
While I see the similarities in the color palette, and subtly in the style, the range of work they put out is phenomenally diverse. I wasn't really familiar with their art before writing this post, so it's been a pleasure to learn about them and their amazing career(s). Leo Dillon passed away last week at the age of 79. I learned about him just today because of this.
I can't wait to check out the actual books with my kids, to expose them to the extraordinary talents of these two people who merged their skills into so many beautifully shared pieces. Their latest book, If Kids Ran the World is scheduled for release in 2014.
(Click on any image to see the book more closely on Amazon.)