Thank you, Walgreens and Wet Ones®, for sponsoring this post on pure messiness.
I wrote a play for you.
Scene: The Zoo on a glorious Sunday morning.
Characters:
A mom
A birthday boy
A sister of a birthday boy
An aunt of a birthday boy
A grandfather of a birthday boy
Many strangers and animals
The stars of the play enter stage left, arms linked and thrilled for their wild animal adventure.
Animals are gawked at, several screaming children avoided, a stuffed baby seal is purchased, both a tram and a Merry-Go-Round are ridden.
The humans then consume some meat products that are gently nestled between 2 buns and loaded with drippy condiments. The family has obviously never been trained in the fine art of table manners, and drippy condiments drip freely. The grandfather remarks that he forgot to secure napkins, almost as if he knew his daughter was writing a post all about the brilliance of Wet Ones®.
The mom triumphantly pulls a travel packet of Wet Ones® from her purse pocket, and doles them out to her grateful family.
(The 13 year old requires a steady stream of Wet Ones®, since her shorts seem to be attracting mustard at an alarming rate. Who even raised this child?)
Finally, after some conflicts, major character development and an unlikely sword fight, the humans depart the zoo, clean and happy, in search of their automobile. (Exit stage left)
Curtain.
The End.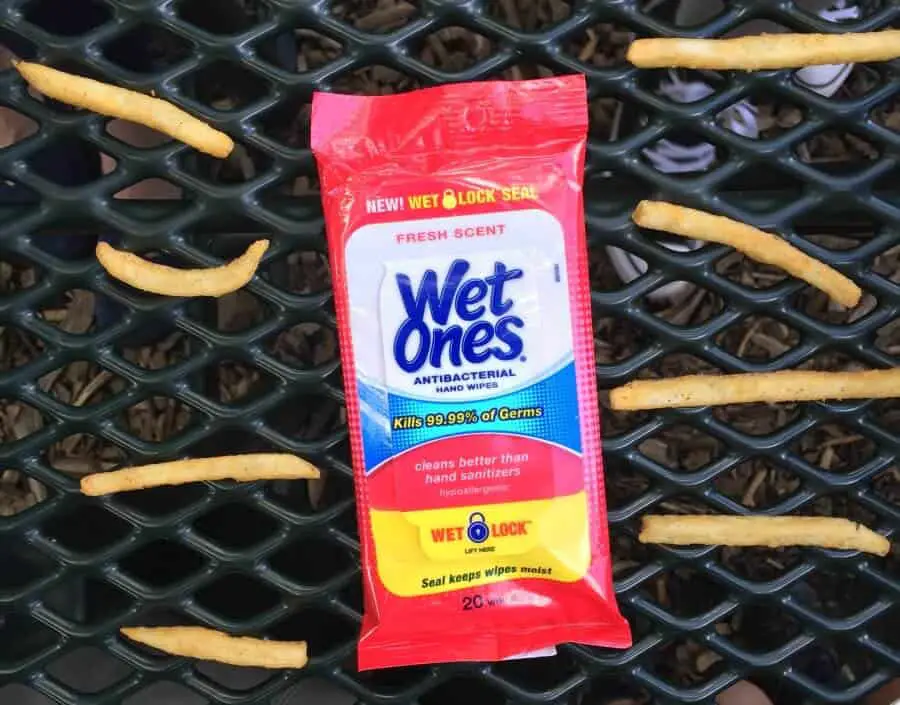 Seriously, this is what seems to happen to us several times each summer, and it is grimy. But sometimes you would just rather not traipse the 1/4 mile back to the restaurant and push through 100 people to get napkins.
Bonus Tips:
Use the Wet Ones® Antibacterial Canisters on kid fingers right before you get in the car, because you know there's going to be some secret nose-picking happening in the back car seat on the way home, and those fingers need to be sanitized beforehand. (They kill 99.99% of germs and soften hands.)
I also keep a packet of the antibacterial travel wipes in my purse for situations like the dog park, where tens of dogs are petted, drool is flying, and Beckett always seems to be burying a random toy in the wood chips, most likely right where a dog has just peed.
I keep the Wet Ones® Sensitive Skin Hand Wipes in my car for everyday use, especially since half our meals and snacks are consumed in the car. They're alcohol and fragrance free with a mild cleanser and moisturizers.
I have to say, also, my car wouldn't be nearly as clean inside without these bad boys, because after we use them, I wipe down the inside of my car with them. This makes me so happy. I DO NOT stare at dust on my dashboard in my car, and the chocolate milk in the back cup holder DOES NOT stay there for 3 weeks.
They don't kill the germs inside the car of course, but when you are as sparkly germ-free as I am, that's a non-issue.
Look! They fit in my outer cell phone pocket in my purse. This is the coolest thing you've seen all week, admit it.
As part of this post, we visited Walgreens to buy some more Wet Ones® Antibacterial Canisters, and we took this opportunity to score some deals on last minute school supplies, and practice Fen's juggling skills. She'll be working up to 3 containers soon, and I'm sure the Walgreens workers are thrilled with us.
You can take advantage of a $0.75 ibotta offer – limited quantities available and exclude 20 count packages.
Okay. Want to win something?
"Messiest Kid in America!" contest:
You can enter the contest by snapping a picture of your child and posting it to Twitter or Instagram using #WishIHadaWetOnes and #Contest.

Contest Assignment:
o Take of a photo of your child when he/she is at their messiest ("Photo").
o Photo can be taken at any time of the day/night when the child/kid is at his/her messiest, including, but not limited to meal time(s).
o Photo can only include your child(ren) or legal ward(s).
o Photo may include multiple children but each child pictured in the Photo must be between the ages of 2 and 17 years of age.
o Photo must not include any trademark or logos, other than the Wet Ones trademark and logo if the product is included in the Photo.
Official Rules and ways to enter here: www.wishihadawetones.com
More:
Will you please come chat and hang out with me during a Twitter party?! It's September 22 from 8:00 – 9:00 pm Eastern time, where we will be talking about the contest, and I'm hoping to slip in a few hilarious jokes here and there. Follow me on Twitter for more details.
Check out the Walgreen's promotions section of the website to find your local deals.