I have an in with the teens. Why am I so cool? My stepkids. They're in high school, so I have access to this elusive underground culture. Actually I didn't really know I had access, but my step daughter told me about a friend of hers who makes incredible art dresses and accessories. I was mildly interested, but then she showed me some of her photos on Facebook, and I was blown away.
This girl has talent, and she is actually focused. I am in awe of kids at that age who can actually focus on something, because I certainly couldn't. Actually I was just too much of a slacker in high school.
Anyway, back to our subject. Ella Digregorio is a sophomore in high school in the Chicago area, and she uses mostly alternative materials, such as, oh, Twister boards and Where's Waldo book pages, and her pieces are carefully crafted into beautiful wearable art pieces.
I asked her what her favorite medium was. 
I think I would have to say my favorite medium is everything isn't considered a medium. I like to find ways to take ordinary things people see everyday and never notice and make them into something that will stand out in a room!
 I asked if she wanted to continue with these in the future.
After high school I know that I want to go to college for some type of costume design. I currently do costumes for some of (my high school's) plays and for the middle school. I'm sure things will change with what exactly I want to do but I know that whatever I end up doing it will include art!
Baseball dress with real baseballs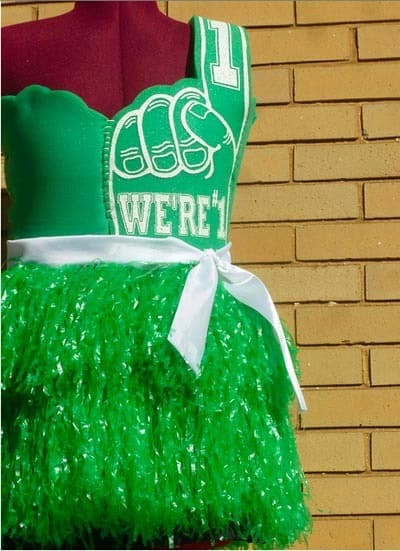 pom poms and foam finger dress
Sham-wow and sponges make a festive frock. I would totally drop a glass of water and then roll around the floor if I was wearing this.
I love how the forks simulate  fringe as the bottom of the dress.
Guess what this is made from? A Snuggie! I love the irony of this dress, and it's actually really cute, too.
Check out her Facebook page here: Broken Pins (cute name) Aren't you guys impressed?