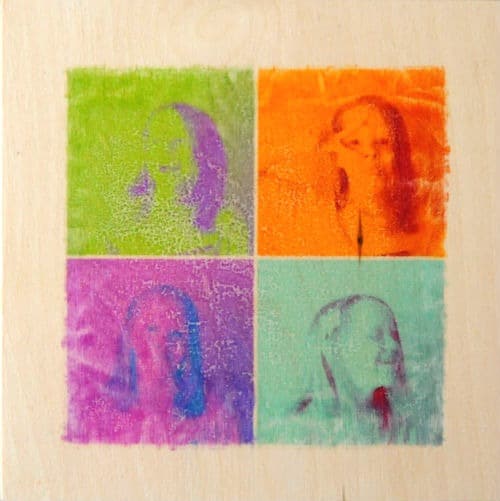 This print transfer technique is slightly involved – but the results are great, plus you'll hang it on your wall forever. I worked on this with Fen, and it was fun to watch her play around with tweaking images and experimenting with different effects. I introduced her to PicMonkey, which, if you haven't tried out yet, is soooooo fun.
It's a photo editing and collaging site that offers tons of goodies to beautify or funnify your photos. There is a paid version (which I use), but the free version offers plenty of options, from adding mustaches to your face to simple editing or collage-making.
Materials:
Here's what we did:
1. Photo shoot! A plain wall as a background is the best so your image doesn't end up cluttered-looking. Throw on some music, and get your model to strike some poses. Ham it up!
2. We took about 20 shots and then saved about 6 of the ones we liked best to the computer.
Editing
3. Now for the fun part- PicMonkey. When you get to the site, you will have the option at the top of editing a photo or creating a collage. Click on the collage option, click on open photos, and open your 6 chosen photos.
4. On the left side of the screen, click on the little collagey icon, then click down on Square Deal, and the image with 4 squares.
5. Drag a photo to each square and keep dragging around until you are happy with the placement. Save your creation, or write down the file names of each photo so you remember where you want each photo.
6. Now switch to the edit photo option. I'm going to give you the exact steps we used to get to our results, but feel free to change things/colors/effects up as you (your kid) see(s) fit. 
Printing
7. Here are the settings we used for each photo:
For each photo, we clicked on the science beaker, then clicked on Warhol. Click on each color and enter the #'s below that correspond to each photo you've chosen.
8. Save your creation
9. Grab your transfer paper and put it in your printer- do you know which side your printer prints on? You can do a test print first on plain paper you have marked on one side. That way you'll know whether to put your print paper up or down.
10. I opened my print in preview and printed from there. Here are the settings I used:
Resized to 6″x6″
300 ppi resolution
Scale to 100% (so it doesn't change the size to fit the paper)
Under print settings: Presentation Paper Matte for media type, I 'mirror imaged' it, so it would print backwards (Then it'll look right when you transfer it to your board.)
Transferring Onto the Board
We used maple panels from Blick, but you can also buy some on Amazon.
Preheat your iron on the cotton setting for 5 minutes- no steam! Place your print, face down on the wood, protect it with a pillowcase or fabric, and press the iron down in different areas of the print- don't forget the edges and corners! Press down fairly hard with the iron, but don't move it back and forth.
When we did it, the paper kept bubbling a little in the middle, so we thought it wasn't working, but just ignore that.
After it cools, peel the paper backing off. If it seems completely stuck on, try to rip off a little corner, and add a tiny bit of water (or in our case, spit) to it to help get it started.
We finished our piece off with a layer of Mod Podge, and hung it on up.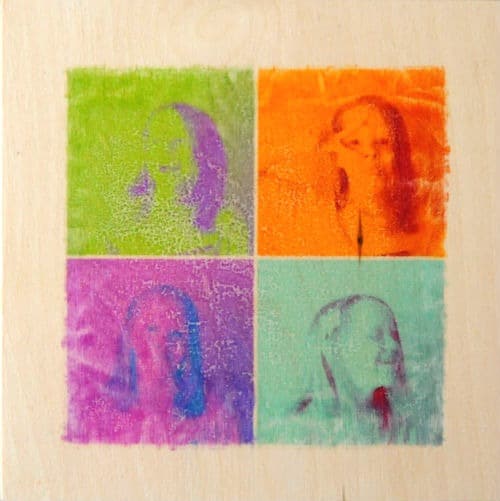 As you can see, this project can be done easily by an older kid, but can still be fun to do with a younger kid- you'll just end up doing most of it.
We decided to try this on paper next, and the results are amazing! We used a piece of thick watercolor paper. Somehow this image got lost from my blog post, so you'll never get to see it, but if you're feeling adventurous, give it a try.
Tip: If you use paper, make sure you have a piece of glass or several sheets of thick paper or something sturdy underneath the paper you are printing on, so you aren't ironing paper to your table.