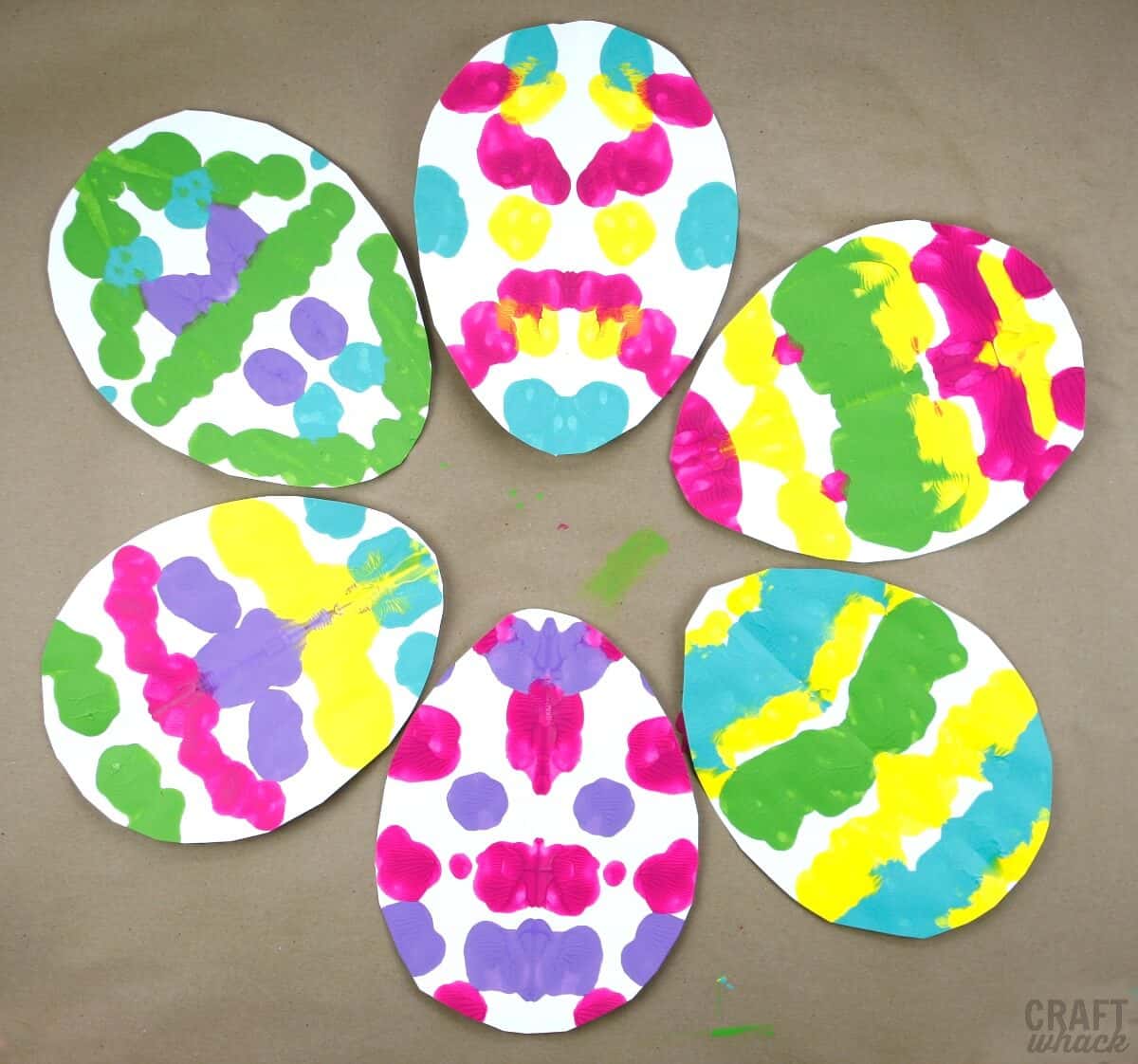 With this  Easter egg paper craft, you can learn if your children have deep, psychological issues they need to work out, or maybe you haven't caused them enough trauma yet. (It's always good to throw a little parent guilt joke in every post.)
We're going to start off making Rorschach prints with acrylic craft paint and paper, followed by a drying period, topped off with an egg-tracing activity, and we'll ease gently into cutting out the egg shapes from the paper, at which time we'll clap our hands in glee.
If you haven't made Rorschach prints yet, you're in for your first treat. These thangs are cool.
Supplies for Easter Egg Paper Craft
White card stock Let's hear it for card stock!
Craft paints or Acrylic paints (squeezable or transfer to a squeezy bottle) – I used Blick matte Acrylic in these colors: Aqua, Violet Light, Yellow Green Medium, Brilliant Magenta, Yellow Bright
I like these paints as well, especially for kids.
Scissors
First you fold your paper in half, then you drip some paint on one side. You fold the paper closed and gently press the sides together. When you open it back up, voila! Beautiful beauty.
You can then stare at the shapes and interpret what you see in them. Clouds? Monster faces? Elvis Presley?
Set them aside to dry for awhile, and print out this egg-shaped egg shape. When you cut out the egg shape, you then place it on the back of your paint print and trace. Cut it out, and you have some gorgeous Rorschach Easter eggs!
Use them as cards, make tons of them and make a festive paper garland with them, back two of them against each other and glue them together with a piece of string in between, and hang them up all over your house. Or just enjoy the process and make them for no reason whatsoever.