If you look through art projects on the internet, you wouldn't have to go too far and wide to find rainbow crafts featured at least once among these art projects. Rainbow arts are simply a breath of fresh air and a sight for sore eyes. They also provide some of the best school project ideas for kids!
If you're searching for art projects for kids and teens that are fun to make, you're in the right place. Check these 12 wonderful rainbows drawing ideas for inspiration!
1. Rainbow Leaf Prints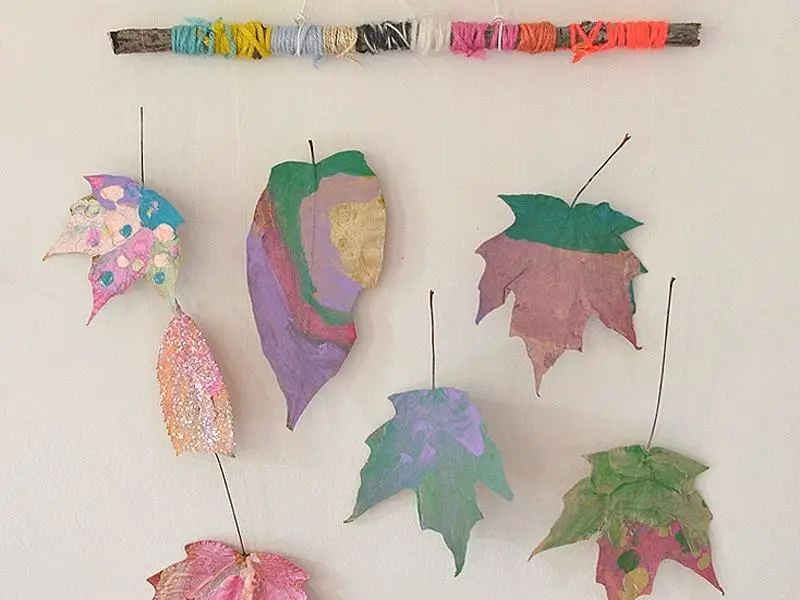 As far as drawing rainbows go, this art project doesn't involve drawing skills as much as the other activities on this list, so both younger and older kids will enjoy making this fun craft with ease. You'll need colored pens or crayons, leaves, and a damp towel.
Your kids will get to explore colors by applying various combinations of shades to the leaves. You'll have so much fun watching the shape of every leave printed out in different colorful ranges!
Find out how to create rainbow leaf prints on Art Bar.
2. Takashi Murakami Rainbow Flowers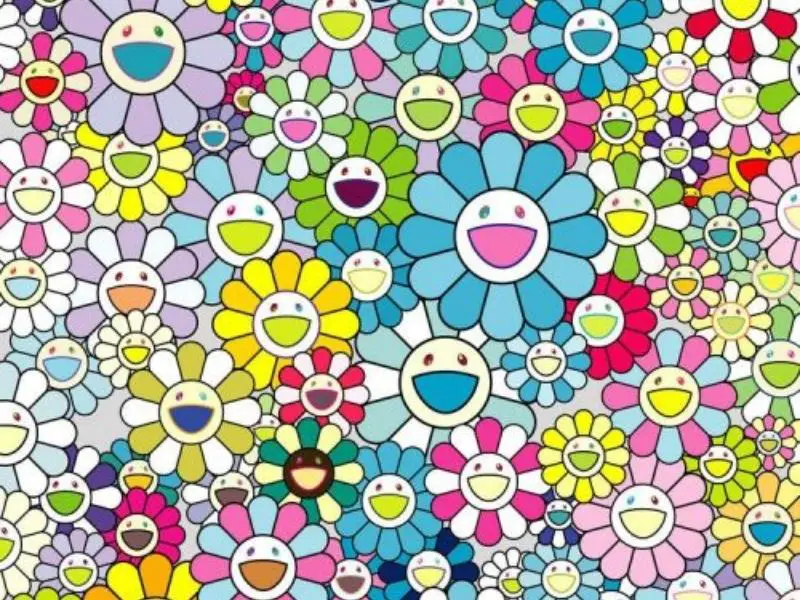 This is a fun rainbow project to help you brighten up your room with beautiful, bold colors, and it's one of the best go-to rainbow art ideas for Takashi Murakami fans!
You'll get to draw lovely flowers and color them as you please. It's all up to your imagination, the number of flowers you have, and how you'll style your rainbow.
You'll also have the chance to explore a mix of creative elements and envision Murakami's technique as you progress. This is a therapeutic activity, and the colorful flowers will be worth adding to your beautiful rainbow art collection.
Check out this super fun rainbow flower art on OSCA.
3. Melted Crayon Heart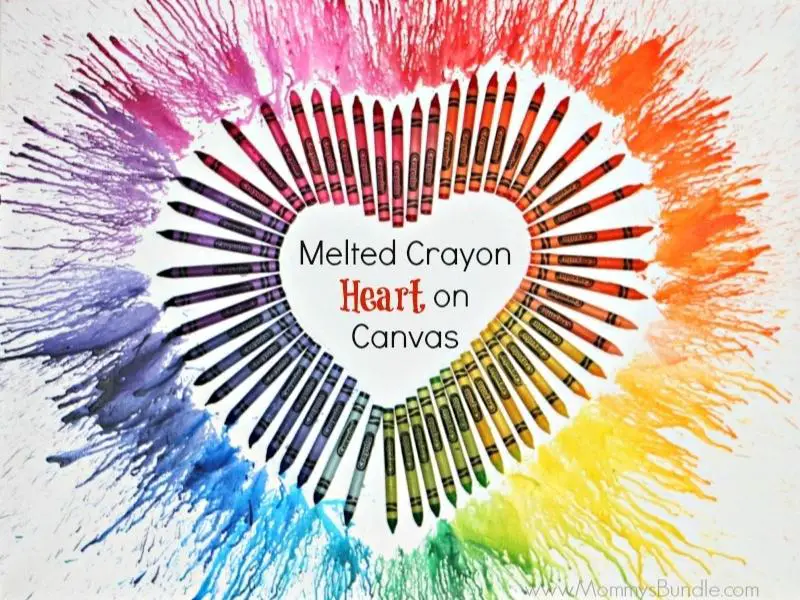 Do you love watching colorful crayons melt? If so, you'll have tons of fun creating beautiful rainbows out of them! Kids love their crayons, so you might as well help them create something cool and unique with them. Add color to your rainbow art collection by making these beautiful hearts and maybe use them as a framed painting in your room!
With some hot glue and crayons, your wonderful rainbow art will be set up and ready to go!
See the tutorial for the melted crayon heart on Mommy's Bundle.
4. Chalk Art Poster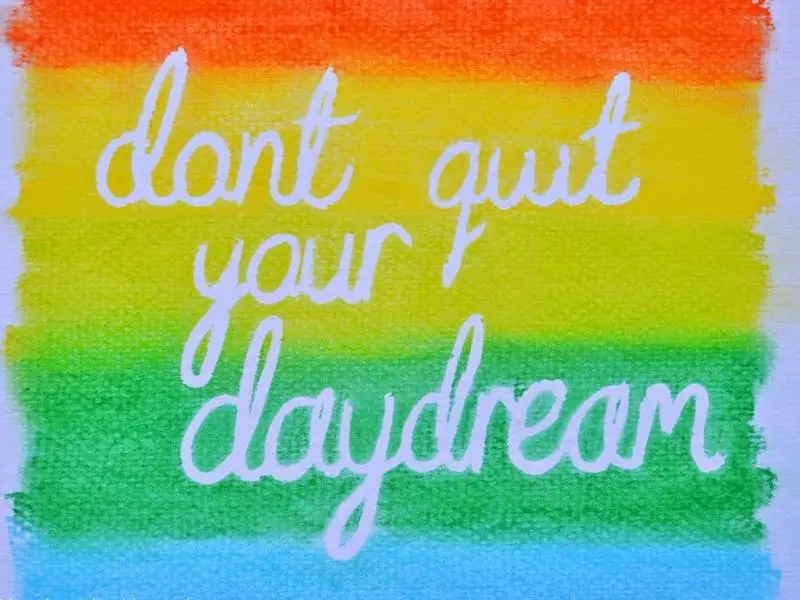 Here's another idea to unleash your creativity and fuel your inspiration. The chalk art poster is for parents and educators who want to instill positive messages for children of all ages. Plus, having the message you believe in framed in beautiful, colorful rainbow colors will surely add more life to your space.
With this fun craft, your kids will read positive messages every day and maybe create a poster of their own.
Learn more about the chalk art poster from The Things She Makes.
5. Rainbow Kitty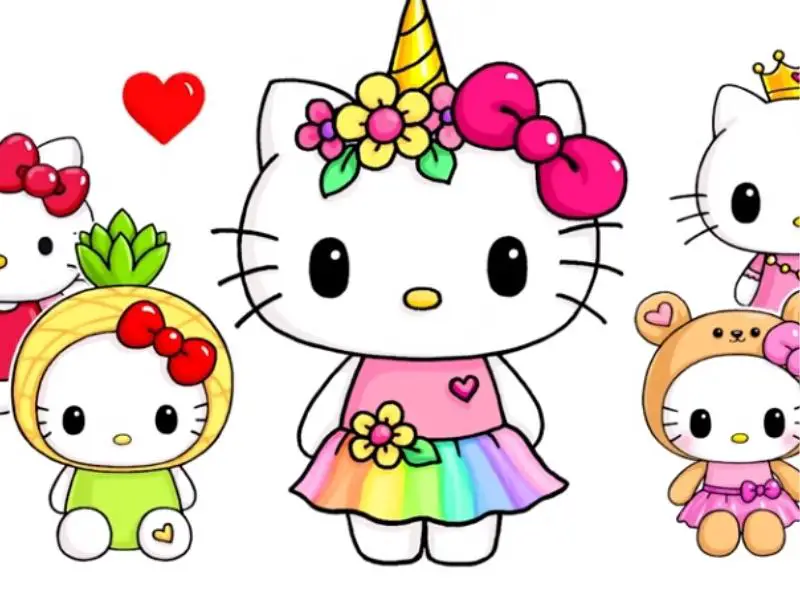 If your little ones love rainbow art and crafts, they'll definitely rush to have this fun rainbow art drawn on their canvas next. The rainbow kitty is a beauty to have on paper, and it's a hassle-free project involving little material besides paper, pencils, and crayons.
Your kids might struggle at first to nail the technique for this project, though, so be sure to make this a collective activity and create as many of these cute little kitties as your kids would want!
Learn more about this super fun rainbow kitty on Kidz Search.
6. Rainbow Dresses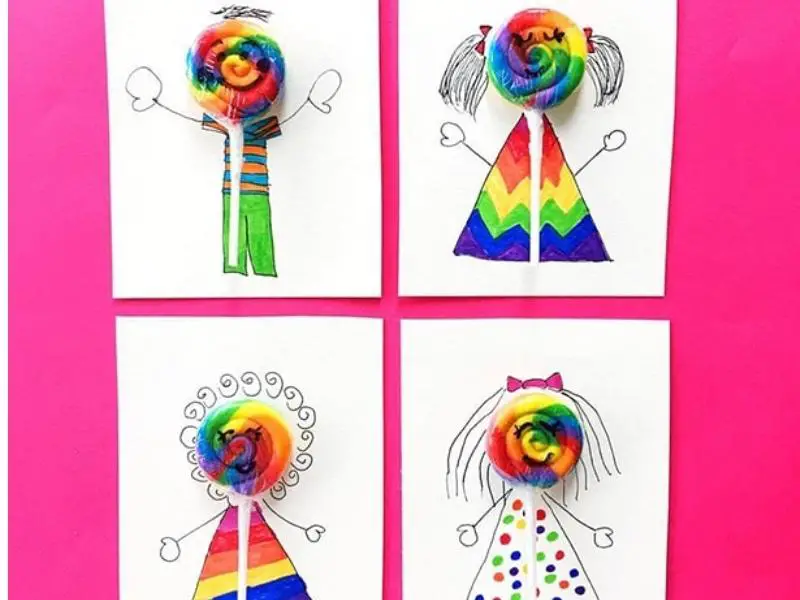 Beautiful rainbow art can also be infused into a sketch of your favorite characters. Your little girl will get excited once you dress up her favorite character in a fun rainbow dress. In fact, this rainbow project could count as a gift!
If this isn't the picture you're going for, you can still help your kids create random cartoon characters and color their gowns with pastel rainbow colors; it's a highly satisfying activity for girls of all ages.
Know out how to create rainbow dresses on I Heart Crafty Things.
7. Rainbow Salt Crystal Painting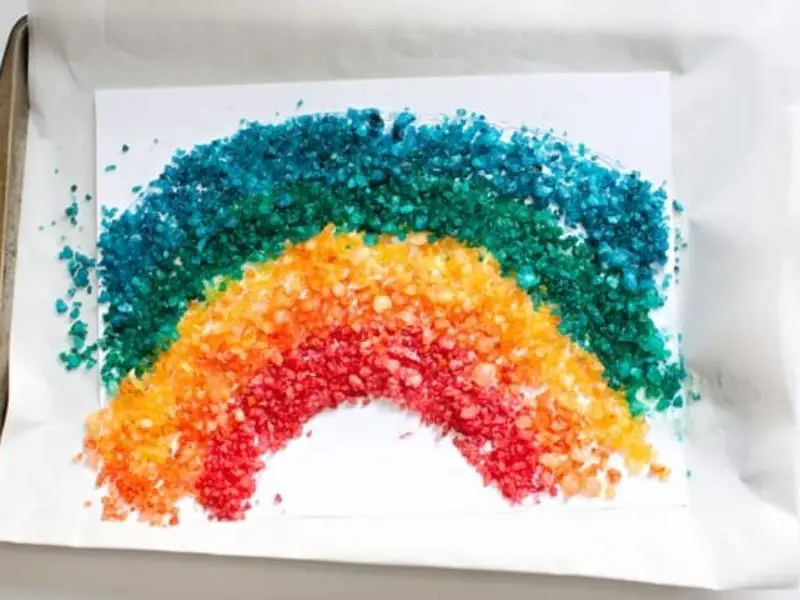 Kids love drawing with salt crystals, so if your little ones aren't introduced to this particular type of art, it's high time they try it out.
Rainbow salt crystals are simply mesmerizing and make for a truly stunning rainbow art piece that you can decorate your house with.
This is also the perfect creative art style for kids who like feeling the texture of their crafting material. They'll get to satisfy their tactile curiosities while also creating a variety of rainbow art projects!
Find out more about rainbow salt crystal paintings on Hello Wonderful.
8. Tissue Paper Suncatcher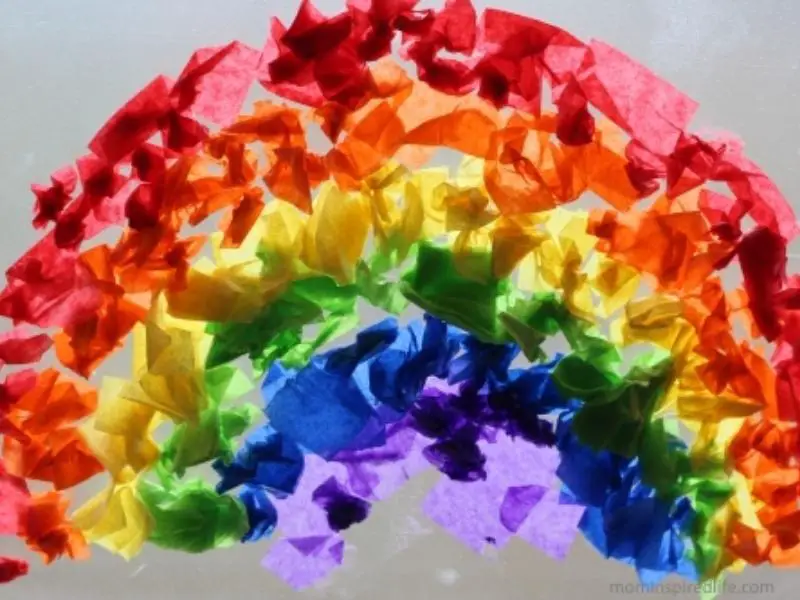 Do you want to know how to incorporate tissues into your rainbow art project collection?
This suncatcher will help you do so! Besides drawing typical rainbows on paper, you'll need colorful tissues to fill these rainbows, and voila!
There aren't a lot of steps for this simple rainbow drawing idea, so your children are guaranteed to get a beautiful rainbow every single time!
Visit Fun Learning for Kids to know more about tissue paper suncatchers.
9. Pointillism Rainbow Art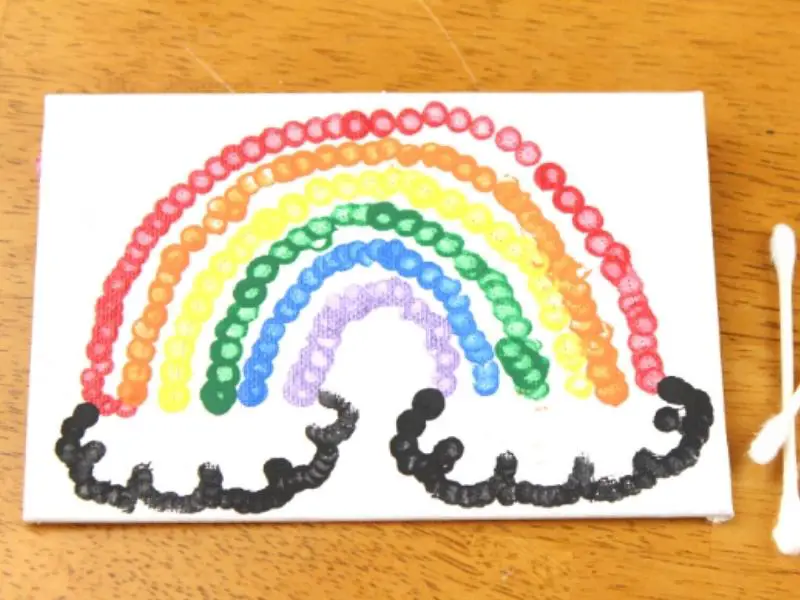 Pointillism is yet another creative method to get a beautiful rainbow. It's also relatively simple when it comes to painting rainbows. It'll be easy for children to learn how to use q-tips in this art project.
If your children love rainbows, this is one of the best art projects for them. However, if they haven't yet developed the necessary motor skills for this type of art, there's an array of easy-to-use substitutes instead of q-tips, like dot markers.
Check out the pointillism rainbow art painting on Coffee and Carpool.
10. Rainbow Heart Transparencies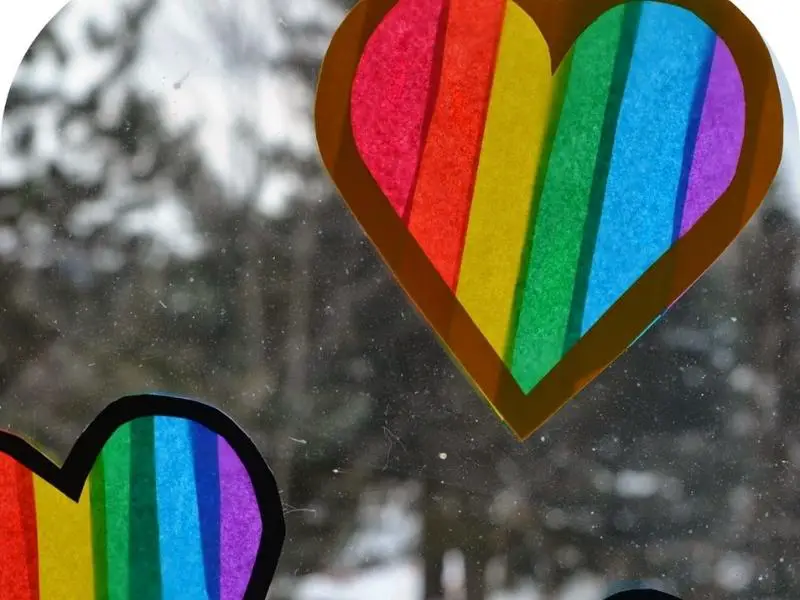 Rainbow arts can add life to your place. Whether it's winter, spring, summer, or fall – rainbows, especially rainbow heart transparencies, are a great way to enliven your humble abode with bright colors. Plus, these little crafts are a fantastic way to help your kids develop their love for art.
With pencils, cardstock, rainbow-colored paper, glue stick, and scissors, you'll have to brand new transparencies in no time! If you enjoy crafting from time to time, you'll enjoy making these with your kids.
Follow the tutorial for the rainbow heart transparencies on Twig and Toadstool.
11. Unicorns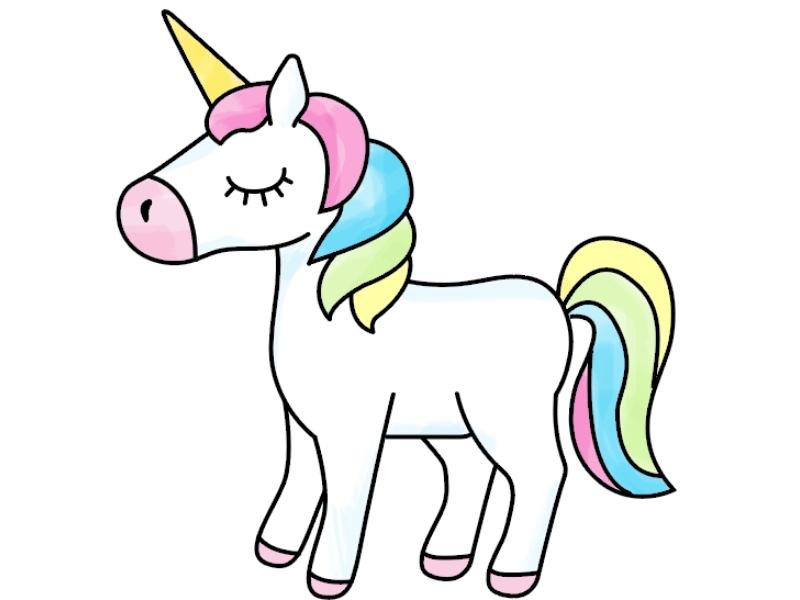 What's a better way to express your love for rainbow art projects other than drawing a beautiful unicorn with a shiny, rainbow-colored mane?
Unicorns are fascinating creatures, and teaching your kids how to draw them will undoubtedly make them happy! This isn't an easy project, however, so extra supplies, patience, and passion for rainbow arts are necessary.
Once you're done with drawing the unicorn, use pastels to color the mane, tail, and horn. However, kids can use any color to make their unique unicorns!
Check out the unicorn tutorial on Easy Peasy and Fun.
12. Rainbow Footprint Butterfly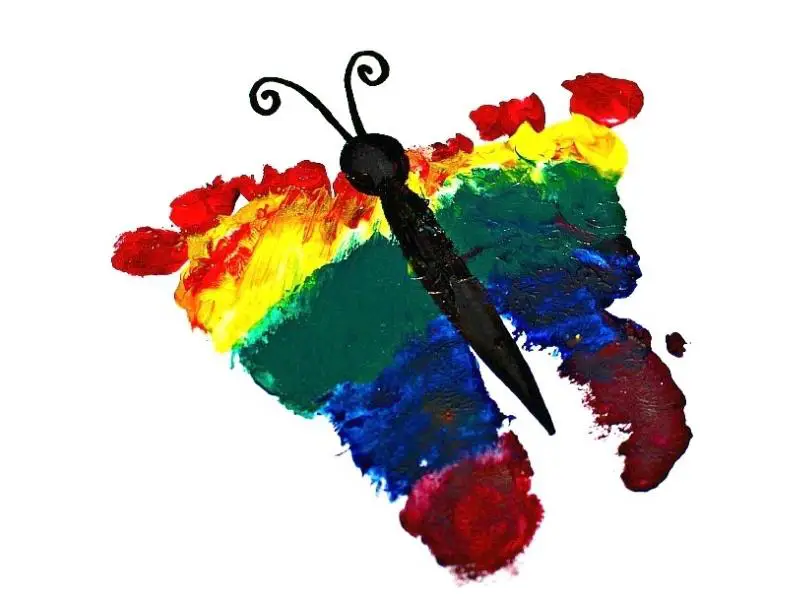 Painting is fun when things get a little bit messy. The rainbow footprint butterfly art is an excellent way to have your toddler participate in your art projects if they're too young to hold a pen and paper.
Also, it doesn't hurt that toddlers' feet are the perfect butterfly prints you could find!
Kids of all ages are welcome to join in the mess, too, if they're willing to try painting with their feet. What's more, this can make for a great family bonding experience.
Find more on the rainbow footprint butterfly on Messy Little Monster.
With these 12 wonderful rainbow drawing ideas, you're sure to make one of the best rainbow collages out there! Let us know which craft ideas you liked best, and happy crafting!
Comments
0 comments