Do you have a dedicated playroom in your home? Our whole house is pretty much a playroom, but I'm thinking this may need to change. Quickly. Kids are big and loud and everywhere, and they have lots of stuff. Bedrooms, it seems, are not large enough to house all of this stuff, as they like to leave a trail of items everywhere they go.
I love playrooms for what they represent- a place to store kid things, a special room dedicated solely to playing and exploring, a place that can be shared and enjoyed amongst siblings and friends, and an area of the home that can be pushed a bit in terms of practicality.
Obviously they need to serve their intended purpose, but it's an obvious space in which to push the limits and be edgy and creative, design-wise.
Here are 2 groupings of playrooms to inspire you and make you drool. This is one of my very favorite Pinterest boards to pin to, so I have tons of great ideas veritably stockpiled….
The first group is more subdued, with the focus on beautiful, modern design.
Clockwise from top left: fawn and forest, Apartment Therapy (Restoration Hardware goods), Nordic Design, Baby Center Blog
The second group explodes with color and fun, unexpected details.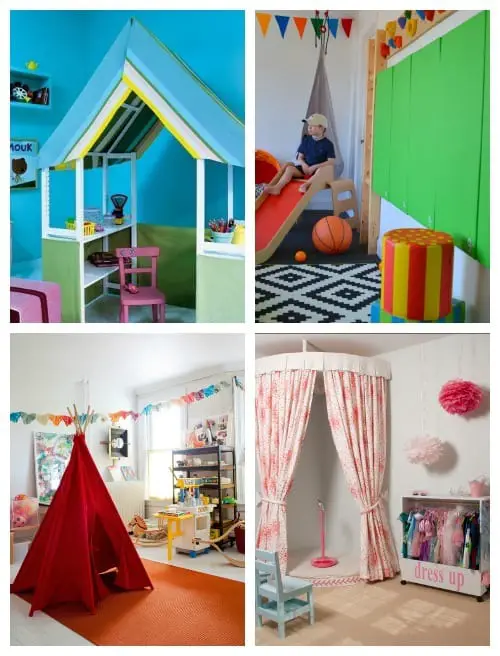 Clockwise from top left: Marie Claire Maison, By Stephanie Lynn, Houzz (Liz Carroll Interiors), Covet Garden