We have a game called Frantic Fish that I am in love with. Unfortunately, I can't find it anywhere, and the manufacturer's website has disappeared. Poof! I did find the inventor's site, but no mention of this game on there. You can see more of his art, though: John Osborn.
The deal with this game is to arrange a bunch of fish cardboard shapes (like puzzle pieces) to make different larger shapes and patterns. It is based on the idea of tessellations, or repeating shapes. The colors are beautiful, the fish are fun, and it's all about open-ended learning/creating. Pattern games for kids pack so much learning into a seemingly simple product.
I was working with these with Beckett this morning. At age 3, he's a little young to be following some of the patterns they show to recreate, but that doesn't stop him from making his own patterns. He also likes to watch me put some more complicated patterns together. I can feel the math segment of my brain waking up slightly when I work with these.
I figured that such an awesome concept would surely be out there in the form of many other games, so I went a-searching. These are similar in idea to Frantic Fish, playing on the same ideas of fitting shapes together to make a whole. Plus you can bet your kids will dream up their own ways to manipulate the shapes.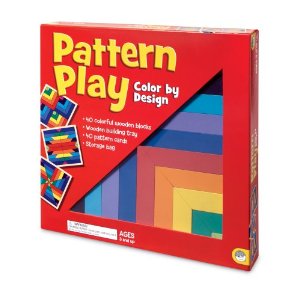 Pattern Play by Mindware provides brightly colored blocks that you can fit into the box in various ways, or make your own patterns outside of the box. (There's a joke here somewhere.)
The Lagoon Group's Canine Caper is a beautiful tessellation puzzle that includes directions for easier play and harder play. It's for ages 8 and up, so it will grow with your kids.
Imaginets is great for ages 3 and up, and provides a magnetic surface that doubles as a dry erase board. Awesome for road trips or restaurants. Again, kids can replicate the designs given or do their own thang.
Hexie-Snaps were the winner of a Dr. Toy best product award, and are sort of a plastic mosaic-making toy. They come with a carrying case and cards with design ideas.
Pentominoes are along the same lines as the rest of these, but they're made from 1 square inch-sized squares to form different shapes that you fit together. Like the rest of these games. this one appeals to all ages of kid over 3 (and adults).
I love these games that are firmly rooted in math, but just as firmly-rooted in design concepts. Color, pattern, shape, composition. It's all there, seeping into your kids' brains. Do you see what's even going on here? Design makes math fun!