You know what's cool? Outdoor classrooms. How fun do you think it would be to design an outdoor learning wonderland for kids? I would go nuts with nooks and crannies and twigs and stumps and ponds and bits and pieces- in fact many of these ideas can be incorporated into your back yard, if you have one, and are so inclined…
A teacher at my daughter's school recently received a grant to expand upon an outdoor classroom she had already begun, and the results are pretty wonderful. This space is full of opportunities to incorporate the stimulation from the natural world into the kids' days, and get them outside of the classrooms for some of their lessons.
They have a hand in cleaning up and maintaining the space as well, which of course helps them to take ownership. They adore their space and I'm sure they'll remember it fondly as a big special part of their grade school education.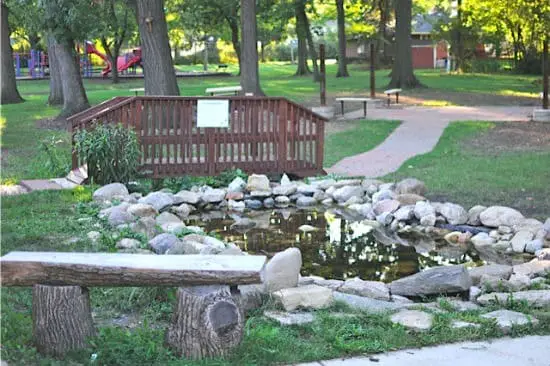 Ideas for Outdoor Classroom Design:
water table
musical instrument station
obstacle course area
school bulb-planting day
plant a butterfly garden
group seating area
mini-beast mansion! This is sculptural learning times 1,000
 Ideas for Outdoor Classroom Art Activities
decorate the area with kid-made art. My daughter's Brownies troop made bowling ball lady bugs 2 years ago, that peek out from the wildflower garden.
kids can help design the garden according to native plants and flower colors
art class can draw from life, paint what they see: flowers, pond, trees.
sculpt with homemade clay and press bits of nature in for nature wads!
whip up some homemade natural paints and paint rocks. It washes off in the rain.
Resources for Outdoor Classrooms:
The Arbor Day Foundation has a program called Nature Explore, and their goal is to "support your important efforts to connect children with nature." They offer a wealth of knowledge and resources to this end, including design consultations, products, workshops and conferences.
*****
Lowe's is in its 6th year of awarding grants to improve schools- with outdoor classrooms falling perfectly into this category. The deadline for this year is October 12, and you can ask for between $2,000 and $5,000. Lowe's Toolbox for Education
These two books are fantastic resources for ideas on planning, designing and executing an outdoor classroom:

Cultivating Outdoor Classrooms: Designing and Implementing Child-Centered Learning Environments, by Eric Nelson
Moving the Classroom Outdoors: Schoolyard-Enhanced Learning in Action, by Herbert W. Broda
A few books with ideas and projects for nature art:

Nature's Art Box, by Laura C. Martin and David Cain (illustrator)
The Nature Connection- an Outdoor Workbook, by Clare Walker Leslie- Definitely go look through this one on Amazon– it is so cool. Yet another workbook for kids that I want for myself…