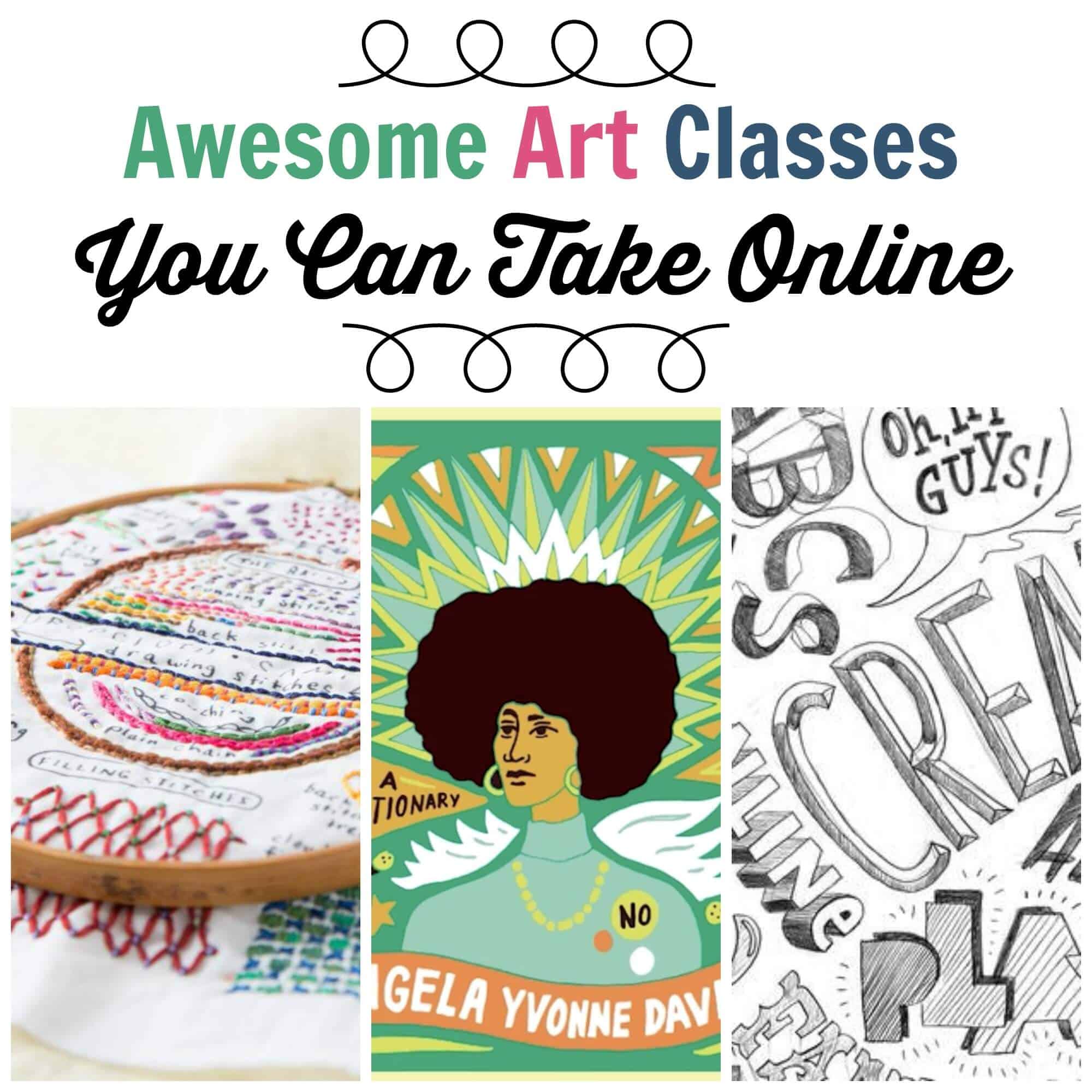 The best thing about the internet, besides being able to look up what cute dogs are available for adoption, is that you can learn SO MUCH. Anything you want to learn about, you can. This is amazing. This is also overwhelming sometimes, especially if you're like me and want to jump from thing to thing.
I taught myself to knit by watching YouTube videos, and that was great and all, but I missed the cohesiveness that comes with taking a whole class. I sort of cherry picked together what I needed to learn, but there is something about a class that gives you a sense of accomplishment and maybe journey, if that makes sense.
If you are considering online art classes, there is always YouTube to peek at for certain techniques, but there are also SO MANY opportunities to take full-blown classes and get a much better understanding of what you want to learn.
I have taken some awesome online art classes, and learned from people I wouldn't have ordinarily had the chance to work with (Lisa Congdon), and learned things I wouldn't have had the chance to learn, especially while trying to juggle kids and blogging and husbands. (Okay, I only have 1 husband.)
All of these sites below are places I've used and are familiar with. Each site has its own flavor and payment model, and I've given a little information about the site as well as a sampling of interesting-looking classes for each place.
Luckily, many have reviews so you can see how other people liked the classes. Another bonus is that if you have a kid or friend you want to take a class with, you can basically 2-for-1 it and watch the class videos together.
Click on the individual links to explore each site further, or click on the class photos to check out those specific classes.
CreativeBug
CreativeBug is hip and adorable, and offers creative classes that are pretty trendy. Browse through their site and you'll be delighted by all the color and inspiring patterns and drawings. I'm dreaming of learning to make my own preserves.
They offer a whole bunch of daily practice series where you can commit to turning your art-making into a daily habit!
Cost: $7.95/month paid monthly for unlimited classes, $9.95 for unlimited classes, discount to JoAnn Fabrics, and choose one class per month to keep forever.
 Daily Embroidery Challenge Creative Boot Camp Hand Dyed Yarn Preserves, Liqueurs, and Infusions
Craftsy
Craftsy offers a bunch of classes you can take, and I feel like they're geared more toward textile and culinary arts, but they also have some drawing and painting classes if you poke around. While a bit less trendy than CreativeBug, Craftsy tends toward offering some good solid basics in art-making.
Cost: Classes are priced individually, and range in price. Craftsy is now offering Craftsy Unlimited, where you get access to all classes (over 1,000 of them) for a monthly cost of $14.99, or $120 per year. this is a great deal if you plan on taking a lot of classes. Start a free trial here.
 Luminous Watercolor Mixing Embroidering Texture by Hand Beginning Drawing Exercises Magic Loop Knitting
CreativeLive
CreativeLive is such a cool concept, and offers up so many creative classes that I guarantee you will have a tough time choosing. Every day they stream new classes on their site, and you can hop on and watch for free! If you like the class, or want to tuck it away for later, you buy the class.
This is useful if the class is particularly chock full of info you want to refer back to, or if you have to miss a big chunk of it while it is streaming, and want to watch it later.
You can read through reviews, and filter the classes through price and content to help narrow down your decision, plus sometimes they have sales on classes. As of the writing of this post, I will be watching the Surface Pattern Design class (see below) tomorrow and Sunday.
I love to have classes streaming on my computer if I'm working in my studio or doing stupid things around the house.
Cost: Free for live streaming, but if you want to access the class on demand, you pay for it, and prices vary. They do have a 100% satisfaction guarantee, which is awesome, and they have an app so you can watch offline and when you're waiting in line at the DMV.
 Surface Pattern Design Hand Lettering 101 Basics of Photoshop, Illustrator and InDesign Drawing Fundamentals: Cross Contour Lines and Ellipses
Udemy
I've taken a few classes from Udemy, and enjoyed them, but it looks like it can be pretty hit or miss, so I would rely on the reviews.
They have a HUGE range of classes on the site, and I think anyone can teach, but I think the good thing about this is that you will discover classes here you won't find anywhere else, and that you had no idea existed.
The classes are set up nicely, where you can log into your dashboard and easily pick up wherever you left off last.
Cost: The classes are individually priced, but many times are on sale. You can keep your classes in your dashboard to come back to whenever you want.
 Logo Design in Illustrator The Ultimate Drawing Course Art Therapy for Everyone Beginner Resin Art
Masterclass
Masterclass is simply amazing. I can't imagine anyone in their right mind not wanting to take a class from one of these geniuses if you wanted to learn these topics.
I'm hoping and wondering if they will add any more visual artists to the mix. Who would they be?
Cost: All-access pass for $180 a year, or $90 per class
 Annie Leibovitz Teaches Photography Frank Gehry teaches Design and Architecture Marc Jacobs Teaches Fashion Design Martin Scorsese Teaches Filmmaking
Skillshare
Skillshare is a candy shop of online art classes. Similar to Udemy, nearly anyone can make a class, but the best ones will show up with the most favorable reviews.
I found some really cool, unique art classes on Skillshare, and I've taken some, too. Class lengths vary, with some being longer and more involved than others.
Cost: $15/ monthly or $8.25 if you pay for a whole year. You get access to all 26,000+ classes!
 Intro to Illustrated Journaling Creating Stylized Portraits Mobile Photography Basics for Instagram Mobile Stop Motion Animation
What do think? Excited to jump in and learn all sorts of good stuff? I'd love to hear what your experience has been with any of these sites, or what you want to learn.