Do you want to see how crafty I can get around here? I got so crafty that I went a little overboard and failed this art project. What with all the liquid watercolor I've been using lately, I thought it would be a fun idea to dye some rice and make a faux mosaic candy cane, similar to the faux mosaic elephant art my step daughter made.
As of this morning I was going to scrap this whole post and scramble to make a new one for today, but hey, why not include the mess-ups along with the pretty, Pinterest-worthy projects?
We all have art failures and I think it's great to accept that, and interesting to look at how we would do the project differently next time.
Most of these projects I make for Craftwhack are me deciding I want to try something, and then just doing it anyway, and most of them come out okay, so maybe I'll add more of the duds here and there and we can have some mini critiques. YAY! Memories of art school…
I'm going to keep my materials list and directions, and I'll show you the point at which I think this project could have gone in another direction to salvage it. 
Materials
white rice
Board or art panel – I accidentally used a $15 cradled art board that was pre-gessoed, so I would suggest these if you want a cheaper alternative and just paint the surface with white paint or gesso so the wood doesn't show through.
Gallon Ziploc bag
Tweezers
Directions
Take about a cup of the rice, dump it into a gallon Ziploc bag, and squeeze in a big squirt of red paint. Zip the bag up and massage it around until the rice is covered in paint. Add more paint if the rice is too pink for your liking.
Empty the rice out onto a big area where you can spread it out to dry. I used freezer paper taped down all across my dining table.
Print out a candy cane shape or draw your own. I used this one.
Pencil transfer your candy cane over onto the panel.
Using the Aleene's, squeeze an even line of glue all over the candy cane outline, and fill in every other candy cane stripe. You can also squeeze and outline of glue around the perimeter of the art board to make a 'frame'.
Sprinkle the dried red rice on the glue and let it dry for a while. Before it's dry, you can shove the rice around a little with your fingers or tweezers if it's spread too much. Tip the panel over to gently tap off the extra red rice that hasn't been stuck down with glue.
Fill in the other stripes with Aleene's and sprinkle the white rice on.
Pour Mod Podge onto the background area and spread it around with a paint brush. Sprinkle white rice all over the background. I added a little red rice into my white rice to give the background a speckled look.
Let this dry for a while and then dump the extra white rice off.
GAH! THIS IS WHERE IT ALL WENT SOUTH. It ended up looking like a big freaking mess, and the white rice didn't cover  the whole background, so this thing looks a little like a rug hook project from the 70's gone bad.
I also tried to tweeze all of these rice bits that wandered into other colors, some of the red paint ran into the white with the glue, and the best part of all, something I didn't bother to take a photo of, is that I thought it would be a fantastic idea to pour Mod Podge over the entire finished product and wait for it to dry.
I expected a really cool encaustic-look, and what I got was utter art terror. It was Mod Podge puddles in some areas and runny pink rice in others.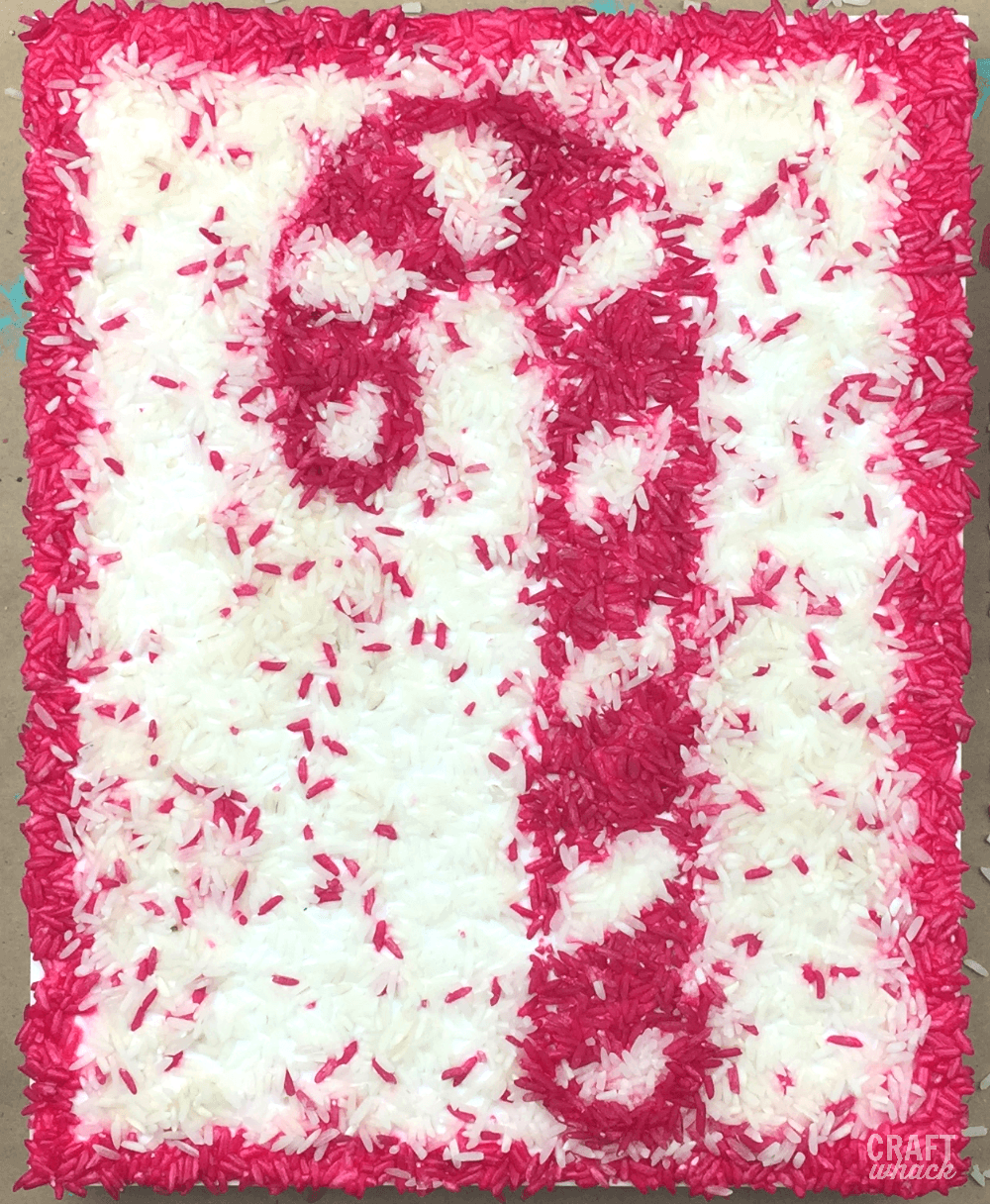 What I Would do Differently
I kinda sorta like the candy cane on its own with just the red rice, or maybe with the white rice stripes, too. I think I would go more the direction of that elephant mosaic I mentioned earlier, and maybe use torn paper for the background instead of more rice. Or maybe kraft paper glued to the panel would look cool as a background for the candy cane.
What do you think? Any good ideas?
Here are my other candy cane art projects from 5 Days of Candy Canes:
Monday: Wax Resist Watercolor Candy Canes
Tuesday: Salt dough candy cane ornaments
Wednesday: Block Printing Candy Canes
Anyway, this was still fun to work on, and boy did it take me YEARS to accept that not everything I make is going to be an amazing finished product.
This is a hard lesson for artists, eh?
 Color Splash! Liquid Watercolor PaintBuy 8 x 10 birch panelsBuy Aleene's Original Tacky Glue 3 PackBuy Mod Podge Waterbase SealerBuy