Well, folks, there's a new Martha Stewart book out, and it's all about Crafts For Kids. In fact, it's called Martha Stewart's Favorite Crafts For Kids. It's PACKED full of 175 cool craft projects for kids. (Including holiday and baking ideas sprinkled throughout.)
I was sent a copy to review and as soon as it arrived, I handed it over to Fen to bookmark some projects that interested her. As you can imagine, when I found the book the next day it had about 14 million little raggedy slips of paper coming out of nearly every page. So. I chose a couple of crafts myself, and here's what we made….
1. Origami Rings! This one caught my eye immediately, so once I started making a few, Fen jumped right in. She hasn't stopped making them for a few days, and they're really simple once you've made one- so cool. She's been giving them away to everyone as little impromptu gifts.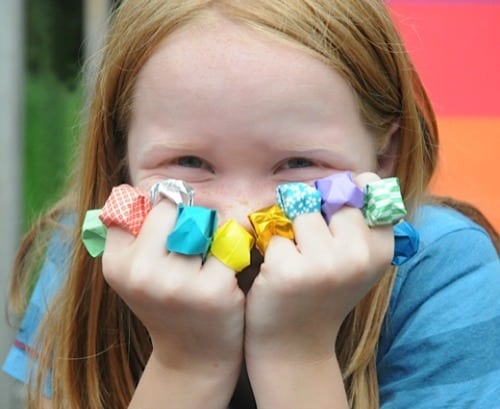 2. Button Frame – we finished this one just in the nick of time for Father's Day. It's so sweet to see the concentration on the face of a 3 year old when they are engaged in a craft. When we (I helped finish it up a little) finished gluing on the buttons, I asked Beckett to draw some faces, and chose one that fit well in the frame opening. The frame was from Michaels. Also, who knew it would be so difficult to find colorful buttons? We finally found them at Walmart.
I love Pinterest and all, but it's so nice to have collections of crafts in book-form for when you want to leaf through alongside your kids and pick something new. We all get sidetracked on the computer, but books give you that sense of focus and calm that you can't get when you start clicking around the web looking for ideas.
Some of the other crafts we will be trying from this book are: painted umbrellas (!), leaf alphabet cards, paper bead necklace, and the cool little boxes in which to display travel keepsakes. (Did you notice my impeccable grammar?)
Find the book on Amazon here.