My favorite shopping time of year is here- back to school time. We have most of our school supplies, plus lots of extra weird things that we happened to pick up because we are terrible impulse-buyers. The most fun, however, is to find the really well-designed products that will last and look stylish for the entire year.
Here are my picks for being as cool as cool can be for the coming school year:
Clockwise from left: Spiketus Rex in purple people eater, Lator Gator in great white, Bubble Full Pack in orange crush
From their site: We add the punk, passion and purpose, dab out the drab and add the rad. Is it creature, myth or merely magic. Meshed tight and right, the result is a backpack of cutting edge design for the ages, all ages.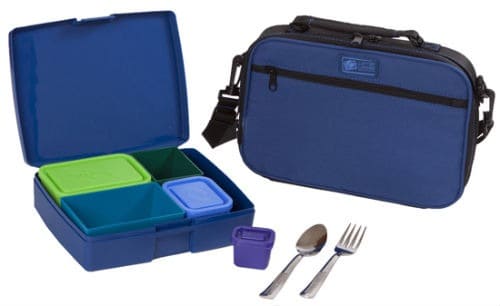 Bento Kits from Laptop Lunches.
Have you gone all Bento yet with your kids? I used this for Fen when she was in Pre-K/ K and we loved them, but back then they didn't have lids for all the containers. I stopped using it when she burst into tears at school upon finding her yogurt had leaked all over the rest of her food. I was so excited to see these new kits of theirs with lids for all the containers! Bonus: they're dishwasher safe.
Hey! Cute pencil cases by Bag Buffet on Etsy.
You probably can't go wrong with these blue Adidas Dragon shoes, also available with easy-close tabs for the younger nerds.
This scooter has won numerous awards for quality. It's light, smooth and durable. I'm definitely buying this one for Beckett in a couple of years, (along with thousands of knee pads and helmets.)
Oh my goodness do I love Smencils. I thought they only made colored pencils, but I found these regular smelly pencils so your kids can do all their math homework in Rootbeer, and writing in Cotton candy. Or Cinnamon. Spicy!
You know what goes perfectly with smencils? Japanese erasers, that's what. The more the better, and flocks of hamsters are especially cool.
How did anyone get along without a locker chandelier? If your kids are as crazy as mine about games like Club Penguin, where they're re-decorating their igloos every day, they must have a locker chandelier. Just trust me here.
Rain jackets go hand in hand with starting school, and Lands' End has some good options. I'm partial to the color gray, so here's my boy pick for this season. Wouldn't this look awesome paired with one of the MadPax back packs?
I think the only way your kid could be cooler is if they toted a secret little lap dog around.