Do you know about Lisbeth Zwerger? She's the kind of illustrator who makes me regret not studying illustration at school instead of, um, ceramics.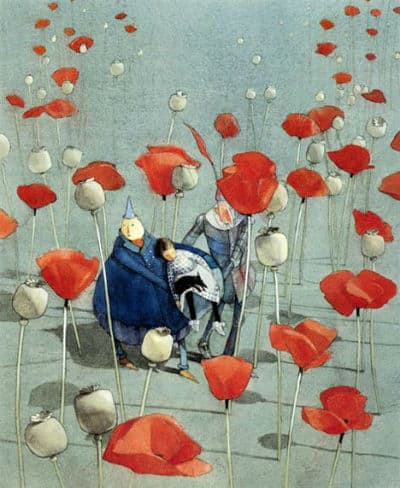 Her style is old fashioned, quirky and nostalgic. Her illustrations are the sort that kids get lost in, staring at the pages, absorbing the expressions of the characters, the colors, the lines. They will remember them into adulthood.
Look at these two versions of The Nutcracker that she illustrated in 1982 and then 2004. The first one shows how influenced by early 20th c. illustration she was. Then you look at the more recent book and recognize her style as it evolved over the years. So much more of her personality in the second one.
This would be great to point out to kids – that artists spend a long time practicing art-making and usually their styles evolve over the years. Ask which cover they prefer.
Some interesting tidbits about Lisbeth is that she studied art in Vienna, yet never earned a degree. Her teachers discouraged her from pursuing illustration, which she obviously (thankfully) ignored.
Something I found interesting also is that she works at her own pace- slowly. She doesn't try to churn out a bunch of work quickly. I think it's important for older kids who are interested in studying art to learn these bits about contemporary artists, because in art, more than many other careers, it's so important to find their own style, pace, and methods and stick with what works for them.
Many times they'll have to do this on their own, through a lot of work and experimentation, and Zwerger is a great art role model in this respect.
Find more about her here and here.