I got an email last week that damn near made me tear up, and it took me a while to figure out why I had such a strong reaction to it.
It was from Emily Turner, from Anchal Project, that I hadn't heard of until that point. She briefly explained that,
Anchal provides alternative careers in textiles to commercial sex workers in India. Our products (mainly quilts and pillows, though we are about to launch a line of scarves) are made from of 100% recycled cotton saris.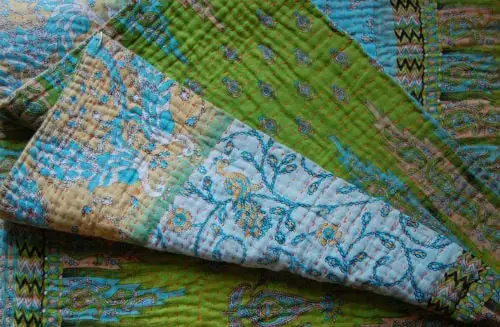 The teary part came when I checked out the Anchal web site and realized what an incredible project this was, and this woman wanted to include something I had to say in her blog post on the Anchal site. Her question, posed to 4 women in design, was, In 2 sentences or less, please paint a picture of what these words mean to you: Design + Social Change.
After I panicked, because I thought whatever I said would sound ridiculous, I felt honored. I felt like someone discovered my blog and thought that what I was doing with it was important enough to get my point of view on something. That feels good. Especially when it's someone really smart who is aligned with a phenomenal group like Anchal.
So here's the link to her post, which is quite inspiring, by the way. She got some really interesting responses from her interviewees.
I'm just going to share Anchal's mission statement here, because nothing I could write could explain it so eloquently:
our vision
Anchal celebrates the creative, nurturing essence represented in the anchal and harnesses it for women's social and financial empowerment. Through design, craft, community-building and education, we help provide new economic realities for commercial sex workers in India. Our goal is to create the infrastructure for creative, income-generating initiatives to run sustainably with local leadership. We believe that by providing a fair living wage and educational workshops to these women in need, opportunities can be pursued that build confidence, increase self worth and inspire lives.
Are you wondering what this has to do with art and design for kids? Well, sadly, some of these 'women' who are sex workers are mere children themselves, and other girls will join, as they will follow in the footsteps of their mothers. Can you imagine a society where women have the power to choose making beautiful objects to sell as a viable alternative to being a commercial sex worker? Anchal can.