So 2 weeks ago I posted on African culture children's books, and I'm excited, smack dab in the middle of Latino Heritage Month, to feature Latino kids' books this week. Has anyone noticed that the Spanish language is quite prevalent in the U.S? No? Well.
Again, I had trouble narrowing down my picks, and I could have listed dozens, but I tried to include a sampling of different styles here. Have fun exploring!
Abuela features folksy, dreamy, patterns, earthy colors, and word blocks that feel like poetry. It includes some vocab words. I learned how to say, "Vamos al aeropuerto". Ten points if you know what this means. Ages 3-7
Book Fiesta! These illustrations (paintings by Rafael Lopez) are so lively, have so much depth, layers, thoughtful details. This book is about Children's Day/Book Day, founded in 1996 by the author, Pat Mora, and includes ideas for observing the festivities. How can you not love a book that celebrates reading? In English and Spanish- Ages 3-8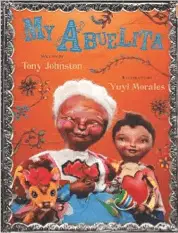 My Abuelita has surreal artwork. It looks like a mixture of photography and collage and painting, and it's slightly creepy but also compelling. The art works well with the poetic style of writing by Tony Johnston. illustrations by Yuyi Morales. Ages 4-7
Written by Jorge Argueta, illustrated by Margarita Sada, Guacamole is a cooking poem in English and Spanish. I think this would be such a fun, creative way to share some time in the kitchen with your kids. My kids are crazy about avocados, so I know this would be a hit. Ages 4-up
I like children's books that explore childhood experiences the reader probably hasn't experienced. For most Americans reading this book, the idea of moving from one country to another, without knowing the language, is a crazy thought. For so many immigrant children, it's a reality, and this book about a girl's transition from Cuba to New York is fascinating. The illustrations are soft and maybe nostalgic. Ages 6-up
The Pura Belpre Award
From the ALSC website:
Every year the Pura Belpré Award is given to a Latino/Latina children's author and illustrator "whose work best portrays, affirms and celebrates the Latino cultural experience." Pura Belpré was the first Latina librarian at the New York Public Library. This prestigious award, established in 1996, is co-sponsored by the Association for Library Services to Children (ALSC), a division of the American Library Association (ALA), and REFORMA, the National Association to Promote Library and Information Services to Latinos and Spanish Speakers, an affiliate of the ALA.
This book about Mexican painter Diego Rivera won this year for Duncan Tonatiuh's illustrations. His style is very graphic and stylized. I automatically love books that introduce artists to children.
The 2012 illustrator honor books are:
The Cazuela That the Farm Maiden Stirred, by Samantha R. Vamos, illustrated by Rafael López. Ages 3-up
Marisol McDonald Doesn't Match, by Monica Brown, illustrated by Sara Palacios. Ages 4-up.