I've been a fan of artist Patrick Dougherty ever since I saw some of his work in college. I'm sure I saw it via slides in a slide projector, because I am THAT OLD.
Dougherty began making small woven stick sculptures in 1980, but moved onto giant, site-specific installations that he continues to create now. He utilizes volunteers and assistants to help him gather, clean and weave twigs and saplings for his sculptures.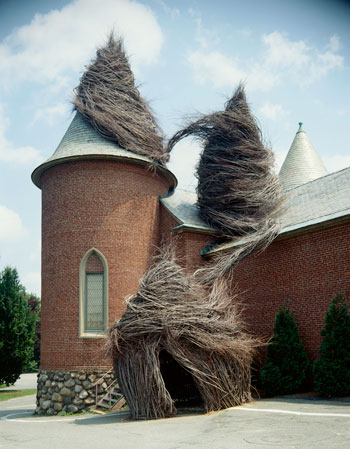 I love the idea of a big inclusive group of people working together to make a giant piece, and a similar project can be adapted for a group of kids.
There's an artist named Susan Perrine who used to hire herself out to plan and facilitate just such a project, and she worked with an entire group of 7th grade kids and their teachers to make a 12′ garden hut over the course of a day. Photos here: twig house
Kids are drawn to Dougherty's massive sculptures because they are:
1. Made out of sticks
2. Giant and crazy-looking, like the best forts in the world
And that's why I like them, too.
Here's our version of a Patrick Dougherty project that's a perfect introduction to weaving and working with nature to make a piece of art.
You will need:
A trellis (these are from Lowes- click the pic for details)
twigs and/or vines- you can use green ones if you snip the leaves off. They will be more pliable. Otherwise, use brown ones and be careful so they don't snap. Or soak them in a baby pool for 2-3 days!
garden clippers
twine or thin wire for securing your twigs if they're not long enough to weave in very far
Weaving is such a simple concept but exceedingly satisfying when you start to see your piece coming together.
Just begin weaving around the form at the bottom and work your way up. For the top part we used small, really bendy twigs. The vines we used weren't pliable enough to weave in and out of the very close-together bars, so we would skip going under a bar or two.
When we got to the top, we would tuck in the bigger end of the vine and wrap it around the outside of the trellis before weaving in the narrow end. When we got to the outer vines, we tucked the wider end in under a bar, wrapped the vine around the form, and then tucked in the small end.
The finished product! You can definitely go nuts and cover the whole piece completely with sticks. I may have to keep adding onto this slowly. Here's where the thinking comes in: talk about what this sculpture might look like in a month or two. What will happen to it as it sits outside taking hits from the rain, wind and curious animals?
This idea is inherent in Dougherty's work. His pieces are built up from natural materials and eventually return to the earth.
This is a new book of his work, including anecdotes and further insight into his work and methods. This would be a great addition to your lovely coffee table art book collection.
See Patrick Dougherty's website for more information about his work and some really cool videos.
See my other posts in this series:
Kids Learn Installation Art: Andy Goldsworthy
Kids Learn Installation Art: Christo and Jeanne-Claude
Share This Awesomeness: