Do you know of Christo? Sometimes I forget that not everyone knows famous contemporary artists- (Oh my goodness, that sounds pretentious….)
I dropped Fen off at a birthday party today and was immediately asked why our mailbox was covered in a pink sheet. My neighbors are beginning to realize there's always something strange going on at our house.
Here's why:
We talked about Christo and Jeanne-Claude this morning. They were a married art-duo until Jeanne-Claude's death in 2009. I personally think one of the most fun things you can do with your husband is collaborate creatively with him, so the fact that they worked closely together for so long is a total draw for me.
Oh yes, I love their work as well. Here's what they did if you aren't familiar with them.
They made outdoor installation pieces in settings all over the world. For one piece, they set up an 18′ high, 24-mile-long 'fence' of nylon in southern California:
Christo and Jeanne-Claude 
Running Fence, Sonoma and Marin Counties, California, 1972-76 
Photo: Wolfgang Volz 
© 1976 Christo
They wrapped the Reichstag in Berlin:
Christo and Jeanne-Claude
Wrapped Reichstag, Berlin, 1971-95
Photo: Roland Bauer
© 1995 Christo
They wrapped Trees in Riehen, Switzerland: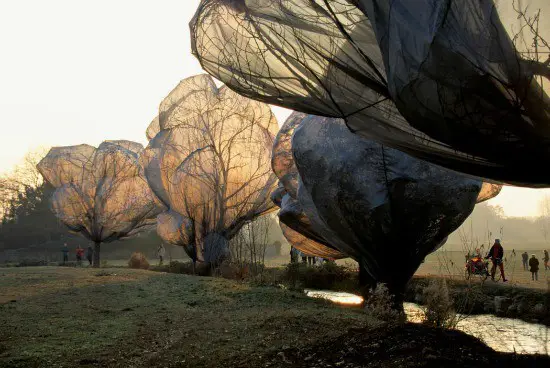 Christo and Jeanne-Claude
Wrapped Trees, Fondation Beyeler and Berower Park, Riehen, Switzerland, 1997-98
Photo: Wolfgang Volz
© 1998 Christo
Although their work is visually impressive and often controversial as a result of its scale, the artists have repeatedly denied that their projects contain any deeper meaning than their immediate aesthetic impact. The purpose of their art, they contend, is simply to create works of art or joy and beauty and to create new ways of seeing familiar landscapes. Wikipedia
I absolutely love their work- mostly on an aesthetic level, but also because this kind of art easily opens up the opportunity for a conversation with your kids.
Why do you think they made these?
Do you think they upset some people?
Do you like them? Why or why not?
Do you think they are art?
Would you want to see one of these in real life?
What do you think the artists are implicating on a socio-economic level with these artworks? (Just kidding.)
 *****
We took the idea one step further and decided to wrap our mailbox. It's a perfectly recognizable shape, completely ordinary and ubiquitous, yet when you wrap it up, it takes on an abstract quality and catches peoples' eyes. Beyond that, who knows?
We just enjoyed the process and I hope it got Fen thinking a little bit.
See my other posts in this series:
Kids Learn Installation Art: Andy Goldsworthy
Kids Learn Installation Art: Patrick Dougherty