Help me welcome another guest poster today- Ann from Doodles and Jots. Her site is wonderful if you haven't been there yet. I always feel like I'm taking a creative nature walk with her when I'm there, which is why I'm loving this post she crafted for us.
*****
Mini Nature Journal Printable
Hi, I'm Ann from Doodles and Jots where I blog about nature inspired creativity for kids plus some practical mom stuff too.  My lifelong passion for art and twenty years experience as a product designer has provided me with the process and skills I draw on for my content creation.  I live on Cape Cod with my musical husband and inquisitive kids.  I love being a mom and exploring, learning, and creating together!
I discovered Jeanette's funny blog through Blogher's NaBloPoMo (a themed daily blogging challenge).  It was one of the first blogs I started following.  She is a very entertaining writer, finder of cool things, and here, a thinker-upper of awesome kid's art projects.  We even have something in common.  We were classmates at RISD although we didn't know each other back then.  This is why I am so excited and honored to be guest posting for her today!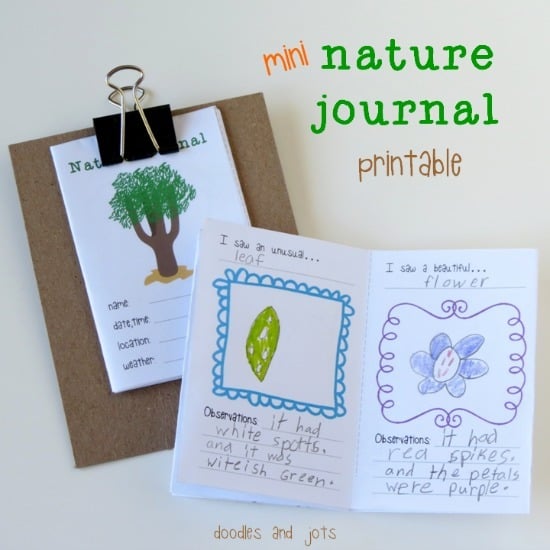 I first realized the teaching power of drawing in high school biology class.  We had assignments to draw and annotate what we saw through the microscope.  I loved biology and art so this was really fun for me.  I took pride in rendering those amoebas and carefully adding the pink shading.  In addition to being fun it was also highly educational.  I still have a very strong visual memory of how plants have cell walls and animal cells don't.  When you draw what you see you have to get a sense of the whole, study all the details, send it up to your brain, back down into your hand, and out through your pencil.  Drawing what you see makes you notice and retain things you wouldn't otherwise.
There are so many wonderful things to discover and learn from in nature.  Why not grab my printable PDF mini nature journal and become a junior naturalist!  It includes prompts to get you started (like find something big, something small, etc.) and fun frames for your sketches.
Although this activity was better suited to my 7 year old, my 5 year old was also able to finish most of his drawings on our hour long nature walk.  I scribed his observations later at home.  We saw LOTS of cool things including butterflies, mushrooms, interesting leaves, and beautiful flowers!
For folding instructions see this post.
Since it's summer, don't forget sun hats, sun screen, and insect repellent (we found a nice all natural one from Luffa Tree).  You might also want to pack water bottles and snacks.  For drawing supplies I like number 2 pencils and colored pencils, and to make drawing outdoors a little easier you can make a mini clipboard from a piece of cardboard and a binder clip.
Like Doodles and Jots on Facebook and share photos of your nature journals too!