Please put your hands together (wherever you are) and clap wildly for my guest poster today- Erica from What Do We Do All Day? She's awesome, her blog is awesome, and I know you will enjoy this post.
We did the old switcheroo, and I am posting on her site today. So read through and then go visit her blog for more Hispanic Heritage Month goodness.
 *****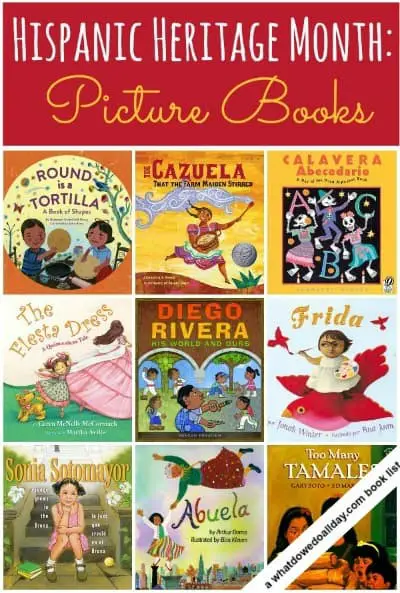 I am so lucky that Jeanette is letting me share my love of children's books with you, her fabulous readers! It's a double fun day, because over on What Do We Do All Day? you will find an Artchoo! art project for Hispanic Heritage Month. So if you want to learn about a Latin American painting technique on Amate (it's okay, I don't know what that is either) you can head over there — after you check out these books, of course!
September 15th marks the start of Hispanic Heritage Month, a tribute to the contributions that people of Hispanic descent have contributed to our nation over the last 500 years. I've chosen a variety of books, both fictional and biographical so there should be something for everyone. Pick some up from the library to read throughout the month – or any time of the year. Enjoy!

The Fiesta Dress: A Quinceañera Tale. I'm a bit fascinated by the frilly, lacy, enormous celebration of the quinceañera. I've never been to one, but judging by the cakes in the bakery window, the guests must be having a great time! This story is about the birthday girl's little sister, Lolo. No one notices Lolo as the family prepares for her older sister's 15th birthday, until the dog runs off with Eva's sash! Can the party be saved? (Hint: yes)

Round is a Tortilla. This is a wonderful concept book to share with younger kids. Objects in the environment are identified by their shapes and Spanish words are sprinkled throughout the book: ventanas are square, huevos are oval… you get the idea. Parra's illustrations are a little bit retro, a little bit folksy and a whole lot charming.

Too Many Tamales. My mother has a friend who gives us loads of tamales at Christmas time so this book reminds me of all that deliciousness. Maria is helping her mother make the traditional Christmas tamales. She feels so grown up! However she accidentally works her mother's diamond ring into the mix (or so she thinks…) and the only way to find it is to convince her cousins to eat the stack of tamales!

The Cazuela That the Farm Maiden Stirred. This lively, cumulative tale (think: "This is the House that Jack Built") that begins with a single cooking pot and ends with a feast. Spanish words are worked into the rhyme and the illustrations dance off the page. Since you will be hungry after reading this book, it's a good thing the book includes a recipe for arroz con leche.

Calavera Abecedario: A Day of the Dead Alphabet Book. This book reads in two parts. In the opening pages, we see Don Pedro and his sons continuing the family tradition of making papier mâché skeletons to dance on El Día de los Muertos. The main body (pun) is an alphabet illustrated by fully dressed and party-ing skeletons, accompanied by Spanish words (not to worry, a glossary is included). The books doesn't teach much specific information about El Día de los Muertos, but nonetheless I think this is a fun book to read around Halloween and get kids intrigued about The Day of the Dead traditions.

Sonia Sotomayor: A Judge Grows in the Bronx. This is a wonderful book if you are looking for a picture book biography about a contemporary Hispanic-American figure. Supreme Court Justice Sonia Sotomayor's story will inspire everyone. The book follows Sonia as she grows up in poverty in the Bronx and gets an education. The book has a great, positive message and emphasizes how important it is to be surrounded by supportive friends and family.

The Rainbow Tulip. Stella lives a bit of a dual life. At school, she fits in with her English-speaking friends and teachers, but at home her family and neighbors speak only Spanish and Stella sees that her mother is not like the other moms. When the school plans a May Day festival, Stella's mother makes her a beautiful multi-colored tulip dress but Stella feels awkward when she sees the other girls have single-colored dresses. Stella's experience dancing in the festival helps her realize the value of Hispanic heritage.

Abuela and Isla. Rosabella and her grandmother, "Abuela" are always going places together. One day, they their travels take them on an imaginary flight over New York City. Abuela teaches her grandmother about the history of the sights they see. In Isla, their journey takes them to Abuela's homeland – an island in the Caribbean. Together they experience all the sights, sounds and tastes of the island. Gorgeous and colorful mixed media illustrations will keep your kids studying the pictures over and over. A glossary in the back of each book will help English speaker learn (and pronounce) the Spanish words sprinkled throughout the text.

Diego Rivera: His World and Ours. I hope it's okay to admit that my art history knowledge has come solely as a result of reading kids' picture books. The story begins with the comforting information that, like all kids, Diego Rivera liked to play with trains, as well as draw when he was a young boy. Moving on from there, the first half of the story follows Rivera's education and career, but the second half of the book is dedicated to asking questions about what Rivera would paint if her were here today. Many of the illustrations were inspired by Rivera's original work (see the end notes to find out which ones). The book included an extensive glossary and author's note so interested kids can compare and learn more. Make sure to take note of the ears.

Frida. A tight, poetic text describes Frida growing up, enduring loneliness, learning to paint and suffering through polio and a near-fatal bus accident. It all sounds rather depressing, but actually the book's overall tone is inspiring, describing how Frida and her community found solace in her art, and emphasizing the uniqueness of her style. Winter's book focuses primarily on Frida's growth from a young girl to adulthood. Me, Frida by Amy Novesky and illustrated by David Diaz is a good companion read; it focuses on Frida's live with her husband Diego Rivera.
Have you read any of these books? Have any others to recommend?
Erica (aka "Mom and Kiddo") is a SAHM to two very rowdy boys who love to read. She blogs at What Do We Do All Day? where she shares a new book list every Monday, like her popular 50+ Chapter Books to Read Aloud to Preschoolers, hosts a giant list of easy indoor activities that her kids have tested out in their tiny apartment and everyday learning ideas. You can connect with her on Facebook, Pinterest or Google+.