This may have been my favorite gift post to write, because I got to virtually shop for myself. I basically just looked at everything on the internet and chose what I want. That's the easiest way to buy things for people that you want to steal later, in case you were wondering.
I especially like buying lady things like dresses and makeup for Christian, because then there's no pretense about they're for. He just rolls his eyes and hands them over, and I can feel good about giving him something to open.
Also, Fen doesn't realize that she is fast approaching the age where I will lavish gifts of clothes upon her, only to sneak through her closet while she's at school. Mini skirts and Uggs, here I come!
1. I would steal this Hodor t-shirt before it was fully unwrapped. That's how much I love it. (Game of Thrones reference, in case you are scratching your head.)
2. Fresh new markers. So stealable.
3. Hello, adorable cozy wonderful giraffe slippers that I accidentally bought in my size instead of yours.
4. NutriBullet
 is one of those things that will be in your house anyway so even though you've "bought it for your husband", you will be hogging it for your morning green smoothies. I would just like to take this opportunity to tell you how much I am in love with my Nutribullet, so I don't have to pretend to buy this for anyone else this year.
5. Magazine subscriptions, but more specifically, This Old House. Here's the beauty of this magazine. It's supposedly a magazine for handy guys, DIY studs, if you will. But really, we ladies browse through it like catalogs and dog ear all of the things we want our husbands to do to our house. What's not to like?
6. Okay. I'm thinking you buy this tea infuser travel mug for your college-bound daughter, but then, whoops! It accidentally gets put away in your kitchen cabinet after Christmas instead of in her college pile.
7. Temporary tattoos. What parent doesn't secretly covet all of the cool faux ink their kids can sport and still look adorable? And don't try to tell me you don't have an Elsa and Anna temporary tattoo on your thigh right now. Plus, Tattly has wonderful designs to choose from that you'll love as much as your kids do.
8. YES, PLEASE. The most fantastic thing I've ever seen is this soup and sammich plate.
9. Lastly, get a load of this brilliance. I've put a ton of thought into this, because I'm seriously contemplating it for this Christmas.
A. This Telescope
 for "Fen"
B. This Microscope
 for "Beckett"
C. This smartphone mount for telescopes, microscopes, and binoculars for "Christian"
D. Hours of fun for me.
CAN YOU IMAGINE HOW COOL IT WOULD BE TO TAKE CLOSEUPS OF THE MOON AND VIDEOS OF WEIRD TINY VIRUSES? Sorry for yelling.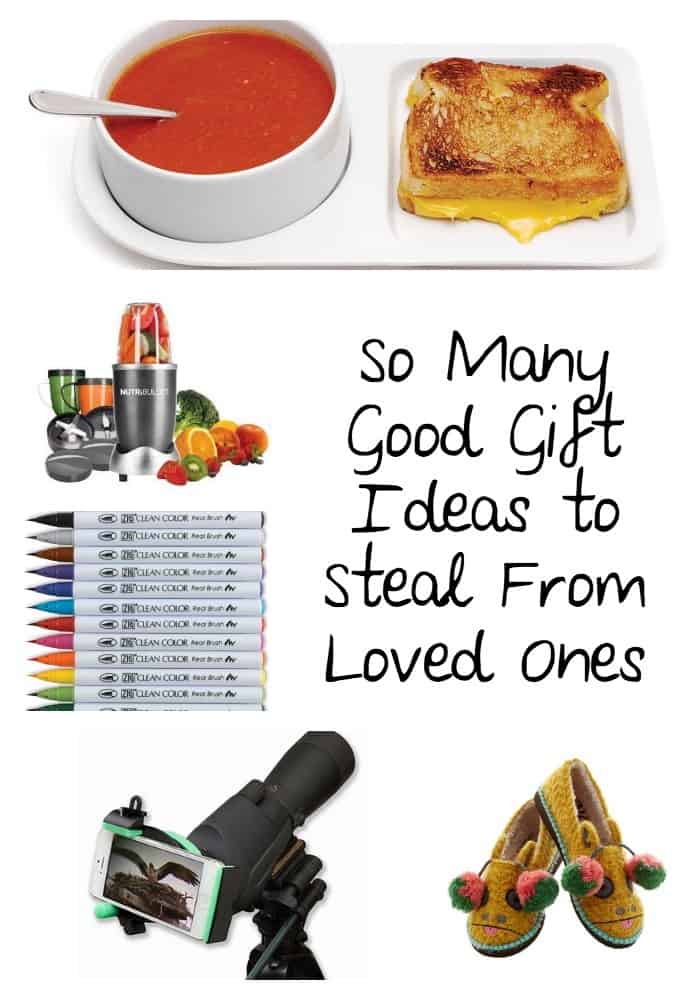 See all of the gift guides in our 12 Days of Shopping:
Day 1: DIY or Buy Advent Calendars – see Pragmatic Mom's post on a DIY gratitude Advent calendar.
Day 2: Gifts That Give Back – Mine • Mia's
Day 3: Gender Bending Gifts for Kids – My post on Gender Neutral gifts • Mia's post on Gender bending gifts
Day 4: Gifts for Those Impossible to Shop for – My post • Mia's post
Day 5: Gifts for Reluctant Artists- My post on Gifts for Reluctant Artists • Mia's post on Gifts for Reluctant Artists and Gifts for Reluctant Readers
Day 6: Oops, I Did It Again; Worst Gifts Ever – My tacky gifts post • Mia's post on ugly Christmas sweaters and other terrible gifts
Day 7: Gifts to Steal from Loved Ones – My post • Mia's post
Day 8: Left Brain/Right Brain Gifts- My post • Mia's post
Day 9: Gift Ideas for Clients (mine) •Gifts for Those Easily Forgotten (Mia's post)
Day 10: Gifts for New Year's Resolutions – my post • Mia's post
Day 11: My post: Easy Holiday DIY Gifts • Mia's post: Giving and Receiving Unwanted Gifts
Day 12: The Art of the Thank You Note- My post and Mia's post