Have you guys heard of Urban Canvas? They're right up my alley. They make eco-friendly toys/sculptures for kids that promote open-ended play, creativity, exploration- all good stuff, right? Look at this from their site:
All our products are conceived with the simple idea that what is good for the environment is good for our children, and that what they learn in the arts helps them grow intellectually.
We recently had the opportunity to mess around with some of their pieces, and they were fun. More fun than I was expecting, actually. Plus I was surprised at how much Fen (9) got into them. But it makes sense. The whole product line came about when the owner, Maria Chee, recognized how absorbed her children had become with playing with and coloring on- a simple cardboard box.
What they are: heavy-duty recycled cardboard pieces that fit together to form a finished object. One side is printed with a collage of images, and you can put them together with this side out or the blank side. And what do kids want to do to something that is blank and white and way too neat?
Exactly.
We first put together the butterfly, which is bright and lovely.
But then we flipped the pieces around and collaged it. We punched text out of magazines with large hole punchers and glued them all over the 4 wing segments. We mostly stuck to black and white, but threw in some color here and there.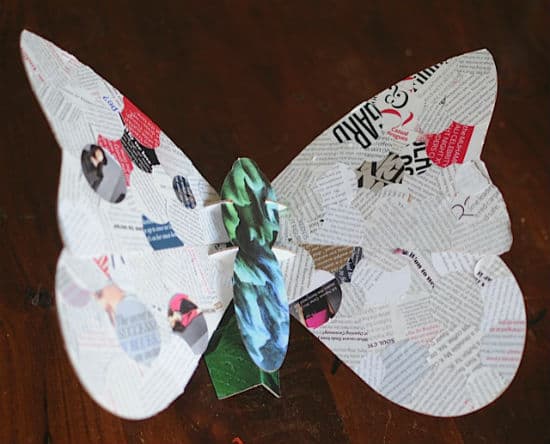 Next up we put the train together. The doors slide open and shut (bonus), and the two train cars fit together.
I love how these pieces aren't your traditional toys- they'd make perfect unique birthday gifts. Also, they appealed to both of my kids, with Fen more into putting them together and collaging, and Beckett excited about playing with them. The train has been shuttling his Power Rangers throughout the kitchen for a week now. They are riding in style.
We also have the grasshopper, which Fen wants to assemble next, but I'm all into the idea of tackling the building. We got the advanced building set, for ages 7 and up, which essentially means I will fail miserably at putting it together, but I'll make something fascinating out of it. The Fen will pry it from my hands and put it together the correct way.
Want one? Of course you do, so I'm giving away, to one lucky commenter, the piece of your choice from their collection. Go on over and peruse them, then come back and enter to win.
Disclaimer: I was provided with pieces from Urban Canvas to review for this post. The piece you win will be sent to you directly from Urban Canvas (I won't send you my nasty old used toy.)
Enter the contest by commenting, and you get extra entries for liking my Facebook page and tweeting out the giveaway. (You can tweet once a day for even extra entries!) Contest ends at midnight next Tuesday.