Raise your hand if you have no time, no patience, no creativity, no clue as to what activities to set up for your kids, and no inclination to troll Pinterest for ideas.
Yep, that's me sometimes, too. I know people want easy crafts for kids, and they don't want to do a lot of prep work or shopping to make these happen. Kiwi Crate knows this too, and they do the best job around with monthly craft subscription boxes for kids.
Strangely, I hadn't tried Kiwi Crates before, even though I've always loved the concept and knew that they used quality materials and had really cute ideas. So like any good blogger, I hit them up for some samples and waited patiently.
When they arrived, I ripped into them before my kids got home from school, because I had to see all the goods. My first thoughts were: 1. It is SO FUN to get crafty supplies sent to you in the mail, and 2. I get a vacation from trying to think up ideas for my kids for once.
Win-double-win, baby.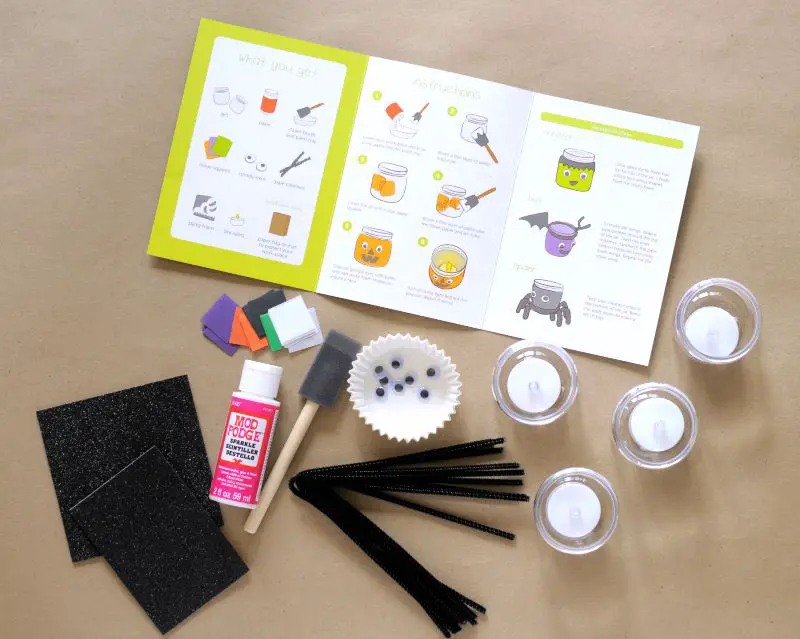 It was awesome to just pull the pieces out of the boxes, read the directions, and get to crafting. These are easy crafts for kids times infinity because everything is thought of and prepared for you. All you do is slurp a cool beverage while you make sure your kids don't glue their eyelids shut or stage an impromptu popsicle stick war.
I knew Fen would like her Doodle Crate (geared to ages 9-16+), and if you have more of a science-y kid in this age range you could opt for the Tinker Crate. I wasn't sure how Beckett would take to the Kiwi Crate, though. He's pretty hot and cold with crafting, but he loved making these little Halloween tealights, and then he kept on making stuff with the leftover materials. high five, little buddy.
He needed a little bit of help getting started, but Fen dove right into her candles, mixing and melting and drawing and ad libbing as she saw fit. Her project gave her enough direction so she could figure out how to make the candles, but could take the project in her own creative direction.
The Kiwi Crate was full of materials to make 4 Halloween tealights, and Beckett got to paste on tissue papers, googly eyes, and then add finishing touches with pipe cleaners and stickers. He actually sang the whole time he was making these. Unfortunately, he sang the song from the State Farm ads over and over.
I thought it was kinda cool that both of the crates were similar, but the Doodle Crate was actual candles. Fen got to melt and pour, add wicks and draw on the glass tealight holders.
More about Kiwi Crate and the other Crates:
I just saw, by perusing their site that they even have crates for the 3-4 year olds. Cute! Like other subscription box companies, you can sign up for the monthly boxes to be sent to you (and watch how excited your kids get when they open them), or you can order single crates or party favors.
My super-brilliant tip is to buy a couple of these to keep around for birthday presents. If you buy a crate or 2, they are $19.95 each, you stash them in a closet, (pre-wrap them if you are so inclined), and BOOM you don't have to run out last minute to find a birthday gift for little Jimmy's party that's happening tomorrow right after school and the last thing you have time for is shopping.
Click here to check out their site, and you can see what other neato fabulous crates they offer. And let me know if you try one- or if you've already gotten one of these before!