Fen and I were playing around with painting little rainbows yesterday. We got all reckless with our rainbow colors, brazenly challenging science, and we felt pretty good about ourselves.
Rainbows are fun to draw from scratch, but I wanted to make a rainbow stamp skeleton to use quickly to experiment with color combinations. Colors are fun things in combinations.
I love these stamp making kits so much
. When I was a youngster, we only had the linoleum blocks to carve stamps from, and those things can be maddening to use. These little pink flexible surfaces are easy to chop up to use for multiple projects, and much easier to carve. I wasn't sure where my carving tool was, so I just bought the whole little kit at Michael's- it includes the pink block, the carving tool (wooden handle with 2 carving tips), tracing paper, some stamp templates, and a small piece of tracing paper.
I also bought an light grey Ink Pad,
 which is a much prettier color than it shows in the Amazon photo- it's almost a light silver.
So. If you you want to use my rainbow template, go ahead and download it right here, then you can transfer it onto your plate. If you want to use another image, PicMonkey has tons of great overlays that would make great stamps, some free and some part of their subscription.
How To Transfer an Image Onto The Plate
If you have a laser print, you can iron it right onto the plate (consult the directions that come with the plate). I have an inkjet printer, so I used the old pencil method. Trace the back of the paper over the lines, then flip it over and trace it again over the plate. This transfers pencil lines onto the plate. I suggest taking you time here, because if you rush, like you're tempted to, you'll end up with a crappy image, and then you'll get all mad and whip the plate against the wall, storm out and catch the next bus to Peoria and become a tragic, washed-up false eyelash applier.
Start cutting with the tool, using the more narrow blade. I found it easiest to do in between the rainbow lines in (mostly) 1 steady, very slow cut. After these are done, you can cut around the shape of the rainbow with a craft knife, then switch to the bigger blade to cut away the surface around the rainbow.
You will want to test the stamp with your ink pad and a scrap piece of paper a few times for any areas that are too raised, and then you can go back in and cut them away. The beauty of this is that you have a page full of rainbows to experiment with. I love the way hand-cut stamps look; reminiscent of wood block prints with their uneven, carved lines.
A first I used permanent markers in different combinations, drawing 1 line of color in between each set of grey rainbow lines. Practice with the markers- my first few rainbows looked like I had just downed a pot of coffee. I finally found it easier to start the marker line, and then rotate the paper as I drew so I could see where I was going.
The pastel markers looked the best with the grey ink, and I actually liked the way the stamp looked without any color added in. Next, I tried black ink. It stood up to the bolder colors better. I also tried colored pencils in some of the rainbows, and they are more subtle and easier to control when you are coloring in such a small space.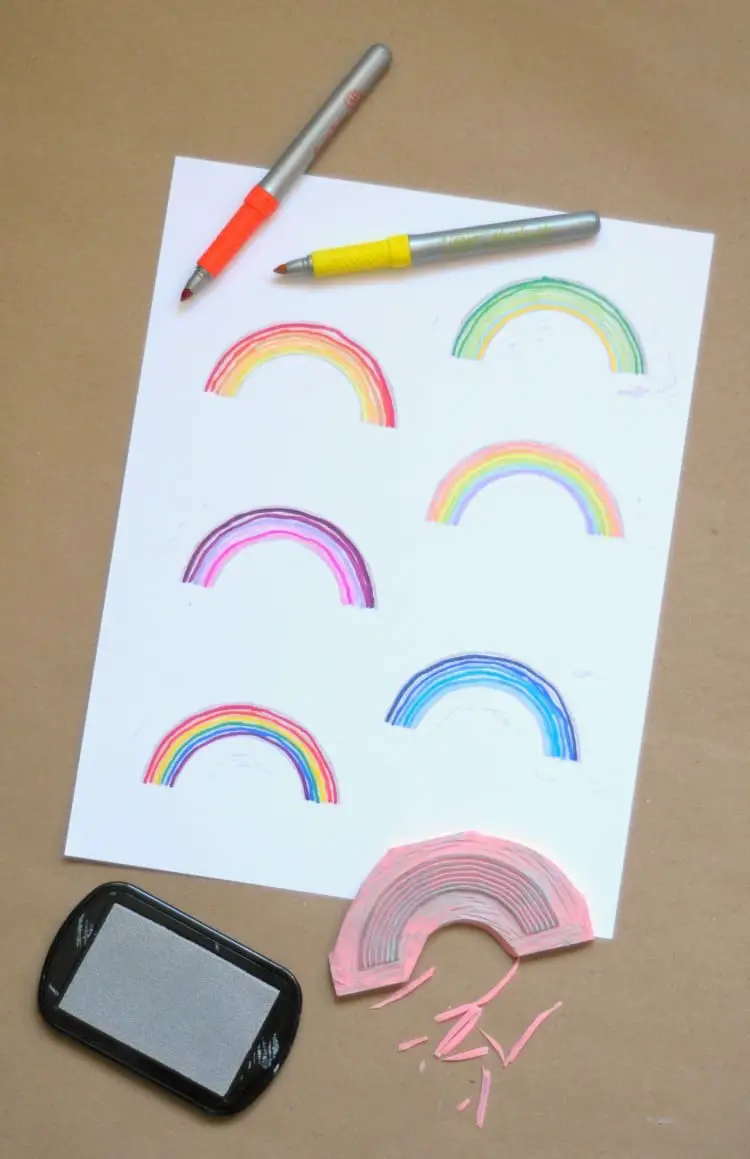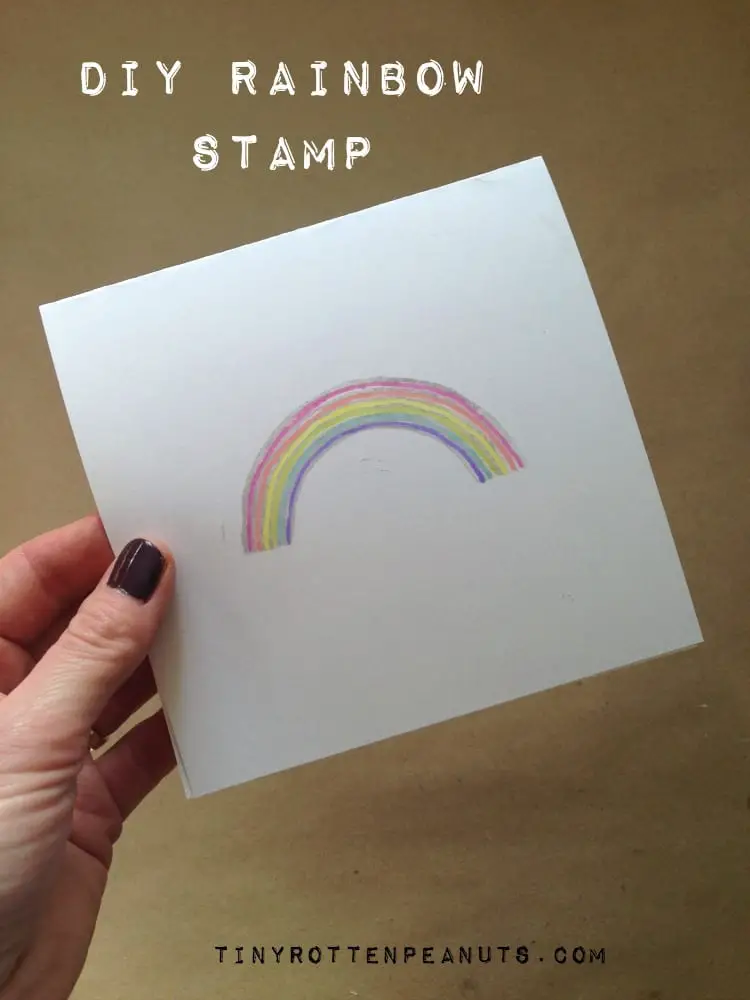 RESOURCES MENTIONED IN THIS POST
Speedball Speedy Carve Kit
Light Grey Ink Pad
Black Ink Pad
Craft Knife
Markers
Colored Pencils
PicMonkey