DIY holiday gifts are totally the way to go with kids. I mean, most people want something thoughtful and handmade from kids. If you don't have your own kids and you get something handmade, you can tack it up on your cube wall at work and totally show it off. If you DO have kids and they make something for you, you get all teary and love them more and then they automatically get to eat the entire giant candy cane from their stocking instead of having to save some of it for later.
I started to think about all the easy art projects for kids I have done over the past few years, and so many of them would make stellar gifts. I also found some DIY Christmas gift ideas from other people, because I like to share the love.
Originally I was going to keep this to gifts for kids to make, but then I found some cool oils I want to make for people so I threw those in, too. And younger kids probably won't be knitting a hat anytime soon, but just don't question me. Just BACK OFF, holiday police.
Sharpie skateboard decks are hipper than hip, and what older brother wouldn't want one of these?
These little DIY friendly pendants make me want to pinch their little cheeks and hug them.
This DIY felt coffee cozy is such a perfectly easy gift for kids to make for teachers, parents, you, etc.
And then there's soap, which really couldn't be easier to make with kids. Click through for how to do it and why you need a spray bottle of alcohol. (Not a spray bottle of vodka, you silly.)
Another thing I want to make with Fen. These bracelets are neato.
DIY bookmarks are perfect gifts for youngsters to make.
Make your own dotty jeans. Really, just because
Ooh, I've Sharpied on mugs before, but never acrylic glassware. Cool!
Make some lovely smartphone cases for everybody.
'Tis the season for needing lip balm in every corner of your home and car. This would make a much better gift than wrapping up a stick of Chap-stick.
Knit up and felt some very easy bracelets. This is a perfect beginner's knitting project.
Oils infused with all manner of delightful delicacies.
Hot cocoa in a jar. So cozy and sweet.
DIY pom pom earrings. Easy peasy beyond beliefy.
Knit hats are my favorite DIY gift in the whole world.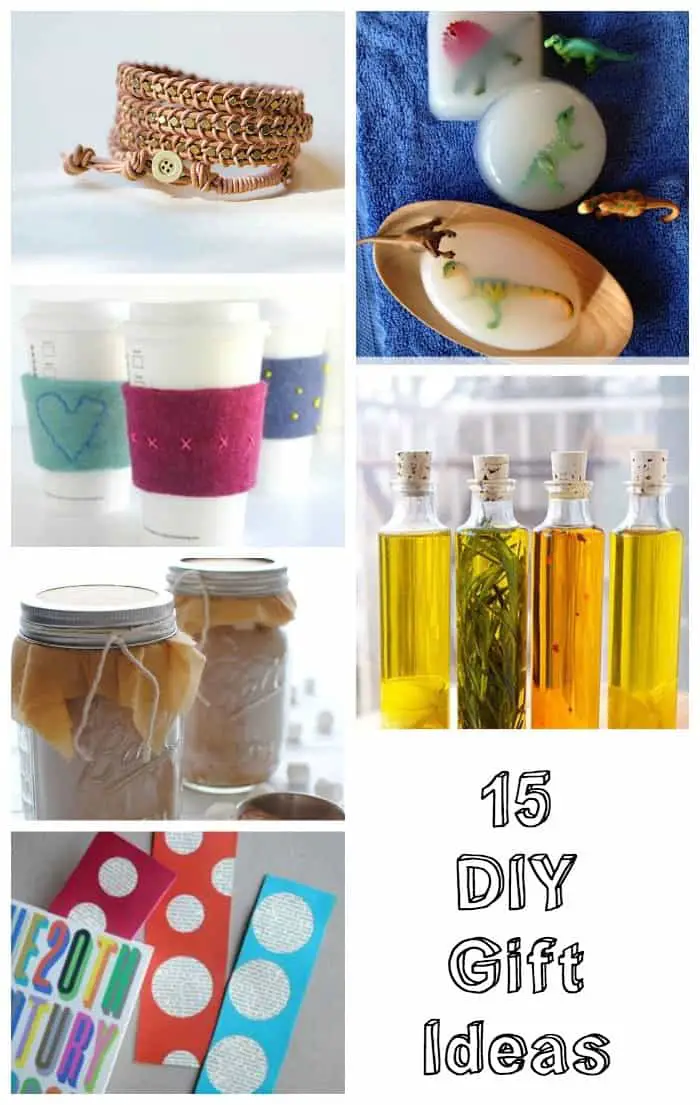 Day 1: DIY or Buy Advent Calendars – see Pragmatic Mom's post on a DIY gratitude Advent calendar.
Day 2: Gifts That Give Back – Mine • Mia's
Day 3: Gender Bending Gifts for Kids – My post on Gender Neutral gifts • Mia's post on Gender bending gifts
Day 4: Gifts for Those Impossible to Shop for – My post • Mia's post
Day 5: Gifts for Reluctant Artists- My post on Gifts for Reluctant Artists • Mia's post on Gifts for Reluctant Artists and Gifts for Reluctant Readers
Day 6: Oops, I Did It Again; Worst Gifts Ever – My tacky gifts post • Mia's post on ugly Christmas sweaters and other terrible gifts
Day 7: Gifts to Steal from Loved Ones – My post • Mia's post
Day 8: Left Brain/Right Brain Gifts- My post • Mia's post
Day 9: Gift Ideas for Clients (mine) •Gifts for Those Easily Forgotten (Mia's post)
Day 10: Gifts for New Year's Resolutions – my post • Mia's post
Day 11: My post: Easy Holiday DIY Gifts • Mia's post: Giving and Receiving Unwanted Gifts
Day 12: The Art of the Thank You Note- and Mia's post