Our elementary school said goodbye to cursive as of this year. Fen's 4th grade teacher mentioned it at the beginning of the year's meet-the-teacher evening, and I didn't hear much of what she said after that. It made me so sad to hear, because I know how much fun it is to learn cursive- it's loopy, fast, beautiful.
The two questions I'm wondering the most are: How are kids going to sign their names? And, How are kids going to be able to read any of the Declaration of Independence? (This is a question my hairdresser brought up that I hadn't even considered.) (!)
I started to wonder if there were any other benefits to learning to write in cursive, besides the prettiness and quickness, and here's what I uncovered:
Handwriting helps with fine motor skills and muscle control.
Handwriting helps younger kids (5ish) learn their letters faster, thereby learn to read faster.
Handwriting styles and variations help express who you are.
Not many students before college age use only computers to take notes in school, and cursive is much more efficient than printing.
The focus on cursive in and around third grade reflects the developmental connection between writing and thinking. The two don't become truly separated until later. Children who excel in handwriting skills tend also to excel in other academic pursuits (source: How Stuff Works)
Other sources: Time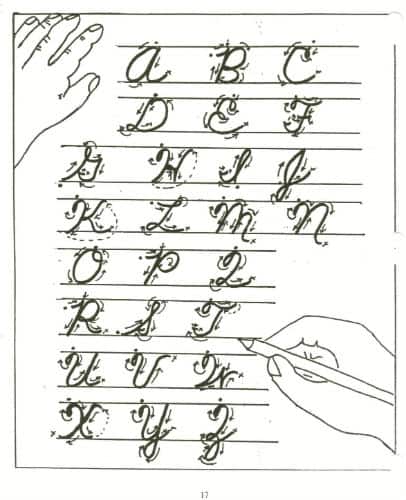 I can't help but equate this with doing away with art education in schools- sort of like an extension of the whole school of thought that anything visual is simply that; visual. Not educational, necessary, intellectual, or in any way more important than a basic skill.
So, fine. It's one more thing we have to pick up the slack for at home. For those of us who are already motivated to complement our kids' education at home with extra stuff, we'll just add it to the list. But I'm thinking not a lot of parents have the time/energy/inclination to do so, and this is just one more thing that's hurting the kids who are left behind.
Why am I getting so riled up about cursive writing? I suppose it's just another little loss to the educational system that may not seem like a big deal on the surface to many people, but it's another chink in the armor. It's another piece of public schooling being dropped in favor of dry, testing-focused learning standards. I'm really not sure many of the things being dropped by public schools are looked at closely before being deemed 'droppable'.
Yes, I will miss cursive writing, but more importantly, I think a lot of kids will be missing out on an important skill.
I've learned from my husband to never complain about something without also offering solutions, so here are some resources for you to check out if you want to work with your kids at home on cursive writing:
Crayola has individual letter practice sheets that include a space to draw things that begin with that letter at the bottom! Drawing and cursive together! Sweet.
This site has lots of free cursive writing printables where you trace over the words.
Here are a bunch of worksheets to practice writing words grouped by letter.
Look how cool this is – a practice sheet for preschoolers to get them in the habit of forming the basic cursive connected lines.
I found out when researching this post that only Illinois, Indiana and Hawaii have thus far done away with cursive in schools. What do you think? Are you pro-cursive, anti-cursive or indifferent?