Hi, Pretty Princesses and everybody else who doesn't want to be called a princess. I have so many weird random projects that I've done but never posted, so I thought I'd go ahead and start breaking them out, one by one. This one I actually began at the end of 2013, and just discovered on my craft shelves, so I finished it today and it's CUTE!
You get to do a little bit of basic printmaking, a bit of doodly drawing, a little cutting, some taping, some computer work- it's a mixed media project at its finest. Here we go:
Materials:
1. Roll out your acrylic paint on a palette surface. We have used foil-covered pans in the past, but I recently bought this multi-purpose bit of awesomeness, so I use it for my paint-mixing now. I also mixed up a dark blue/black color, but feel free to use whatever color you want.
For my outer circles, I used a ceramic cereal bowl, pressed it onto the rolled-out paint, and then pressed it in several places onto my white card stock. For my inner circle, I used a Starbucks hot cup.
2. Let these dry and then grab your markers and get doodling. I like how the flatness of the marker coloring looks with the dimension of the paint.
3. Cut out your frames using a craft knife. Scissors will give you a jagged edge, and will make you cry, so just use a little craft knife.
4. Find photos you want to print out. I found that white backgrounds look the best with these frames, since the marker designs are so colorful.
I made a collage with my photos in PicMonkey, using the "square deal" setting and a spacing set at 90.
5. Hold your printed out photo collage up to a window, facing away from you, and trace inside the frame lightly with pencil. This way you can see where you want to place the frames on the photos. Cut out the photos outside of the lines so your photo is slightly bigger than your frame opening.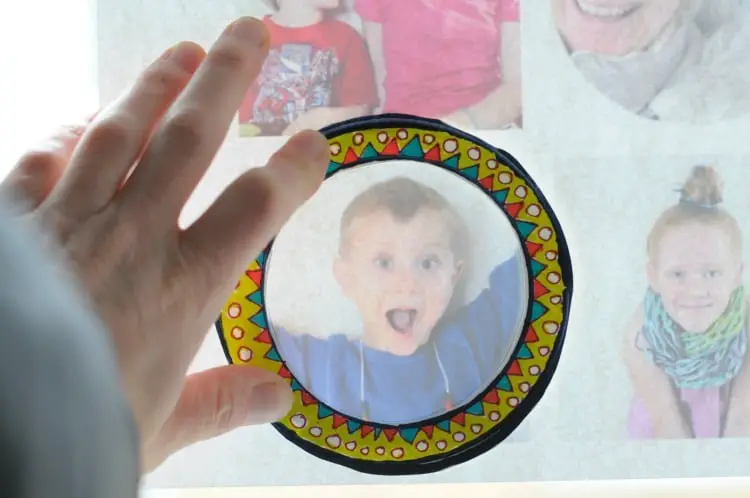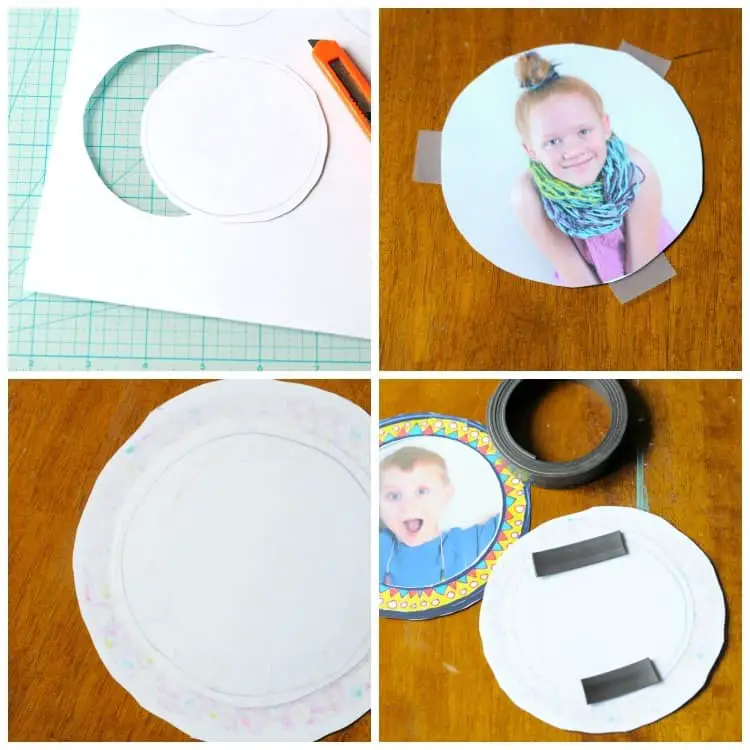 Place 3 pieces of clear tape on the backs of the photos and place the frame down on top of it to get it where you want it, then you can flip the whole thing over and tape it up all around to secure the photo and frame together.
I used these sticky magnetic strips
 (just cut them), because I had them on hand, but you could glue these small magnets
 on. P.S. I love the Clone tool in PicMonkey like a whole ton, because I didn't have to clean off my refrigerator door before I shot these. I merely cloned all the grime away. Boo to housekeeping.