Thank you to HP for sponsoring this post!
I have coloring sheets for you! I've been wanting to make coloring sheets forever, and I didn't know how, really, apart from just drawing them, but I wanted to be able to start from a point that wasn't a blank piece of paper. While I was messing around with the HP Sprout, I discovered that you could trace around any image right on the mat, and then delete the image to leave your outline.
Again, this opened up an overwhelming set of possibilities in my head- you could trace around images of your kids' faces, the produce you scanned to make weird faces like in my last Sprout project,  scanned magazine photos, objects from around your house, and… anything you find on the internet!
I looked up animal pics and found some nice, big, clear images to use for my mixed-up coloring pages. I couldn't go just plain animal outlines for this, because I have a tendency to take things into the surreal/slightly creepy zone.
When I found an animal I liked, I just brought up the image onto the computer, and then tapped the screen capture image on the mat.
Voila! It shows up on the mat and you can use two fingers to pinch it larger or smaller, and move it to where you want it. You can zoom in on it or zoom out if you want to add some of your own drawing to the background. I know it looks like I'm trying to jam my fingers in the poor deer's mouth in the picture below, but I was just making him a little bigger.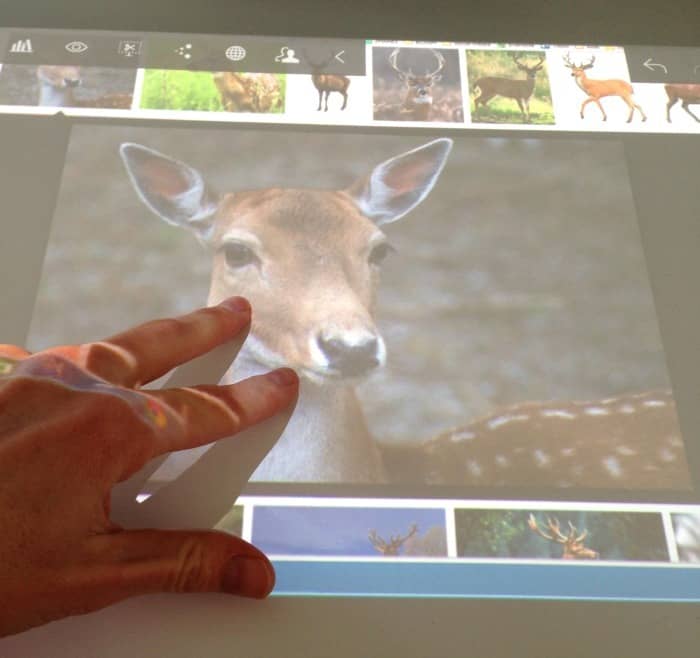 Now start tracing. Don't worry about making a mistake- you can hit the back arrow to undo your last action, or use the eraser in the sidebar where the pens are. With each of my animals, I tried to trace fairly quickly to get a smooth line.
You switch to drawing mode on the left side of the mat, where you can choose your pen type, line thickness, and color. There's also an eraser there for mistakes.
When you're happy with your drawing, switch away from drawing mode and move your background a little away from your drawing, then press the delete trashcan on the right side of the mat. BOOM! Background is gone, and your drawing is there.
At this point, you can switch back to drawing mode and draw more, or redo parts you don't like. The eraser does not work now on your lines, but a workaround is to switch the ink color to white and draw over any areas you want to re-draw.
(The gorgeous colorful lines you see in some photos are a result of trying to photograph all those light waves. Sometimes the pics turned out normal and sometimes liney.)
When you want to save your drawing, switch back away from drawing mode, press the upper right lines and "save as". I saved mine as pdf's.
How's that for easy and way, way cool?
Here they are for you to download and have a coloring party tonight with your kids or husband or drinking buddies at the bar. (Remember to bring extra markers to the bar. This is an excellent way to pick up men if you are single. I'm not sure what caliber of man, so don't come complaining to me if only creepy weirdos approach you.)
Click on each image to download the pdf.