Christian makes things with cement. He's made bowls, tabletops, stools, vases and sculptures, and they're always surprising when they come out of the impromptu molds he puts together. It's mathematically and spatially satisfying to see something made out of the negative space from another object.
The kids are always fascinated by the cement, too. The fact that something so goopy and wet can turn into something heavy and hard and usable is pretty cool.
They assisted Christian last summer with a cement project, and this year they assisted with their own projects.
Materials:
Bucket
Quikrete cement
Water
Stirring stick (paint stirrers work well)
Sand in a sandbox or bin
Dust mask
Rubber gloves
Safety goggles
Directions:
Prepare the Sand 
The sand needs to be moist to hold the shapes they dig out, so moisten it with water if it hasn't rained recently. Have them scoop out, with their hands or a spoon, their first initial.
The initial will need to be backwards, since it will be flipped around once the cement is poured into it. Encourage them to make sure there are a minimum of crumbly areas in the sand, because casting always picks up details! Scoop out the letters to be about 2″ deep.
Mix up the Cement
This is the adult's job: mix it according to the package directions. Scoop the powdered cement into the bucket and slowly add the water. This is when you'll want to be wearing your dust mask, goggles and gloves. Notice Christian not wearing any gloves; bad boy.
Pour the Cement- Quick!
Smooth out the Back with another paint-stirring stick or something flat. If it's hot and sunny out, cover over the cement lightly with plastic wrap so it doesn't dry too quickly and crack.
Wait Patiently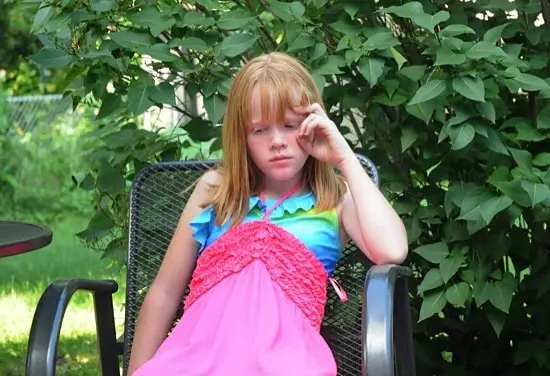 Scoop it out! Once it's set up, (probably overnight) carefully scoop the sand from around the letter and wiggle it out, flip it over and let it sit for a while to completely dry out.