I was perusing a book on tiles the other day, trying to figure out a fun project for kids. Clay is such an awesome medium for kids, because of all the magical chemical transformations it undergoes.
I urge you to sign your kids up for ceramics classes. I'm going to assume that most of you don't have kilns at home, and it's one of those classes your kids will remember for the rest of their lives. Working with clay is incredibly satisfying, and so tactile, with all the messy, cold yumminess.
The next best thing is to work with self-drying clay at home. I decided on a tile project, to combine rolling, carving and hand-building skills. After it dries, it can be painted. Or gold-leafed! How fancy.
Materials:
Self-hardening clay (We used Crayola)
Rolling pin
2 pieces of wood or books or DVD cases – 2 items of the same thickness
Clay carving tools, including a pin tool
Wax paper
Paints
Roll the clay out in between the 2 DVDs, on the wax paper. This will ensure the clay rolls out to an even thickness.
You can freehand the shape of your tile or use something square as a template. Use a dull knife to cut the extra clay off.
Be careful when your release the clay from the shape template. Let gravity help you pull the clay off so it doesn't stretch out.
Use the pin tool to draw your animal profile. Fen chose a Narwhal as her animal, so we Googled for images she liked. Remind your kids that they are drawing inside of a square, so a really long or tall animal probably won't fill the space too well. Perhaps that giant giraffe is bending down to check something out on the ground.
If you want to, use small bits of extra clay to build up part of the surface of the animal. Round it out, give it a little dimension. The best part of working with clay is that you can 'erase' mistakes with the top of your fingernail, or widen lines more with the pin tool. Or you can use tools you find in your massive kitchen junk drawer.
You will then set the tile aside for an hour or 2 to harden up slightly. It's much easier to do this next step when the clay isn't totally squishy. It's in it's 'leather hard' state, and it's important to be patient here. Go eat lunch and then come back.
Carve out around the animal with the carving tools. You can try to make the carved out part smooth, or leave rough carving marks in the clay.
Put the tile aside and let it dry completely. Extra special bonus tip: scoop a little hole into the top back of the tile for hanging purposes before you set it aside to dry. This clay took surprisingly long to dry completely, so if you're having your kids make these as gifts, I'd give yourself at least a week to let them thoroughly dry before painting.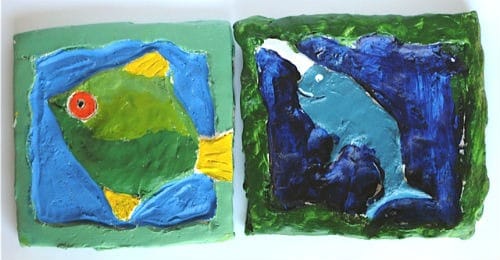 Paint it! (We used acrylics.)
Hang it!
Admire it!
Here's the book I was looking through for tile inspiration:
It's a great history of ceramic tiles, and full of images. The tiles I found inside that inspired this project were from Wheatley Pottery, Mueller Mosaic Company, and The Grueby Pottery and Tile Company. These were part of the Arts and Crafts movement that exploded in America at the end of the 19th century/ beginning of the 2oth century.
You May Also Like: Best Die Cutting Machine