Since I've had block printing on my mind a lot lately, I thought it a super idea to make a little candy cane stamp. Candy canes are the perfect graphic element to use in repeat patterns, so I used this stamp on:
Kraft paper to wrap gifts
Card stock to use as cards or jumping-off points for more drawing
Um, my hand
Pretty much anything and everything else
IDEA: use fabric ink to stamp on a pillow case for a holiday sleepy experience.
Materials
Speedball Speedy-Carve Block
Ink or paint – I hate to admit this, but I was out of ink and faaaaar too lazy to drive to Blick, so I made do with craft acrylic paint. The colors are cute, and it's fine to use on paper, but if you're stamping fabric, make sure you use some fabric ink.
Paint I used: Red, Pink (It's called Sweetheart; can't find it on the site, but it's similar to this one), Aqua (from Blick), probably closest to Jade in the Handmade Modern paints if you add a little white to the Jade.
Directions
Go looking for your favorite candy cane graphic. I used this one and printed it at 60%, because my plate was 4×4″ size.
Pencil transfer it to your plate. (Pencil Transfer: Start with a pencil-drawn image or use a pencil to draw over your printed image. Flip it over and lay it face down on your printing plate. Draw over the lines again with pencil. This will transfer the pencil drawing onto the surface of your plate.)
Use a craft knife to cut some of the extra plate away.
Carve it out. Use a thin v-shape cutter to outline the candy cane first, then a wider u-shape to get the bulk of the negative space out. Remember: don't wiggle your cutter as you go, or you'll get jagged lines, and don't cut too deep at first.
The thing about block printing that I love is that many times you'll look at your plate and think, "Wow, I really butchered that. Gotta start over. Wait, let me make a test print. Oh, that looks fine. it's so cuuuuuute!"
The plates usually look a little chaotic when you cut them. Just try to keep your lines as close to your drawing as possible, and go slowly like a sloth when you're cutting.
Now is when I tell you that young kids probably shouldn't use these cutters, eh? I first tried block printing in high school, so involve your kids in whichever steps you feel appropriate.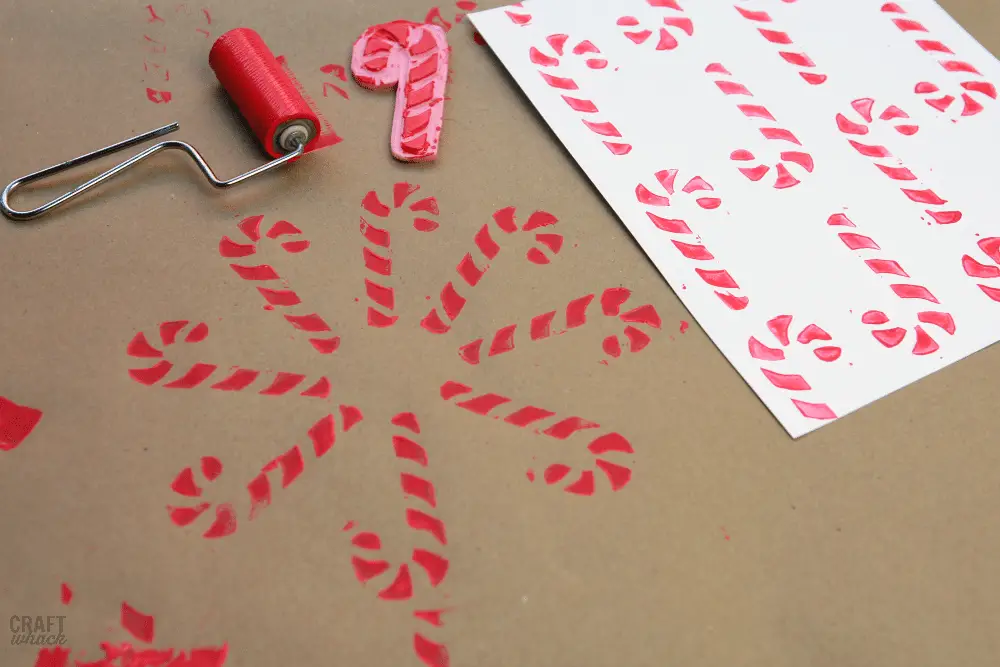 More Tips
Doing this type of project again, I will make 3 more stamps: 1 more just like the first one and 2 more of the same one in reverse. That way I can use 2 different colors on the same shape without needing to go rinse the stamp off in between.
And I can play around with the shape going the other way. Does that make sense? Same shape/flipped = looks cool.
I also will try my hardest to stay away from using craft paints with these. It tends to not roll on evenly, where it's goopy in spots and too thin in others.
Since the colors are so pretty, it's tempting to use them, but I will experiment with mixing my own inks, using stamp pads, and exploring different types of inks. Any suggestions? Ink Pads? 
 Speedball Speedy-Carve BlockBuy Speedball Deluxe Soft Rubber BrayerBuy Speedball Fabric Block Printing InkBuy Speedball Linoleum CutterBuy OLFA Cushion Grip Art KnifeBuy AmazonBasics 400 Thread Count Pillow CasesBuy Brown Kraft Paper Jumbo RollBuy Neenah Exact IndexBuy
Like it? See the rest of the 5 days of candy cane art:
Monday: Watercolor Wax Resist Candy Canes
Tuesday: Salt dough candy cane ornaments
Thursday: Fail! Dyed Rice Candy Cane Faux Mosaic
Friday: Lots of Candy Cane Drawings