BROTHER has made a name for itself over the years. It is one of the most trusted brands that has introduced inexpensive yet durable models of sewing machines over the past years. This brand covers a wide range of machines that is quite useful for straight stitching, embroidery, quilting, etc.
BROTHER Sewing Machines Comparison Table
PRODUCT
FEATURES
LATEST PRICE
1. BROTHER CS6000i


Economical
Accessories are added
Time-saving is a set- up

Check Price
2. BROTHER 2340CV


Easy to thread
Presser foot
Great tension release

Check Price
3. BROTHER SE600


Multi-purpose machine
A color LCD touchscreen
Automatic needle threader

Check Price
4. BROTHER 1034D


Easy to thread
Easy to learn
Quality stitches

Check Price
5. BROTHER DZ1234


Durable
Long-lasting
Large work area

Check Price
These machines come loaded with features and accessories including in a lot of cases, a 25-year warranty. Every user will be satisfied with the product's credibility. So, take a pick from the reviews below.
BROTHER Sewing Machines Reviewed
1. BROTHER 2340CV
Product Highlights
The BROTHER 2340CV is quite useful for tasks that require decorative and constructive sewing. People who have different sewing requirements, especially ones looking for a cover stitch machine. Can opt for this.
Features
This product measures 13 x 15 x 13.4 inches and weighs 14 pounds. It comes with a metal frame and internal parts. You have the option of stitching with multiple needles and different color threads, while simultaneously enhancing your final stitch cover patterns. It comes with 1-2-3 needles and 4 color thread options.
It is also inclusive of advanced user features namely wide and narrow cover stitches, tri-cover stitch capability, easy looper threading system. Since it comes with a fast thread looper system, it is easy to thread. The color-coded guides on the machine and lay-in threading are conveniently located. You can even adjust dials for the stitch length, altering the speed of fabric flowing through the serger needle. As a result, you can make different size loops and also enable high-end professional finish jobs. The gathering foot enables the adjustable dial to make patterns on your cover stitch, once you choose your thread, and adjust the speed.
It has a stitch width adjustment dial that you can turn accordingly within the range of 5.00mm (3/16 inch) and 7.00mm (9/32 inch). The color-coded threading guide is extremely useful for beginners while the 3 or 4 thread capability allows the user to design cover patterns on their fabric or pillow depending on how much you want to enhance. This allows you to switch between thread setting without having to thread the entire serger all over again.
The differential feed works seamlessly and allows you to work with different types of fabric. Whether its denim or leather, materials of various thicknesses can be stitched with a turn of differential feed dial, preventing puckers in lightweight fabrics. You can instead create gathers, or create decorative lettuce edges.
When buying this item you will find a standard foot plus blind stitch and gathering foot included. This high-performance machine can stitch at 1,100 stitches per minute allowing you to serger more in less time. The differential feed ranges from 0.7 – 2.0mm.
What We Like About BROTHER 2340CV
This machine is ideal for beginners and professionals as it comes loaded with just the right amount of features and helps you hone your skills while stitching any kind of material.
What We Don't Like About BROTHER 2340CV
While this is a durable product it can be very heavy due to its metal frame, making it not very portable.
PROS
Easy to thread
Presser foot
Great tension release

2. BROTHER SE600
Product Highlights
One of the most popular for those entering the sewing world "" the BROTHER SE600, is a multifunctional computerized sewing machine, user-friendly and packed with features. Whether you want it for threading or adjusting, the variety of stitches that it can produce is more than ideal for an affordable machine. Within the price range, I'd say that it has a lot of functions.
Features
Being a sewing machine and an embroidering machine, this machine only enhances your creativity. It comes with a 3.2″ touch screen color display and even a USB stick connectivity which can be used to create better access to fresh designs.
This includes several sewing stitches and embroidery designs along with lettering fonts when you switch from sewing to embroidering and vice versa. Its display changes showing the embroidery design in the color it will be. The inbuilt color palette changes the embroidery thread colors, once you preview it on the screen.
The lever in the machine threads the needle for you, saving loads of time. All it takes is the quick-set bobbin and independent bobbin winder, which makes the task even simpler. It is also used for easy-to-read markings. The thread cutter button to cut the threads and you can then raise the needle. Before you proceed you must set the computer to sew reverse or reinforcement stitches at the start and the end of the stitching.
The foot pedal is detachable and you can disconnect it using the stop/start button. Another button can be used for varying the needle for the up and down position. A message is displayed on the screen if the start/stop button turns red. A total of 29 messages exist, each notifying you of a problem while providing further instructions. If you are stuck the help key on the display panel will guide you to press and select from several topics. These include upper threading, bobbin winding, and installation, needle and presser foot replacement, embroider foot, frame, and unit attachments.
For regular sewing, the top speed is 710 stitches per minute and for embroidery, it is 400 stitches per minute. The speed of the machine is determined by the foot controller, however, there is a sliding speed controller for sewing which can be used for increasing or decreasing the speed.
The standard with a foot pedal works in conjunction with the speed controller to fix the speed rate. This machine can be used to stitch all kinds of material namely quilts, the stitch of which can be expanded 6.4″ by 4.1″.
Other different fabrics include broadcloth, taffeta, flannel, gabardine which are medium weight. Thinner fabrics like georgette, challis, satin, thicker fabrics like denim, corduroy. Stretch fabrics like jersey, tricot, and even frayed fabrics can be stitched. The manual contains instructions on the needle size and what type and size of thread to use for each type of fabric.
You can even save the changes to the remaining stitches on the options given on the LCD screen. For better embroidery, you can attach the embroidery foot, the embroidery unit, and the frame. The built-in color palette gives you the option to choose from.
Another great feature is that you can save up to 12 patterns before running out of disk space on the machine. Designs can also be imported from the USB port. The pattern designs include flowers, animals including a choice of 10 shapes, which can then be combined with one of 12 types of stitches.
Also, it comes with six embroidery lettering fonts. This enables you to personalize your creation by selecting from the upper or lower case, numbers, symbols, or European characters. You can choose to embroider these fonts in small, medium, or large sizes.
The thread tension is adjustable. While the machine comes standard with seven types of snap-on feet for sewing including buttonhole, overcasting, button fitting, monogramming, zipper, zigzag, and blind stitch. The free arm enables you to sew cylindrical pieces like cuffs, sleeves, pants, and jean legs easily. The noise is manageable and it comes with a limited 25-year warranty.
What We Like About BROTHER SE600
This machine is the perfect combination machine for embroidery and sewing machines especially given the price range it comes in.
What We Don't Like About BROTHER SE600
This machine can be a bit of a challenge for beginners as it comes with multiple features.
PROS
Multi-purpose machine
A color LCD touchscreen
Automatic needle threader
Variety of embroidery patterns
Automatic thread cutting
A sliding controller to control the speed
CONS
No hard case included
Not effective for larger embroidery designs

3. BROTHER CS6000i
Product Highlights
If your budget is tiny then this is the best machine for you. It offers great value and can be used for a wide range of both sewing and quilting tasks. It has a fairly efficient LCD screen and it is quite versatile.
Features
Ideal for beginners this machine can be used to stitch cuffs, hems, sleeves, zippers. You can also do pleating and quilting. It comes with a top drop-in bobbin, which is jam-resistant. Threading spots have numbered diagrams for references. It also has automatic needle threading that functions with the help of a lever.
The LCD is decently sized and displays which presser foot to use with each stitch. The LCDs have an error message in case of a mess up. But, perhaps the most highlighting fact of this machine is the start and stop buttons used for the needle so you can reposition the fabric.
You can adjust the speed with the variable controls. It functions consistently and you do not have to worry about maintaining the same pressure on the pedal. For a reverse stitch, you need to simply push a button to change to reverse.
The BROTHER CS6000i stitch sewing machine including overcasting stitches, 7 styles of buttonhole stitches, 20 decorative stitches including joining, shell tuck, and satin scallop, patchwork, stretch stitches, patchwork, applique, etc. The stitches have automatic settings, which can be achieved by entering the number. You can stitch a wide variety of fabrics such as cotton, linen, cotton-linen blend, denim, canvas, etc. including stretchy fabrics. The needle position key enables the needle to be at either its highest or lowest point.
The BROTHER CS6000i functions at a top speed of 850 stitches per minute. But you can operate at a slower pace. The adjustable speed control can be used to select any of three settings: slow, medium, and fast. It does come with a foot pedal, which can be used alternatively, by switching to the three-speed setting. It does come with a built-in free arm so that you can also do the quilting in addition to sewing cuffs and sleeves.
The sturdy detachable extra-wide table somewhat compensates for the small space. You can easily handle three layers of a quilt with little effort with the effective stitching. There's a walking foot that gives you greater accuracy in placing your stitches. And it allows a smoother feeding of the many layers.
You can also do free motion quilting, drop the feed dogs, and use the spring action quilting foot to quilt. There is no automatic tension control. But the thread tension is adjustable. The accessories can be stored in the compartment on the arm of the sewing machine. It also comes with a manual sharp thread cutter.
What We Like About BROTHER CS6000i
This machine is good for those who like to experiment with different types of stitches. As it comes with 60 plus different types of stitches it is ideal for all types of creative projects.
What We Don't Like About BROTHER CS6000i
Despite claims by BROTHER, the CS6000i is a little dim, so you may have to set up an extra desk lamp.
PROS
Economical
Accessories are added
Time-saving is a set- up
Ideal for beginner
Start and stop buttons make sewing easy
Wide table and detachable foot makes extensive projects easier
The hard carrying case for easy transportation.
CONS
Only for household use
Can handle a limited number of layers
Thread tension is set by using a manual dial
Lighting inadequate
No automatic embroidery or monogramming functions
4. BROTHER 1034D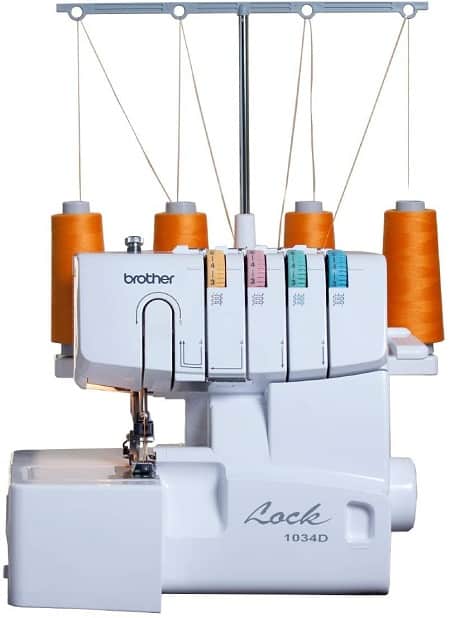 Product Highlights
A versatile machine the BROTHER 1034D can be used for a variety of fabric purposes and deliver professional quality work. It can also be used for creating attractive edges and ruffles, joining laces, and many more.
It does not require expert handling as it is straightforward to use. Reasonably priced, simple needle usage, user friendly, it comes with a detailed instructional video. It works with great speed and efficiency and would save you tens of hours of work overtime. Complex tasks like sewing cuffs are now easy.
See Related Article: A Deep Dive Review of the Brother XR3340 Sewing Machine
Features
One of the best sergers on the market measures 11″x 11.7″ x 13.2″ is lightweight at around 18.1 pounds which is 8.21 kgs. It uses the standard-size needle and 3/4 threads. It comes with color-coded threading supported from the lower looper threading system which ensures that you can focus on serging as your threads will remain in position throughout as it uses standard home sewing needles.
This machine has the highest stitching speed of up to 1300 stitches per minute. It has excellent stitch quality which can be achieved when you adjust the differential fabric feed ratio between 0.7 to 2.0, depending on the fabric. This serger stands out and improves the quality of the stitches you make.
The serger can be used for all your stretchy, thin, and knitted fabrics. Including denim, silk or lycra, and spandex. This includes stitching, bridal gowns, tablecloth, formal wear, home décor, etc.
It has a removable free arm that will come in handy when you need to serge sleeves or pants legs. It comes with built-in stitches that feature a 3 or 4 thread system. This brings a range of different versatile stitch options, with a total of 22 built-in stitches. The presser foot enables you to narrow hem, ribbon lock stitches, four-thread overlock, three thread overlock, and rolled hem.
The adjustable width and length settings enable you to change your stitches accordingly. So for example when you are using long stitches, you can accommodate thicker fabrics like denim. If you need shorter stitches for thin fabrics like silk. The stitches adjust to fit a width of 5 mm to 7 mm and length of 1 mm to 4 mm. It features a retractable knife that will trim off the edge for a clean and professional cut for all your projects.
It comes with other accessories such as a light bulb and a removable stitch finger. When you set up the stitch finger, the thread wraps around it and produces good quality consistent stitches along the edges. For narrow or rolled hems remove the stitch finger.
The adjustable presser foot means that you can get consistent and good quality stitches on different types of fabrics. You can always increase the pressure for lighter fabrics and vice-versa for heavy materials.
What We Like About BROTHER 1034D
This machine is long-lasting and durable. It is ideal for beginners as it comes with just the right amount of features which is easy to learn and handle.
What We Don't Like About BROTHER 1034D
It does not come with a thread cutter which some users have found quite difficult as plenty of other machines in this price range come with thread cutters.
PROS
Easy to thread
Easy to learn
Quality stitches
Economical
Ideal for beginners, intermediates, and professional sewists.
CONS
Warranty applies in the US only
Requires oiling

5. BROTHER DZ1234
Product Highlights
If you want to switch your sewing machine to something else or dabble a bit more with your craft then the BROTHER DZ1234 is a perfect choice. Since it comes with three different types of feet you can try different types of sewing projects.
Features
This machine comes with 3 or 4 threads and three extra feet, apart from the standard foot for versatile project choices. It has a very convenient stitch width control. This makes it very clear what the setting is reducing the risk of mistakes. A lever for differential feed control makes changing the settings easy as well as the adjustments.
It can stitch stretchy fabrics like lycra, spandex, even ruffles, elastic, and creating the overcast rolled hem. It is a manual threading machine. One needle is used for the three threads and uses a feature that surely makes the perfect knits and lighter fabrics. Both needles are used for the four-thread and this provides a solid seam. These are ideally used on seams that face more wear and tear such as swimwear, dancewear, and gymnastics leotards.
Heavier weight fabrics can be stitched easily. The free arm often used for sewing tubular items such as sleeves and pant legs can be used effectively when the bed extension is removed which is quite an easy thing to do.
The differential feed ratio of 0.7-2.0 allows the two sets of feed dogs under the presser foot to move at different speeds. A feature is especially useful for lightweight fabrics. The gathering foot is used for making ruffles and gathers and is to be used with adjusting the differential feed. The available piping foot can be used to create your decorative piping quickly with piping cord and fabric strips while the blind hem stitch foot allows you to sew tiny hemstitches while adding a decorative touch with flatlock or pintuck stitches.
The amazing speed of the machine is at 1300 stitches per minute, which is quite a great speed. You can use regular home sewing machine needles and ballpoint needles for knits and universal needles for just about everything else. It does have 23 different stitch options. The pressure on the presser foot is easily adjusted with a screw on the top of the machine. It should only need occasional adjustments as ITV comes pre-adjusted for light to medium-weight fabrics.
What We Like About BROTHER DZ1234
This machine is best suited for beginners and is not very complicated to use.
What We Don't Like About BROTHER DZ1234
This machine does not come with automatic threading so it might be a challenge for people who have some difficulty with eyesight.
PROS
Durable
Long-lasting
Large work area
Impressive sewing speed
CONS
No automatic needle threader
Might be challenging at the beginning.

Final Verdict
All of the machines mentioned here are good however, if I were to single out one then it would be the BROTHER, CS6000i is the best buy. It has a range of automatic features and an effective presser foot in addition to a variety of stitches. It is reasonable for the price range it comes in and is perfect for beginners or advanced professionals.
See Related Topic: Best Sewing Machines for Teenagers
Comments
0 comments