Back to school time means getting all crazy-creative, I'm thinking. There's pretty much nothing more fun than having all sorts of brand-spanking-new school supplies, so why not spiff them up a little and put your personality into them?
This list is based on the school supplies I bought for Fen, um, a few months ago. Because I love buying school supplies.
10 Back To School Crafts Using School Supplies
1. 1″ binder: binders offer up all sorts of ways to be personalized. That opening on the top means: decorate some paper with your name or whatever other cool designs you want, and tuck it on in. Change it up when you get sick of the original. Fen added a little washi tape border around the outside edge.
2. Eraser folks: Every time I spy those pink erasers, I feel like they need something. Fen and her friend made theirs special by adding googly eyes, yarn, stickers, and permanent marker.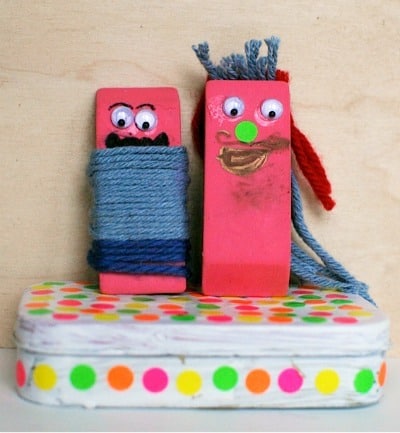 3. Duct tape flower pencil toppers: Fen came home from school last year with these on a few pencils, and since then I've been wanting to do a post on them. So here they are! Watch the video tutorial for instructions.
4. Washi tape highlighters: We found this tape at Target, so it's not traditional washi tape, but it matches the highlighter colors splendidly!
5. Fur-covered notebooks: After a big jungle hunting expedition, we used some cheetah fur to cover a notebook. But you could buy faux fur from a craft store and cut out a rectangle to write the subject.
6. Rainbow pencil cup: This was all aluminum can and colored card stock strips. Easy sneezy.
7. Wood veneer sketchbook cover: You can cut wood veneer with scissors, and it looks great drawn on with permanent markers. Just cut it to size, peel off the back plastic, and stick it to the sketchbook cover. Instant cool drawing surface. We happen to have a big roll of it sitting around our house, but you can find thin wood sheets
here
. You'll just have to use wood glue to stick them to the cover.
8. Glitter pencils: Glam up your day with these over-the-top pencils. We brushed on Mod Podge, sprinkled on glitter, then waited for them to dry. We added a top coat of Mod Podge to seal in the glitter, and they look pretty fabulous. Not exactly sure how these are supposed to be sharpened, but….
9. Stenciled folders: Aren't plain folders boring? It's easy to make them cute with a permanent marker and a stencil pattern. We got our stencil at Michael's, but Martha Stewart has a pretty one here.
10. Eraser box: eat a in full of Altoids, gesso the tin and decorate. We used 2 coats of gesso on the tin, and then stuck on tiny dot stickers from Target. We finished it up with a coat of Mod Podge so the stickers wouldn't run away. Cute, huh?