I'm going to continue my look at picture books from different cultures by delving into Asia. If you missed the African and Latino kids' books, go check them out! Do it!
After that, run right back here and behold this group of intriguing and beautiful Asian picture books.
Hush! A Thai Lullaby by Minfong Ho and illustrated by Holly Meade – This book is fun to read out loud, which is important if you're going to buy a book, because you know you'll be reading it over and over and over. And over again. But since I'm an art blog and all, let's talk about the art: the colors are muted and earthy. I like the iron red outlines of the figures, and they seem soft and fluid. They're fairly simple illustrations, but there are surprising bits of texture that show up here and there with the combination of mediums. 4 and up.
Crouching Tiger – by Ying Chang Compestine, and illustrated by Yan Nascimbene – and it's a great story comparing traditional and modern Chinese values through martial arts. Really beautiful watercolor paintings accompany the story in this book, including small illustrations of Tai Chi poses. 6 and up.
Grace Lin is awesome. She's written and illustrated 11 picture books in addition to her novels and early readers and illustrating other collaborations. Her drawings are folksy and friendly, and perfectly accompany her educational yet entertaining text.
I chose Thanking the Moon out of her many books because I love the idea of a night picnic, celebrating the Mid-Autumn Festival, and think kids from other cultures will be intrigued by this as well. Also…. there are lots of food and object drawings and they remind me of the sorts of illustrations I would stare at and memorize in my favorite books as a kid. 3 and up.
I'm a sucker for alphabet and counting books, maybe because I love lists so much, and they're a great way to reinforce the alphabet while exposing kids to symbols and objects from other countries.
This book by Kyubyong Park and Henry J. Amen, illustrated by Aya Padron presents the alphabet with Korean words, Romanized and in Hangul (characters). You get a taste of the culture on each page with  longer explanations of some situations.
I'm not even including this book because the illustrations are my favorite, but I find them compelling. Compelling in a slightly strange, retro way. The kids' heads are giant and the colors just seem so 70's. It amuses me. 3 and up.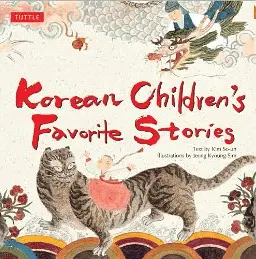 The artwork in this book on the other hand is stunning. The artist uses traditional techniques and colors to accompany a collection of folk tales. Kim So-Un, illustrated by Jeong Kyoung-Sim for ages 5 and up.
I Live in Tokyo is packed with fabulous illustrations and appealing info. bout Japan. I have a slight bit of Japanophilism, which is absolutely not a word, but this book makes me happy to look through once in a while.
I love that this book combines Japanese traditions and culture with the excitement of urban Tokyo, all from a kid's perspective. The illustrations are fairly whimsical, with plenty of pattern and controlled detail.
This is one of those picture books I'll keep long after the kids outgrow it. 4 and up.