I love Joseph Cornell because he wasn't a formally trained artist. He collected little things, beginning with items his father would bring him. He had a natural eye for design and composition and somehow gravitated toward working with shadow boxes as a medium.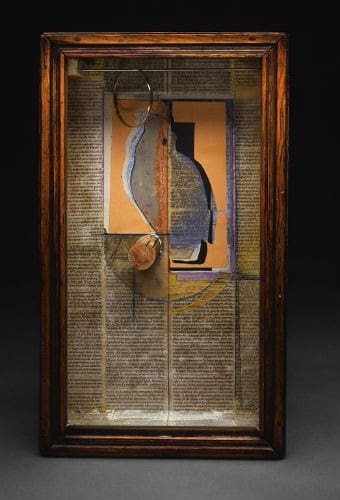 Into these boxes he arranged found objects and the way they related to each other really highlighted the importance of each little piece.
We decided to try our hand at a Cornell box, and Christian found an old box he had made years ago and saved in the garage (for just such a project as this). This is my warning to you to never throw anything away because your kids will use it in an art project some day.
You can scour garage sales or thrift stores for treasures. You can hit up your local craft store for things like the eggs, birds and butterflies. Don't forget to poke around your garage and basement. Here's a list of ideas:
ceramic eggs
old flatware
nest
old book pages/music
tickets
fake birds or butterflies
feathers
keys
The Art Institute of Chicago has an incredible site for kids. Fen was on it for over an hour the other day exploring and playing. Check it out and if they want to practice making Cornell boxes before they dive into the real thing, go to PLAY WITH ART and then Cornell Boxes to learn a little bit about him and make with your own Cornell Box online.
If you ever find yourself at the Art Institute, you can check out the world's largest collection of Joseph Cornell's work including both boxes and collages. Kids love seeing these in real life.
I think his work appeals greatly to kids because of the playful nature of the little objects in these mysterious boxes. They almost look like games- and they're not just another boring painting of another boring still life that kids find boring.
Incidentally, his last major exhibition was a show he arranged especially for children, with the boxes displayed at child height and with the opening party serving soft drinks and cake. (from Wikipedia)
Here's the box Fen made:
She started out by Mod Podging ripped pages from an old encyclopedia onto the back, then got some help from Christian with 2-part epoxy for gluing the rest of the objects. She had fun arranging and rearranging until she was satisfied with the placement of everything.
Another beautiful site on Cornell and his work can be found here. Read more about him and get inspired!