What?! We've come to the end of our 12 days of shopping roundup, and we've gotten to every kid's favorite thing to think about: the thank you note.
It's true. Most people don't realize that kids get as excited about writing thank you notes as they do about unwrapping that giant gift with their name on it under the tree.
As if.
Okay, well here are some ways to make thank you notes a bit more fun for kids, because if they don't send them, everyone will think you are a bad, ungracious, lazy, rude, ignorant, barbaric parent who is raising their kids in a barn.
A nice calligraphy set would be perfect for those who like to mess around with ink, drawing, doodling, lettering, what have you. And the perfect way to practice calligraphy is by hand-writing all those thank you cards! Sheaffer Calligraphy Maxi Kit
I couldn't decide which thank you card design to show from Paper Source, so I made a little collage of four of my faves. Have you seen the T.Hanks one before? Ha!
big old bear on unicycle thank you cards
Of course, a cool set of vintage Christmas rubber stamps would always be an incentive for homemade thank you notes.

Here are some blank greeting cards and envelopes
 and metallic Sharpies
 to use with the stamps for the most gorgeous DIY thank you cards ever, in the history of the world.
Pumpkins and Posies designed these lovely free printable thank you cards if you want to go with something a little more neutral.
And if you need a little reminder, or if your kids don't have their thank you note style down pat yet, I love this short template from Hallmark outlining the structure of an effective thank you note.
If you want to keep things short, simple and lazy, feel free to print out this thank you circle, stick it to your forehead, and email everyone photos…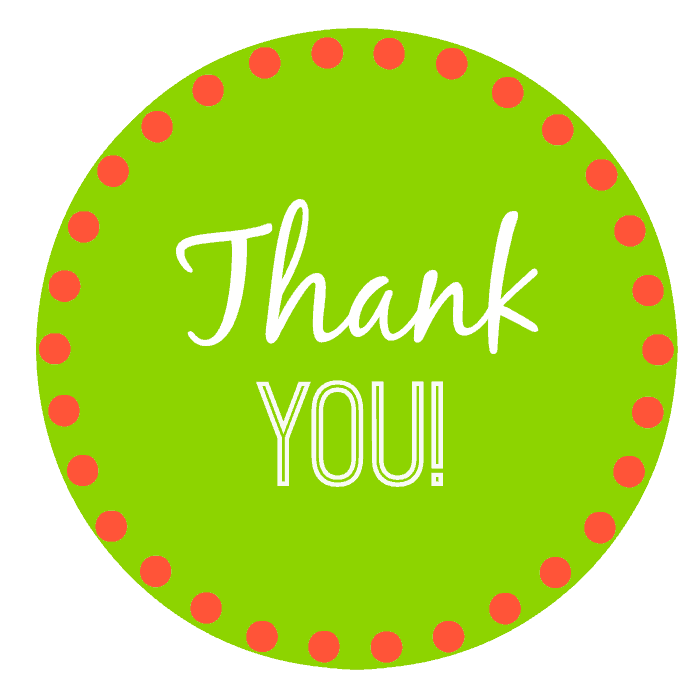 I'm a little sad this is our last day of gift ideas. Mia and I had fun brainstorming ideas and checking out what each other posted every day. I think there were only 1 or 2 items we both had in our posts! I will definitely be shopping both Mia's and my posts for people this year. (I guess it's time start actually shopping. Eek!) And here they are:
Day 1: DIY or Buy Advent Calendars – see Pragmatic Mom's post on a DIY gratitude Advent calendar.
Day 2: Gifts That Give Back – Mine • Mia's
Day 3: Gender Bending Gifts for Kids – My post on Gender Neutral gifts • Mia's post on Gender bending gifts
Day 4: Gifts for Those Impossible to Shop for – My post • Mia's post
Day 5: Gifts for Reluctant Artists- My post on Gifts for Reluctant Artists • Mia's post on Gifts for Reluctant Artists and Gifts for Reluctant Readers
Day 6: Oops, I Did It Again; Worst Gifts Ever – My tacky gifts post • Mia's post on ugly Christmas sweaters and other terrible gifts
Day 7: Gifts to Steal from Loved Ones – My post • Mia's post
Day 8: Left Brain/Right Brain Gifts- My post • Mia's post
Day 9: Gift Ideas for Clients (mine) •Gifts for Those Easily Forgotten (Mia's post)
Day 10: Gifts for New Year's Resolutions – my post • Mia's post
Day 11: My post: Easy Holiday DIY Gifts • Mia's post: Giving and Receiving Unwanted Gifts
Day 12: The Art of the Thank You Note- My post and Mia's post