About Craftwhack:
Craftwhack is a magical little place for you to find all sorts of creative inspiration in the form of: art projects and techniques, cool makers, beautiful art and design, and everyday ways for adults and kids to be creative.
I'm obsessed with art and design and love sharing my discoveries and ideas with other people- I also am fascinated by creative people, and I know that we can all learn a ton by practicing being more creative in our everyday lives.
It would be boring if this was all one-sided, so hit me up with blog comments and social media chatter. (Social media follow buttons up to the right.)
Some of my most popular art projects:
100 Crazy Cool Drawing Ideas for Kids
About Jeanette:
I am Jeanette Nyberg- art school graduate, married, 2 kids, 2 step kids, Chicago suburb-dweller. My favorite things to do are: make art, write, nap, laugh at inappropriate times/things, drink iced green tea, make cookies, look at pretty things.
I love playing around with different art techniques, gazing slack-jawed at beautiful design, making super simple DIY concoctions, and struggling to get organized. I have a problem with buying paper planners and calendars.
I Wrote Two Books!
If you want to have crazy amounts of fun with drawing and tangling, may I present to you Tangle Art and Drawing Games for Kids. It's totally not just for kids. My sister and I giggled our butts off as we drank wine and did a lot of these games.
And what do you know?! I wrote a drawing book for adults, too. This one takes all the best parts of drawing, tangling, doodling, and coloring, and smooshes them together in one pretty package.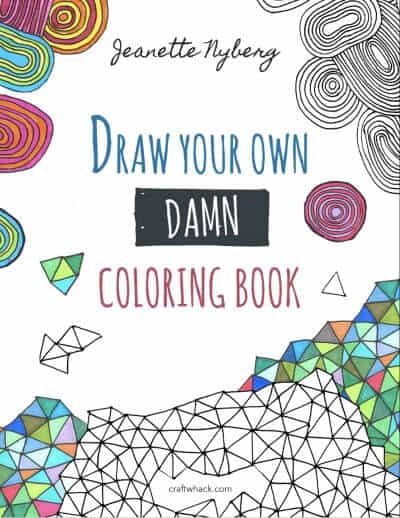 Here's an exhaustive list of other things I love, because I also love lists:
Iced green tea, dogs, raspberries, illustration, chick peas, goats, grey, poppies, garnets, pens, slate, eggs, lizards, hair dye, The Bachelor, essential oils, Ellen Degeneres, hotels, grocery lists, notebooks, personified creatures in commercials, podcasts, yoga, salads, chocolate chip cookies, snorkeling, naps, reading, writing, funny tweets, turkey burgers, being alone, road trips, street art, hiking, my bunions, art supplies, office supplies, sarcasm, skin care, pine trees, I will add to this as I see fit.